Although Whole Foods (NASDAQ:WFM) has had a wild ride according to its stock price, the company may have winded back to justified valuation levels when comparing it to its peer group and fundamental growth prospects.
Valuation correction:
On a valuation basis, we noticed that Whole Foods has had a rough drop on both an earnings and cash flow basis. The street consensus had very high expectations for the company while it was in rapid growth phase. The street had given the company a P/E multiple in the 30-40x range and P/CF in the mid-teens. Historically, the rest of the industry was trading at P/E levels in the mid-teens and P/CF in the high-single digits. Currently, the multiples are trading tighter with its peer group although it is still at the upper range in the comparable companies set. The band has definitely shorten and is not significantly off from the herd as it has traded historically.
Data sourced from Morningstar

On a fundamental basis and relative to the industry, the company continues to grow higher revenues every year and maintained its significant revenue growth rate past 5 years. Many competitors are much more mature and larger and thus have not consistently been able to show revenue growth rates at a comparable level to Whole Foods. In contrast, when historically comparing to its competitors on the basis of operating income generation, Whole foods has been quick to decline in its growth potential and eventually saw negative growth in 2015. Although many competitors experience the occasional negative year for operating income growth, the difference is that Whole Foods had a lot of expectations on their shoulders (or valuation multiple) and failure crumbled the stock very quickly.
Data sourced from Morningstar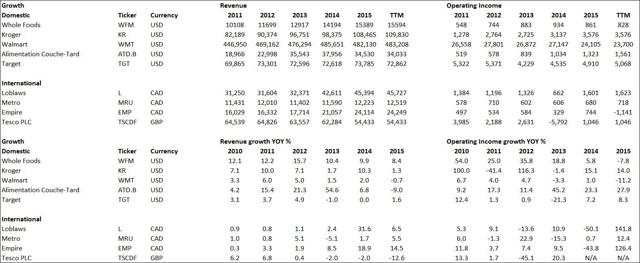 When comparing Whole Foods to its competitors based on operating metrics, the company undoubtedly deserves its standing premium valuation based on balance sheet management and its competitive brand in the organic food space. In terms of the balance sheet, the company has one of the industry's better inventory management, debt control and liquidity flows. With days in inventory, the company has held around the 17-18 day mark for five years where as the industry average is roughly around 30 days. In terms of debt, the company has held little to any in history but has recently increased it. The debt-to-equity level is still at the lowest in the industry, which indicates that they do not need to rely on excessive amounts of external financing. With liquidity flows, the company boast one of the industry's strongest quick ratios, which means that they are sufficient to cover their short term liabilities with the liquid accounts that they have on hold.
Data sourced from Morningstar

Growth plans:
In hopes to continue to strong growth prospects, the rollout of the 365 brand will allow Whole Foods to cater to customers through a smaller footprint location, curated product selection, convenience and technology. The store will allow Whole Foods to have a focused-differentiation in what it provides to its customers and allowing to quickly have access to the items. Furthermore, the small footprint will allow Whole Foods to have an agile edge against its competitors when seeking out leasing locations and isolating its product selection based on geography or demographics.
Recent plans by management also steer clear that there is a lot of prospects in having better control of their operating costs. The partnership with Instacart will be a ground-breaking opportunity for the company to deliver fresh grocery to its customers. The partnership will allow for stronger management of its inventory, improved cost control with Instacart's delivery expertise, and improving operational synergies through sharing of resources. Furthermore, the roll-out of unified POS system will help the company better understand consumer trends and create an efficient system for the company while improving category management and supplier collaboration. Overall, I am confident that the management are looking in the right direction to find ways to improve their cost structure.
In conclusion, Whole Foods may have winded back to justified valuation levels when comparing it to its peer group and fundamental growth prospects. The company's valuation multiples have corrected themselves closer to levels that are within the industry range. On a fundamental basis, the company still deserves a premium valuation relative to its peers based on inventory management, debt control and liquidity measures. Despite recently poor results to its operating income, the company is aware and proactive in pursuing plans to improve its profitability. Overall, I am confident that the management is competent and that their plans are able to roll out over time.
Disclosure: I/we have no positions in any stocks mentioned, but may initiate a long position in WFM over the next 72 hours.
I wrote this article myself, and it expresses my own opinions. I am not receiving compensation for it (other than from Seeking Alpha). I have no business relationship with any company whose stock is mentioned in this article.