Recently, a family member asked me if I thought she should invest some of her retirement assets in Coca-Cola (NYSE:KO). Well, that same family member asked me for my opinion on McDonald's (NYSE:MCD). My family member is looking for a conservative stock with a good consistent dividend and she considers MCD worthy of her money. Since MCD has declined in price recently she considers MCD to be "on sale." In this article I will look at MCD to see if it is well run and shareholder friendly. Various metrics will be reviewed and I will try to determine if MCD is overvalued, fairly valued, or undervalued.
McDonald's is one of the most recognized companies in the world. According to their website, McDonald's has over 36,000 service locations, operates in over 100 countries, and 80% of their restaurants are franchised. The fast food space is crowded and competitive. McDonald's competes against Jack-In-The-Box (NASDAQ:JACK), Wendy's (NASDAQ:WEN), and local burger chains which you would expect; but also against Panera (NASDAQ:PNRA), Chipotle Mexican Grill (NYSE:CMG) and Starbucks (NASDAQ:SBUX). For the fiscal year ending December, 2015 MCD had revenues of $25.4B and net income of $4.5B.
Chart 1 shows MCD's price movement during the past two years. MCD investors have done well since October, 2015 after being stuck in a trading range for well over a year. More recently, MCD has declined in the past month and is now down a little over 6 percent from its recent of high of 131.
Chart 1 - McDonald's Weekly Price Chart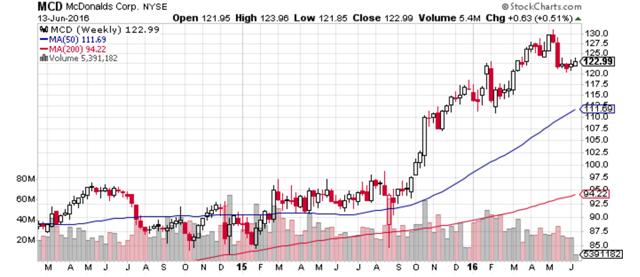 Table 1 shows some metrics that I found interesting when researching MCD. Revenues and earnings per share have all declined over the past five years. That signals a company in decline. McDonald's is most likely a victim of their own success as it is now well known and sells its products in over 100 countries as mentioned previously. However, their revenue results indicate that their menu is not as attractive to its customers as it once was. Return on assets have declined. The percentage of SG&A expenses to its revenues have increased even as its revenues have declined. Each of these metrics show a company that is not operating well.
On the positive side, MCD has increased its dividend and has reduced its number of shares outstanding. These metrics show that MCD management is returning money to the shareholder. McDonald's management is on record for planning to return $30B to shareholders over a three year period that ends 2016. There is approximately $15B remaining on this program for fiscal year 2016. Additionally, its free cash flow per share has also increased over the past five years. This can help management in returning money to shareholders. The return on equity has jumped considerably as McDonald's has made a concerted effort to change its capital structure. McDonald's management has decided to take advantage of low interest rates and borrow money to "optimize its capital structure" according to its most recent annual report. This has caused long term debt to rise over 72% in the last five years. Management intends to use the borrowed money for continued share repurchases.
Table 1 - McDonald's Metrics Past 5 Years
| | | | | | | |
| --- | --- | --- | --- | --- | --- | --- |
| | 2011 | 2012 | 2013 | 2014 | 2015 | %5 Year Change |
| Revenues (mil) | 27,006 | 27,567 | 28,106 | 27,441 | 25,413 | -5.90% |
| EPS | 5.27 | 5.36 | 5.55 | 4.82 | 4.80 | -8.92% |
| Dividends per share | 2.53 | 2.87 | 3.12 | 3.28 | 3.44 | 35.97% |
| Payout Ratio % | 47.9 | 53.6 | 55.6 | 63.6 | 73.6 | 53.65% |
| Shares Outstanding (mil) | 1,045 | 1,020 | 1,006 | 986 | 945 | -9.57% |
| Free Cash Flow per share | 4.26 | 3.84 | 4.14 | 4.41 | 4.88 | 14.55% |
| Return on Assets % | 16.94 | 15.98 | 15.51 | 13.42 | 12.54 | -25.97% |
| ROE % | 37.92 | 36.82 | 35.69 | 32.97 | 45.43 | 19.80% |
| Long Term Debt (mil) | 36.78 | 38.52 | 38.58 | 43.73 | 63.58 | 72.87% |
| SG&A % of Revenues | 8.86 | 8.91 | 8.49 | 9.07 | 9.58 | 8.13% |
| | | | | | | |
Lastly concerning the metrics in Table 1, the dividend could be in trouble in the future. The payout ratio has increased considerably and that can reduce management's ability to make further dividend increases. While a stagnating dividend is possible, that is not something that I think is on the immediate horizon.
Recognizing that McDonald's has been performing poorly, McDonald's got a new CEO. Steve Easterbrook took over that position in the first quarter of 2015. Easterbrook has taken several initiatives to turn McDonald's around. He has restructured the company, gone back to the original recipes for some menu items such as the Egg McMuffin, offered all day breakfast, committed to reduce its SG&A expenses by $500M, and vowed to improve customer service. However, McDonald's seems to have the same problem that Coca-Cola has. Its products don't appeal to the millennial generation. According to the Washington Post, customers prefer "…good food over cheap food." I do think that Easterbrook's initiatives can improve McDonald's operational metrics but I doubt that these initiatives are going to rejuvenate sales by double digits for the next several years.
Analysts expect McDonald's to have revenues of $24.58B for fiscal year 2016 and $23.15B for fiscal year 2017. Earnings per share are expected to be $5.55 and $6.19 respectively. That is due to the positive effect of share buybacks. Currently, MCD sells at a PE ratio of 23.5. Its five year average PE ratio is 18.5. Based on fiscal year 2017 EPS of $6.19 MCD still sells for a forward PE ratio of 19.8. Consequently, I feel that MCD is at best fairly valued and most likely overvalued at today's price.
In summary, MCD is a well-known company with a very successful past. Chart 1 above shows that investors have been bidding up MCD shares. In today's low interest rate environment, investors are willing to pay for MCD's dividend yield and consistent dividend raises. However, the last five years have not been good for the company operationally. Key metrics to include earnings per share, revenues, and return on assets have been in decline while SG&A expenses have increased. Management has done well in returning money to shareholders in terms of dividend increases and share repurchases. Management is on record to return an additional $15B to shareholders in 2016. McDonald's is struggling to increase its revenues and appeal to the millennial generation. At its current price MCD is at best fairly valued. Consequently, I would advise my family member to not purchase MCD. If MCD shares can be purchased below a forward 2017 PE ratio of 16 then MCD could be considered a buy. That equates to a price of $99.04. Until MCD gets to that price, it is best to be patient.
Disclosure: I/we have no positions in any stocks mentioned, and no plans to initiate any positions within the next 72 hours.
I wrote this article myself, and it expresses my own opinions. I am not receiving compensation for it (other than from Seeking Alpha). I have no business relationship with any company whose stock is mentioned in this article.