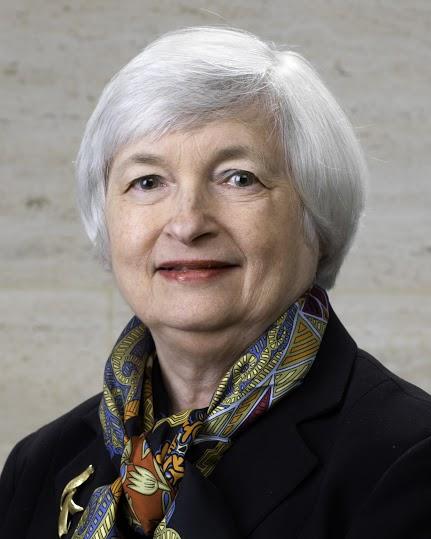 Federal Reserve Chair Janet Yellen
Everybody is very focused on the upcoming rate decisions. Most do not expect a rate hike. We think there is a possibility as we've written. That said, the reality is that the Fed already showed its cards and is already tightening.
Reduction Of Fed's Self Proclaimed Excess Has Begun
The Fed has been planning for an opportunity to begin to reverse their monetary excess. In a letter in 2014 they state the desire to reverse the historic easing period (Policy Normalization Principles And Plans). They said they would, "determine the timing and pace of policy normalization" which would "raise the federal funds" and "reduce the Federal Reserve's securities holdings."
We think the first rate hike in December told us the timing of this process is officially in effect.
In that letter they have an interesting comment.
"The Committee intends that the Federal Reserve will, in the longer run, hold no more securities than necessary to implement monetary policy."
What bothers us is "in the longer run." That means in the short run they ARE holding more securities than necessary.
We call that "excess."
We're going to redo the Fed statement to Elazar wording.
Elazar spokesman for the Fed, (You'll see why they didn't hire us for this role)
"The Committee intends that the Fed will, in the shorter run get rid of the excesses that it created through recent monetary policy."
Those excesses supported the market at its highs. (It didn't push it up higher for a year which is a problem.)
Reversing those excesses will therefore impact markets negatively.
Wait a minute, it already did. Let's see, what could be a proof that "normalization" is a market risk? Maybe the market crash in Q1 had something to do with the start of "normalization" in December? Or was it just a coincidence? (Some commenters, who will remain nameless until they perk up, as in past reports, may tell us the Fed had nothing to do with that one too. We think it did.)
Now with the "normalization period" in effect, rates will lean higher and reserves will lean down as they sell reserve assets. That will tighten the system and be a risk to markets.
Proof Fed Is Already Tightening
1. They already raised rates
2. They are cutting credit available at banks
3. Other monetary tools are already tightening
First, Rates
Rates, as we all know were raised for the first time in ten years. We take that as an official sign we are in the "normalization" period.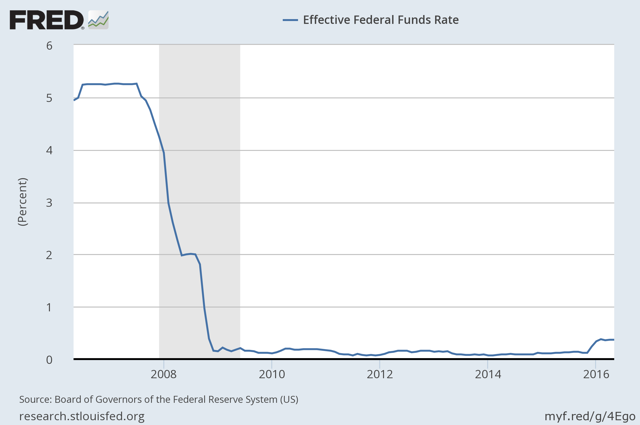 The Fed direction for rates is most recently up.
We think they continue to be worried about higher inflation. We think this could be a driver to push rates even higher despite slow growth.
| | | | | | | | | | | | | | |
| --- | --- | --- | --- | --- | --- | --- | --- | --- | --- | --- | --- | --- | --- |
| CPI | | | | | | | | | | | | | |
| Apr | May | Jun | Jul | Aug | Sept | Oct | Nov | Dec | Jan | Feb | Mar | Apr | May |
| 0.1 | 0.3 | 0.2 | 0.1 | 0 | -0.1 | 0.2 | 0.1 | -0.1 | 0 | -0.2 | 0.1 | 0.4 | ? |
CPI ticked up without the economy picking up. (PS, but important short term: The Fed will know the Thursday's CPI before we do and will factor this into their decision. If it's another .4 we're concerned.)
Second, Tighter Banks Standards
If you've been following our work on stress tests and living will you know that the Fed is raising capital standards for banks. We wrote yesterday we expect stress test failures. That is reducing the flow of funds to the economy by raising bank capital requirements. That is a clear tightening.
That tightening is being carried about by the very same Fed deciding Fed rates.
The Fed is demanding that banks hold more cash at their parent and on reserve as opposed to at their divisions, which reduces available credit to the marketplace (JP Morgan)(Tighter Credit).
Third, Other Monetary Tools
They have several methods of monetary policy that generally all accomplish a similar goal.
The tools they have are:
1) raise rates
2) sell back securities to the market
3) raise reserve requirements
Rates, in effect give banks more of a reason to park money reducing liquidity in the economy. Fed rates already started their upward move. The same result comes from higher reserve requirements.
Here is recent reserve balance requirements.
| | |
| --- | --- |
| May 2015 | 92358 |
| June 2015 | 87882 |
| July 2015 | 91834 |
| Aug. 2015 | 96142 |
| Sept. 2015 | 91977 |
| Oct. 2015 | 89638 |
| Nov. 2015 | 89572 |
| Dec. 2015 | 89313 |
| Jan. 2016 | 96507 |
| Feb. 2016 | 90677 |
| Mar. 2016 | 92787 |
| Apr. 2016 | 97241 |
| May 2016 | 101151 |
| 06/08/16 | 102614 |
You can see the amounts increasing. This acts to reduce liquidity from the economy and is a sign of tightening.
The Fed's overall reserve balances have also come down. Since the beginning of the year they have gone down from $4.53T on January 7th to $4.51T on June 9th. The shrinking of their outstanding balances is a sign of selling back securities reducing outstanding funds in the economy.
This is among their "normalization" mandates stated in the above letter.
"Normalization" IS in effect. Rates could be next.
Conclusion
Thus far, the three main monetary tools already appear to be in motion tightening. Add to that tighter regulations on banks who are the main engine for monetary growth. Their tighter standards will reduce flow of funds.
We are at the end of Fed-admitted excesses. This tightening period to come, we believe, is a risk to reduce overall market prices. That makes us bearish.
Good luck and please be in touch. All of your comments teach US a ton.
See more from Elazar Advisors, LLC on SA
Elazar Advisors, LLC specializes in earnings and predicts, analyzes and reacts to earnings and earnings events as well as developing current company and macro stories with a hedge fund perspective.
If you want Elazar's analysis on Seeking Alpha, scroll to the top of the article and hit "Follow." Elazar also writes real-time pieces as earnings and news are reported on Seeking Alpha. If you want to be among the first updated, be sure to check the box for "Real-time alerts on this author" under "Follow."
Disclaimer: All investments have many risks and can lose principal in the short and long term. This article is for information purposes only. By reading this you agree, understand and accept that you take upon yourself all responsibility for all of your investment decisions and to do your own work and hold Chaim Siegel, Elazar Advisors, LLC, bestideas, their related parties, and its authors harmless. #in, $spy, $qqq, $iwm, $vxx, $ycs, $fxe, $EUO, $YCS, #elazaradvisorsllc
Disclosure: I am/we are short ES, WHICH CAN CHANGE AT ANY TIME.
I wrote this article myself, and it expresses my own opinions. I am not receiving compensation for it (other than from Seeking Alpha). I have no business relationship with any company whose stock is mentioned in this article.