The Joke That Marked LinkedIn's High-Water Mark
In February ("LinkedIn's Crash Offers Lessons In Risk Management"), we mentioned a widely-shared joke about LinkedIn (LNKD) last year by British designer and developer Daryl Ginn that, in hindsight, might have been seen as a warning flag. The subtext of the tweet, a screen capture of which appears below, contrasted LinkedIn's ubiquity with its seeming lack of utility: nearly everyone you know may have a LinkedIn profile, but, for most of us, LinkedIn is mainly a source of automated emails we ignore.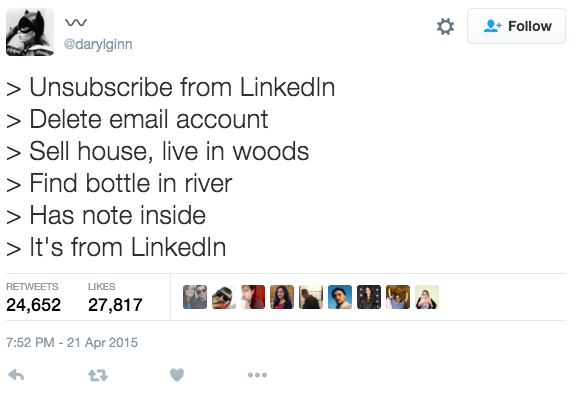 The black dot on the broken vertical line on the chart below, via Yahoo Finance, corresponds to the date of Ginn's tweet, which was liked more than 27,000 times and shared more than 24,000 times (both enormous engagement numbers, particularly for a tweet sent by a non-famous individual with relatively few followers such as Daryl Ginn).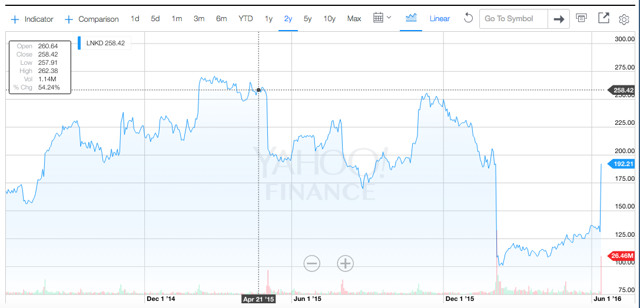 With Monday's news that Microsoft (NASDAQ:MSFT) would buy LinkedIn for $26.2 billion, causing the vertical upward move at the end of the chart above, it looks like Daryl Ginn's tweet came close to marking LinkedIn's all-time high. Developer and marketer Owen Williams shared a riff on Ginn's tweet after the acquisition announcement: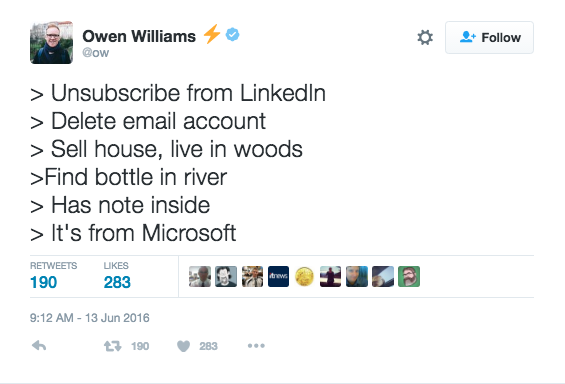 How February's LinkedIn Hedge Reacted To Monday's News
In our February article, we showed how hedging LinkedIn ahead of its earnings would have softened the blow of LinkedIn's post-earnings crash. We'll recap that hedge here, and then show how the same hedge reacted to Monday's big move.
This was the optimal collar, as of February 4th, to hedge LNKD against a greater than 15% drop by August, while not capping an investor's upside potential at less than 15% by then (screen captures via the Portfolio Armor iOS app):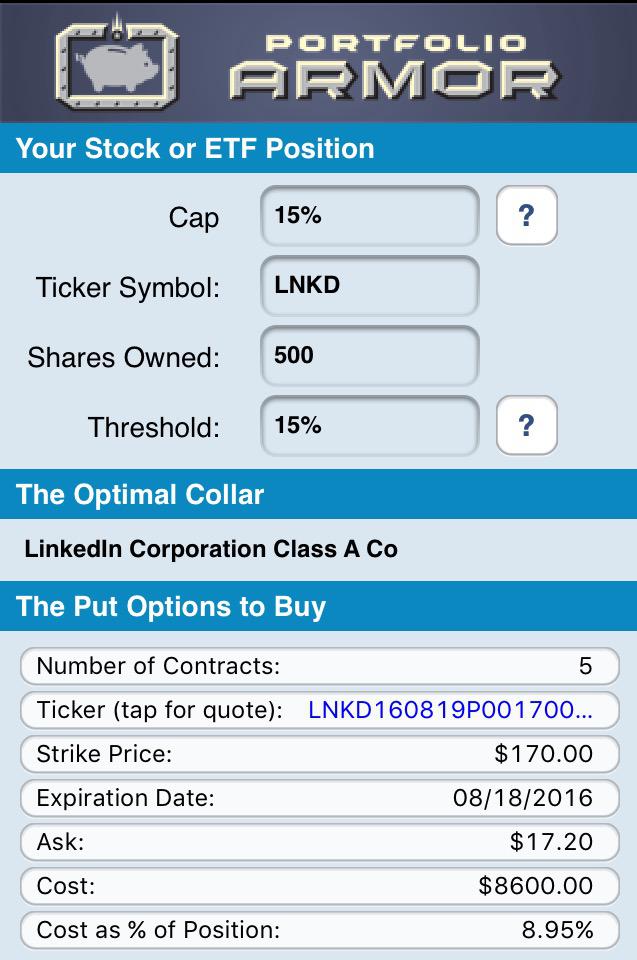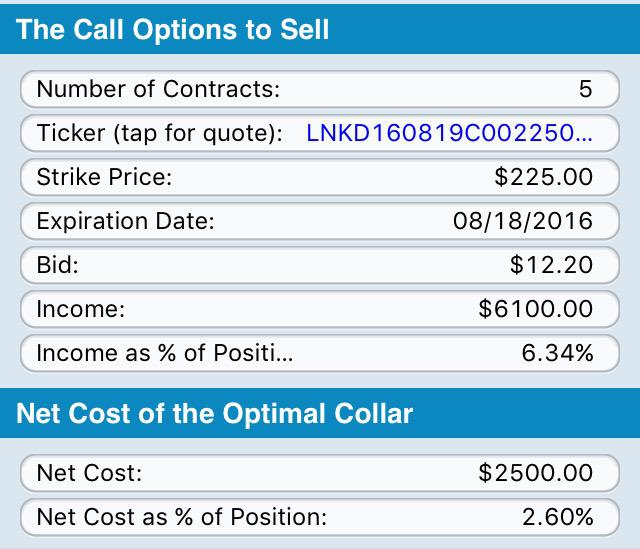 As you can see above, the net cost of this collar was $2,500, or 2.6% of position value. Note that, to be conservative, the cost above was calculated using the ask price of the puts and the bid price of the calls, since, in practice, an investor can often buy puts for less (at some price between the bid and the ask) and sell calls for more (again, at some price between the bid and the ask), an investor opening this collar at the time would likely have paid less than $2,500 to do so.
When LinkedIn crashed nearly 44% on February 5th, investors hedged with that collar were down about 13%. Here's how that hedge reacted to Monday's 46.6% up move in LNKD.
Here's an updated quote on the put leg of that collar, as of Friday, February 5th's close: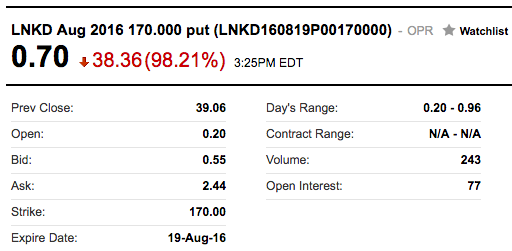 And here's an updated quote on the call leg of the collar: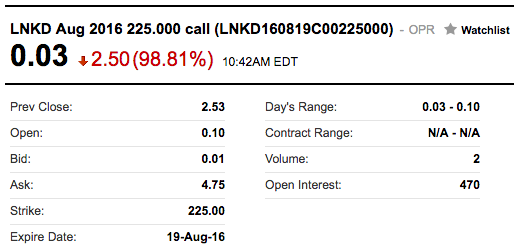 LNKD closed at $192.28 on Thursday, February 4th. An investor who opened the collar above had $96,140 in LNKD shares, $8,600 in puts, and if he wanted to buy-to-close his short call leg, it would have cost him $6,100 to do so. So, his total position value as of Thursday's close, taking into account the hedge, was ($96,140 + $8,600) - $6,100 = $98,640.
LNKD closed at $192.21 on June 13th, essentially even with its price on February 4th, after a rollercoaster ride. The investor's shares were worth $96,105, his puts were worth $350, and if he wanted to buy-to-close his calls, it would have cost him $15 to do so. So: ($96,105 + $350) - $15 = $96,440. This represents a 2.2% drop from February 5th's price.*
Smoothing Out The Rollercoaster Ride
So, if you didn't hedge on February 4th, and just held your LNKD shares, you would have been flat as of Monday's close, versus being down about 2% had you hedged. But many investors can't tolerate drops of 40% or more in their positions. It's likely that a lot of unhedged LNKD longs got shaken out of the stock between February's crash and Monday's merger melt-up. For them, a ~2% drop would have been a lot better than a ~40% permanent loss.
*An imprecision of our loss calculation method here was that the last prices of the options occurred earlier in the day than the last price of the stock. For simplicity's sake, we've used the last prices of all three here, but if you sliced this a different way - say, using the intra-day price of the stock at the time the put options traded - the results would have been similar.
Disclosure: I/we have no positions in any stocks mentioned, and no plans to initiate any positions within the next 72 hours.
I wrote this article myself, and it expresses my own opinions. I am not receiving compensation for it (other than from Seeking Alpha). I have no business relationship with any company whose stock is mentioned in this article.