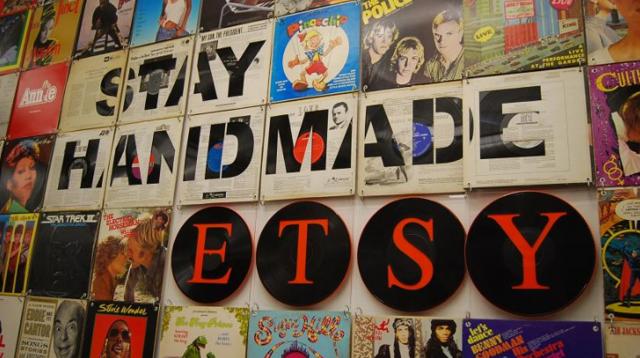 Online marketplace Etsy (NASDAQ:ETSY) has had a tough go of it since coming public a little over a year ago. The company's shares came out of the gate hot but since that time have lost well over half of their value. Concerns over growth expectations and profitability have weighed but despite these concerns, I've been bullish in the past on Etsy. The company's attractive growth profile and what I see as a clear path to improved profitability are drivers for bulls and given that the stock made a clear bottom around $6 earlier this year, it seems the bulls are in control.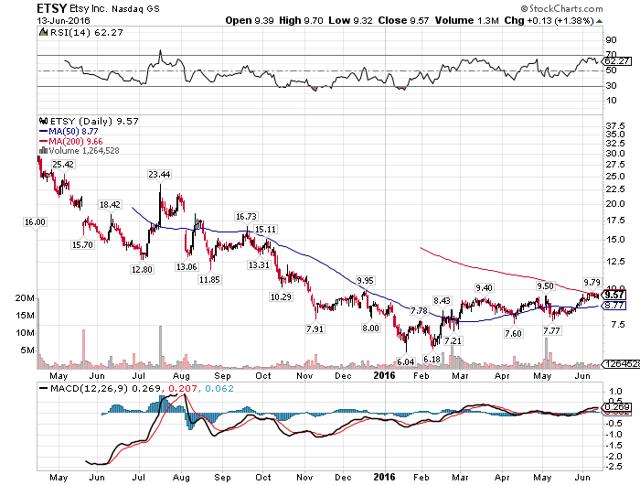 Etsy produced a really terrific Q1 report and that has provided fuel for the most recent leg higher in the stock. Shares are up over two dollars since the report came out and given the results, it isn't difficult to imagine why. I've been bullish on Etsy in the past because its torrid levels of growth are unlike what you can find almost anywhere else in the market. Etsy has a unique position with its business essentially representing a toll booth for buyers and sellers to come through to find each other for specialty, hand made goods. Competition has been heating up of late including an entry from none other than Amazon but Etsy's growth has been undeterred and given that long term guidance was reiterated during the Q1 report, it seems Etsy isn't worried about mighty Amazon muscling its way into the business.
I won't dwell on the Q1 report but I'd like to hit a few highlights that help support the long term bull case because what Etsy has done is pretty extraordinary. Revenue was up 40% in Q1 as Marketplace revenue was up 19% and Seller Services soared 60%, now representing almost half of total revenue. In addition, active sellers rose 12% and active buyers were up 20%. All of these numbers are staggering and in particular, when you consider that Etsy has been doing this for a long time and that Q1 represented a fresh comparable against last year's Q1, it is truly extraordinary. Etsy's top line growth is absolutely ridiculous and just continues to strengthen. I was bullish on Etsy's long term prospects before Q1 but the strength in revenue and margins has me downright excited about the stock at $9.
And speaking of margins, this is where I think investors are missing the boat. Revenue growth is going to continue to fly but where the benefit will show up is in margins as Etsy continues to gain more and more scale on its expense base. Adjusted EBITDA was up 121% in Q1 - three times the rate of revenue growth - as Etsy continues to see its gross margins rise and in concert with prudent expense management, margins should continue to rise well in excess of the rate of revenue growth for years to come. Etsy is still a very young business and that means its steady state profitability is a long way away and that creates an opportunity for patient investors.
GAAP earnings are still tough to come by for Etsy but keep in mind that this company is still very much in its investment and growth phase. During that time, companies are not focused on GAAP earnings but rather, finding those opportunities that support a future payout. Etsy is certainly there and it is spending heavily to support future growth and with guidance suggesting long term growth rates of 20% to 25% CAGR in revenue, the initiatives are certainly working. That means it takes some faith to buy the stock because you can't really value Etsy on earnings right now. However, have a look at what analysts see for Etsy's revenue growth over the next couple of years and you'll see why I'm excited about the stock.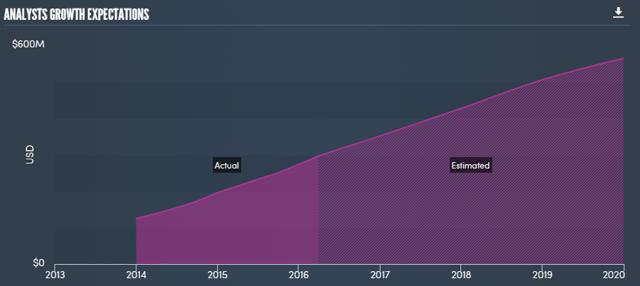 Source: Simply Wall St.
While the out years should see revenue growth slow somewhat, we are still talking about double digit revenue gains for the foreseeable future and given Etsy's own guidance for top line expansion, this trajectory is probably a little conservative. At any rate, a company that sees expansion like this has my attention to be sure.
And another reason I think Etsy is a terrific value is because its balance sheet is absolutely pristine and in particular, for a company that is still in its relative infancy.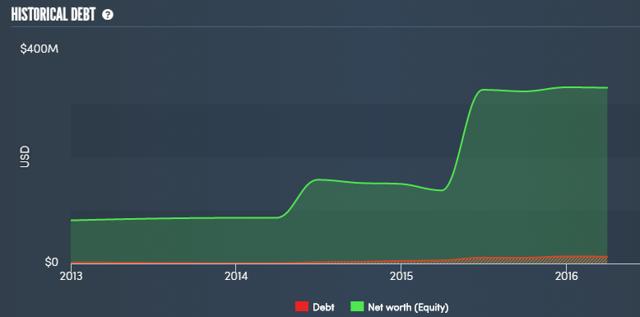 Source: Simply Wall St.
Etsy's book value is well in excess of $300 million and it has $282 million of unencumbered cash on its balance sheet. With profitability improving constantly and a basically unlimited source of cash, Etsy is free to invest where it pleases and that is a huge long term positive for the stock. Etsy has the ability to buy back a large chunk of shares if it pleases to support future EPS growth, buy a competitor or simply invest where it sees fit. Etsy's balance sheet is an enormous positive and as profitability continues to improve, we should see further improvement here as well.
To be honest, given Etsy's use of short-term investments, it seems the company has far more cash than it needs so I'd like to see a buy back of $50 to $100 million. I don't think we'll see that for a while but Etsy could take advantage of the low share price and remove 5% to 10% of the float very easily without undue financial stress. As I said, I don't think it will happen anytime soon but given how much excess cash it has, I think it would be prudent with shares at $9.
With Etsy up a lot from its lows, you'd be forgiven for thinking the train has already left the station. But Etsy is a long term story as it will see 20% or more in revenue growth for the next three years and steady state EBITDA margin is slated to be near 20%. That kind of profitability would mean that Etsy is very cheap today and in particular, if you back out the almost $300 million in free cash the company has. I'm more excited than ever about Etsy's outlook and I think there is a lot left in this rally.
Disclosure: I am/we are long ETSY.
I wrote this article myself, and it expresses my own opinions. I am not receiving compensation for it (other than from Seeking Alpha). I have no business relationship with any company whose stock is mentioned in this article.