In this article, I will briefly analyze the cost and earnings trends in the overall telecom sector. Moreover, for better understanding, I recommend for readers to read my previous two articles named " Telecommunications Services: Stable, But The Pressure On Earnings Remains" and " Revenue Trends in The Telecom Sector" in tandem with this article.
The COGS to sales ratio of the telecom sector has swelled with the passage of time as the ratio soared to ~41.4% in 2014 against ~36.1% in 2005, a surge of 530 bps. The expansion in COGS to sales ratio was primarily led by a rise in the cost of equipment as in the same period the cost of equipment to sales ratio went up by 570 bps. However, the ascend in COGS to sales ratio was partially arrested by a decline in the cost of providing services, which contracted by mere ~40 bps in 10 years from 2005 to 2014. It is worth noting that recently the cost of providing services has climbed by whopping ~300 bps YoY.
Consequently, taking the above cost analysis into account, the total gross revenue of the telecom sector contracted by ~530 bps.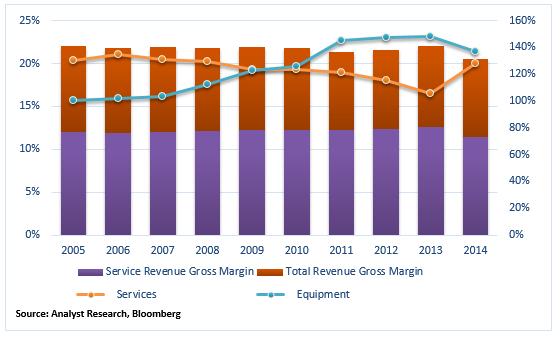 Further, if we look at the administrative efficiency of this sector, then the performance was outstanding. During the period of 10 years, the SG&A expense to sales ratio shrank by ~380 bps, resulting in total EBITDA margin accretion of ~10 bps. However, EBITDA margin for service has witnessed a remarkable upsurge as its EBITDA margin ballooned by ~260 bps.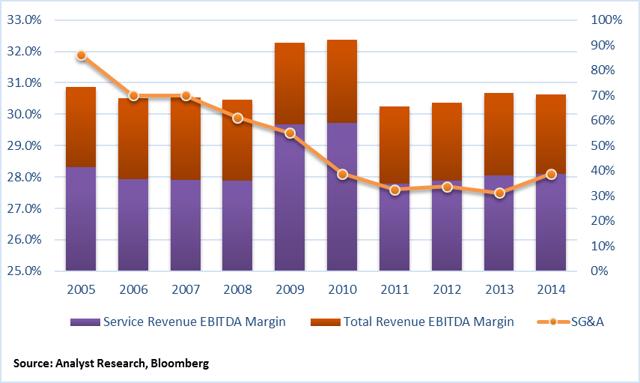 Moreover, the industry's depreciation expense in the cost structure is also dwindling owing to decreasing book values of assets on the financial statements. Additionally, a subdued recovery can be witnessed in operating margin of the industry.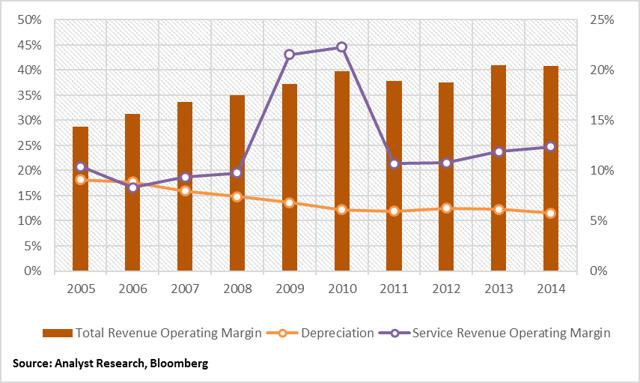 In conclusion, I have "Hold" call on this sector due to pressured margins and rising revenues coupled with disruptive technologies and stringent regulation. However, long-term view of this sector is sanguine.
Disclosure: I/we have no positions in any stocks mentioned, and no plans to initiate any positions within the next 72 hours.
I wrote this article myself, and it expresses my own opinions. I am not receiving compensation for it (other than from Seeking Alpha). I have no business relationship with any company whose stock is mentioned in this article.