The Earnings Reporter
My goal in this segment is to unlock both short-term and long-term growth in stocks that have just reported earnings. These stocks are specifically subject to enormous volatility, as earnings reports are seen (and rightfully so) as a huge aspect of a company's progression. What I offer you is an analysis of the economic well-being of the company, and whether I think the stock is a Buy, Hold, or Sell for either (or both) the short term or long term. If you are interested in unlocking more immediate growth opportunities, give me a follow! After an extensive look at numerous sources and experts' analysis of Yingli Green Energy (NYSE:YGE), I have ranked the company as a HOLD for the Short term.
Recap
Let me address the elephant in the room. Yingli just crushed its first quarter report; the stock will be up over 10% if pre-market sentiment remains. So why on earth am I still pessimistic on this stock? After all, followers of mine know that I've written some pretty negative articles on Yingli in the past, so if you are worried I may be anchored to that sentiment, that would be sensible. While I completely applaud the turn-around at Yingli Green Energy in Q1, there are still legitimate concerns with their company, concerns that will make me refrain from giving these guys a BUY rating for the time being. First off, check out Yingli's twelve month chart, and how volatile it can be for this solar company: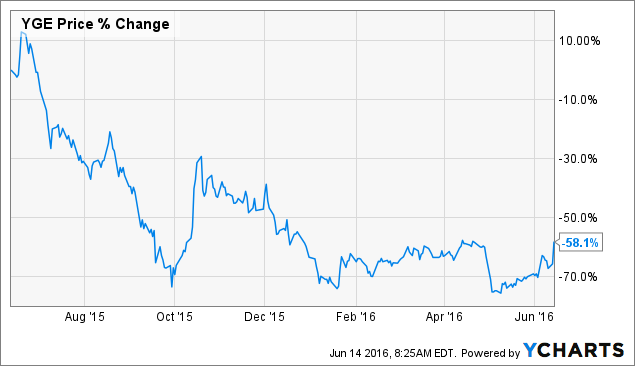 There was a reason I thought Yingli could have a major solvency concern in 2016. The company was losing money, had its sell rating reiterated by Axiom Capital, and had limited capacity to service their debt. This led to a major issue one month back.
The May Default
That starkly downward trend for May in the chart above? Investors' reaction to Yingli missing its payment of $270 Million or 1.76 Billion Yuan. This failure to pay two medium-term notes showed Yingli's struggles in the field, and how they had significant liquidity issues and capital-raising abilities. This prompted a statement by leadership, which claimed that Yingli would:
"actively promote the restructuring of the company."
This obviously spooked investors. Yingli missed a large payment, and while its credit rating will certainly take a major hit, it seemed resolute in continuing its efforts to turn around. And they certainly did in Q1.
A Wonderful and Absolutely Necessary Q1 Report
Yingli had some real negative buzz in May, which likely explains management's choice to release a preliminary earnings report on June 6th. The stock price shot up over 20%!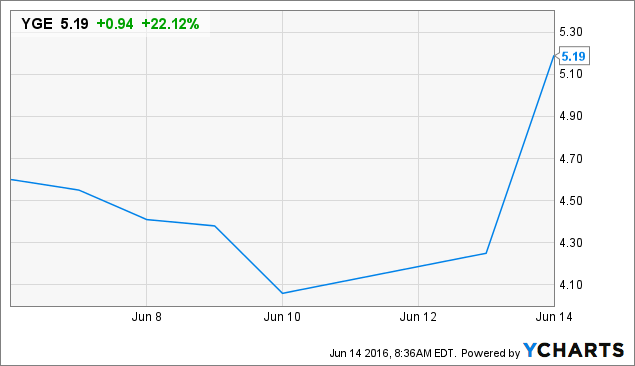 YGE data by YCharts
In my past article on Yingli, I explained that the stock price must stay above $5, and this report is now the saving grace Yingli so badly needed.
Total Revenues surpassed Q4's figure of around $325 Million with this quarter's $364.6 Million. While this beat is obviously important, the incredible increase in margins is what has investors excited about Yingli. Gross margin came in at 20%, nearly DOUBLE Q4's 11.8%. This is an incredible accomplishment, and shows that Yingli may have finally started to operate more effectively. Operating income was nearly $30 Million, clearly better than the negative return in the previous quarter. What helped boost these figures? Well, Japan did.
Japan
Government subsidies for PV purchases have helped boost solar demand in Japan. This is why Yingli's percentage of sales to Japan jumped all the way to 40% of total shipments. These subsidies do dry up in Mid-2017, so that can be cause of future concern. It is also worth noting that more sales to the US helped increase margin for Yingli as they received better buying prices than domestic ones.
CEO Liansheng Miao had this to say on the quarter:
Despite the challenges we face, we have achieved a remarkable improvement in our financial performance in the first quarter of 2016. We endeavor to make every effort to keep such momentum and maintain a healthy operation
My Healthy Skepticism
It seems like there's a lot to be excited for Yingli, so why the caution on my part to rate them as a buy? A few things. Yingli still has a massive debt issue to worry about, and while positive earnings can help them access more credit facilities, restructuring will surely hamper management's ability to 'fire on all cylinders' for 2016.
Secondly, if demand from Japan starts declining, which is surely will in 2017, will Yingli have another market to tap into? While the United States accounted for 14% of total sales, Japan accounted for 40%, a much more significant number, and likely cheaper shipping costs.
Demand issues are certainly worth noticing. Roth Capital released a bearish report on the sector a little over 10 days ago, claiming that overcapacity is probable considering a weakened Chinese demand.
Conclusion
There is much to celebrate for investors who are long Yingli Green Energy. Hopefully this report is similar to those in the future, but there are important issues that must be addressed. Until they are, I will refrain from advising a BUY on the company. Happy investing!
Disclosure: I/we have no positions in any stocks mentioned, and no plans to initiate any positions within the next 72 hours.
I wrote this article myself, and it expresses my own opinions. I am not receiving compensation for it (other than from Seeking Alpha). I have no business relationship with any company whose stock is mentioned in this article.
Editor's Note: This article covers one or more stocks trading at less than $1 per share and/or with less than a $100 million market cap. Please be aware of the risks associated with these stocks.