Seadrill (NYSE:SDRL) has found it difficult to make a comeback this year as oil and gas companies have looked to reduce investments in the offshore to control production and reduce oversupply in the end-market. As a result of the negativity in the end-market, Seadrill has been forced to contend with contract terminations and lower day rates. For instance, just a few weeks ago, Seadrill lost its contract for the West Hercules and received a termination fee of $61 million in return. Similarly, Exxon Mobil (NYSE:XOM) has paid Seadrill $125 million to terminate the West Capella contract.
At the same time, in order to save its contracts, Seadrill has been forced to accept lower day rates. As an example, Petrobras (NYSE:PBR) extended its West Tellus contract with Seadrill last month, but at a lower day rate that impacted Seadrill's backlog by $132 million. Therefore, it is evident that Seadrill is facing a lot of trouble in the end-market owing to reduced investments in the oil and gas space.
But, despite the adversities, Seadrill has managed to keep its gross margin and operating cash flow more or less stable, and this can be attributed to the company's strategy of bidding for contracts with lower day rates since this allows it to mitigate costs related to stacking. The following chart shows how Seadrill has managed to keep its margin and cash flow in decent shape despite the downturn: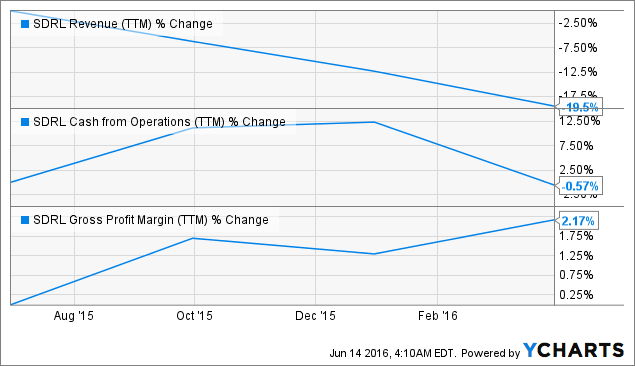 SDRL Revenue (TTM) data by YCharts
However, as the chart above shows us, Seadrill has now started burning cash as its operating cash flow has been sliding over the past three months. At the end of last quarter, Seadrill's operating cash flow for the trailing twelve months stood at almost $1.6 billion. Now, considering the fact that Seadrill has over $11 billion in debt and incurs annual interest expenses of around $415 million, a declining cash flow profile is bad news for the company.
But, in my opinion, Seadrill is doing enough to overcome the weakness in the end-market as its gross margin is getting better and EBITDA is improving. Let's see how.
Will Seadrill overcome the offshore weakness?
A turnaround for offshore drilling looks out of question in the short run as Seadrill's contract cancellations show us. However, the good part is that Seadrill is proactively trying to overcome the weakness in the end market by different means, such as reducing the debt, refinancing, and trying to keep the backlog steady in difficult times.
For instance, Seadrill's backlog at the end of the last quarter stood at $4.3 billion, which is equal to the revenue that the company generated last fiscal year. But, the more important part is that the company has decent revenue visibility going forward, as shown in the chart below: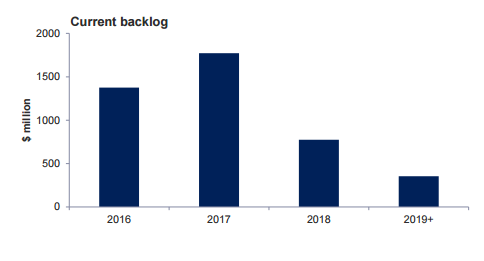 Source: Seadrill
As seen in the chart given above, Seadrill's remaining backlog for 2016 current stands close to $1.5 billion, while for 2017, the backlog is closer to $2 billion. Now, even though the company's backlog level might seem modest at first, investors should not forget that Seadrill has been focusing on sustainable cost reductions that will allow it to overcome the end-market difficulty.
In fact, for 2016, Seadrill expects to record total cost reductions worth $340 million, out of which it will be able to save $305 million on a sustainable basis. As a result of such cost savings, Seadrill's EBITDA performance should remain strong going forward, which will ultimately lead to an improved cash flow performance. The good part is that Seadrill has already illustrated that its cost reductions and focus on increasing the utilization rates are generating results as the company's EBITDA improved last quarter: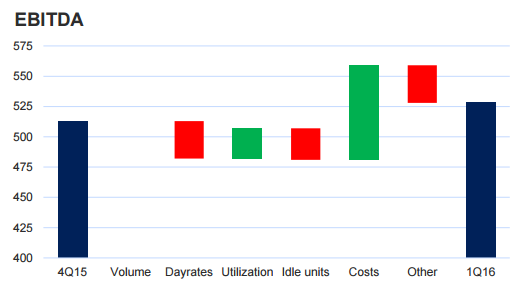 Source: Seadrill
As seen in the chart above, Seadrill has effectively managed to mitigate the negative impact of day rates and idle units by lowering costs and increasing the utilization. Since the company is on track to increase its cost savings going forward, its EBITDA profile should improve as well and this will aid its cash flow performance.
Seadrill's moves to reduce the debt will be another tailwind
As mentioned earlier in the article, Seadrill has a huge debt burden. The bigger problem at this point of time is that Seadrill has to meet a funding gap of $2.5 billion in the next three years, and by next year itself, the company needs to make a principal repayments worth $948 million. However, I think that Seadrill is making enough positive moves to take care of the upcoming repayments.
As seen above, Seadrill will reduce its operational costs by $340 million this year, which will aid the company's EBITDA growth. This will, in turn, free up more cash flow for Seadrill and add to its current cash position to $1.4 billion, which should be enough to meet the principal repayment. Moreover, investors should not forget that Seadrill is undertaking aggressive efforts to reduce its debt such as asset sales and debt-equity swaps.
Less than two months ago, Seadrill had sold a non-core stake for $195 million in SapuraKencana Petroleum, while last month, the company entered into a debt-equity swap for $55 million. Looking ahead, Seadrill plans another debt-equity exchange for $50 million worth of debt. On the back of such moves, Seadrill should be able to bring down its debt and interest burden further.
In fact, last quarter, Seadrill's net debt came down to $9.6 billion as compared to $9.9 billion in the preceding quarter. On the back of the latest moves deployed by the company, Seadrill should be able to lower its debt burden further going forward.
Conclusion
There is no denying the fact that Seadrill is facing tough times owing to the weakness in the offshore drilling market. But, investors should not miss the fact that Seadrill is making smart moves to overcome the downturn by reducing its costs and lowering the debt. As such, I think that Seadrill investors should not lose hope since the company's resilient moves will allow it to do well in the long run due to a leaner cost structure when the market improves.
Disclosure: I/we have no positions in any stocks mentioned, and no plans to initiate any positions within the next 72 hours.
I wrote this article myself, and it expresses my own opinions. I am not receiving compensation for it (other than from Seeking Alpha). I have no business relationship with any company whose stock is mentioned in this article.