By Parke Shall
Early this morning, it was announced that Valeant (NYSE:VRX) was hiring Morgan Stanley to help with the sale of its dermatology business:
Valeant Pharmaceuticals International Inc. is working with advisers at Morgan Stanley as it weighs the sale of dermatology units Obagi Medical Products and Solta Medical to raise cash to reduce debt, according to people familiar with the matter.

The two businesses could fetch up to $500 million and attract interest from other pharmaceutical companies, the people said, asking not to be identified because the deliberations are private. The sale process could start as early as this week, they said.

Representatives at Valeant and Morgan Stanley declined to comment.
This news should not come as a surprise to investors, as VRX has been rumored to be looking to sell off divisions in order to manage its debt load.
The one question that many people will likely ask is "What is $500 million going to do for the company?" The company has over $31 billion in debt and the sale of $500 million worth of assets may help to raise liquidity in the short-term, but it may not prove to be a long-term solution.
It is also been reported over the last week that VRX is looking to sell off some of its Egyptian subsidiaries for the same reasons:
Valeant Pharmaceuticals International Inc. is considering the sale of Egyptian drugmaker Amoun Pharmaceutical Co. as the beleaguered Canadian company seeks to accelerate its debt-reduction plans, according to people with knowledge of the matter.

Amoun may attract pharmaceutical companies with an interest in expanding in emerging markets, the people said, asking not to be identified because the deliberations are private. The Egyptian company's current executives could also pursue a management buyout with help from financial investors, though no final decision has been made, the people said.
While these assets may seem to be low in value, and while some of them will likely get sold at less than what they were purchased for, we believe we know the route that Valeant is/should be going here.
The company's main cash cow is Bausch & Lomb, which we do not expect it to sell off. When the company is able to sell off just some speculative, non-cash generating assets and pay down debt a little bit, it will give itself some breathing room with its debt covenants.
From there, once the company can maintain the proper liquidity ratios comfortably, the company can focus on what its long-term move is going to be for the structure of the business.
The problem now is that the market isn't valuing VRX at any type of respectable multiple, so a break up of its segments seems to be the obvious way to help unlock some of that value.
A interesting idea would be to turn the company into a traditional drugmaker, and have half of the company used as a speculative biotech operation that helps bring drugs up through a conventional pipeline, like normal companies do. The other half could be a B&L spin off, perhaps with some additional cash generating assets.
This would give VRX an opportunity to shift some of the remaining debt any way they'd like, in accordance with what portions of the business are generating the cash capable to service it.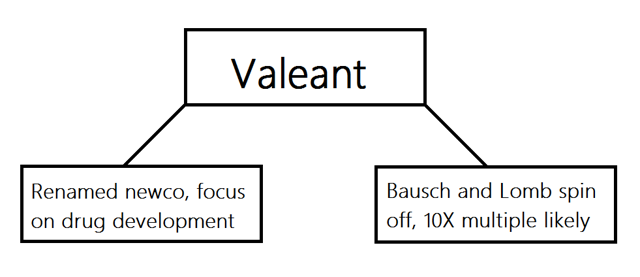 The company could then spinoff its Bausch & Lomb unit, which would likely receive a much higher multiple on its own.
The company can move some of the debt over to Bausch & Lomb and if the company is able to increase the multiple of any portion of its business, the company then can consider going out and selling equity to help pay down even more of its debt.
Current VRX shareholders would get a piece of both businesses and once a new capital structure was set up for both companies, a forward looking valuation on what would be a staple consumer goods company (B&L) could allow for a couple of well timed equity sales to help reduce debt even further. The key is unlocking this value first, before tapping the equity capital market.
There are many people asking today whether or not the sale of assets is going to do enough for Valeant. We think these initial small sales are just cleaning up the slate for a bigger restructuring that can create value down the road.
If the company can sell off some non-core divisions and then divide itself into a value play in Bausch & Lomb and a speculative biotechnology play in the rest of its segments, the company will be able to significantly expanded its multiple and eventually raise a small amount of equity to deal with debt moving forward.
We think the assumption that these beginning sales are too small and the assumption that they will have no impact will prove to be incorrect. We added to our VRX long yesterday under $24 and will add today if the stock continues lower.
Disclosure: I am/we are long VRX.
I wrote this article myself, and it expresses my own opinions. I am not receiving compensation for it (other than from Seeking Alpha). I have no business relationship with any company whose stock is mentioned in this article.