It looks like there is no turning around for DryShips (NASDAQ:DRYS). The stock has been beaten down badly this year, losing over 70% of its value, and trades close to penny stock territory despite a 1:25 reverse stock split in March that was executed to boost the share price. This is not at all surprising since DryShips' revenue has almost disappeared and the company is defaulting on its bank facilities. In fact, DryShips believes that there is "substantial doubt of its ability to stay in business after being hurt by the prolonged downturn in commodity prices and low charter rates."
More importantly, expecting a turnaround at DryShips will be a bad idea since there are not enough indications in the end-market that point toward better times for drybulk shipping companies. As such, it will be a smart idea to short DryShips. Let's see why.
The end-market will not recover in time for DryShips to make a comeback
DryShips is highly-dependent on iron ore shipping to China. The bad news for the company is that this segment is under heavy pressure. For instance, China's trade is not in the best of health as the country's exports have slowed down. In fact, in the month of May, China's exports fell for the second consecutive month.
More importantly, the decline in China's exports accelerated on a monthly basis from 1.8% in April to 4.1% in May. However, investors should not miss the fact that China's imports have been rising and DryShips has been unable to take advantage of the same. Last month, China's copper and iron ore imports increased 19%, while crude oil imports went up 39%. But, this rate of increase in China's iron ore demand won't last forever as consumption is expected to slow down on the back of lower steel production. This is shown below: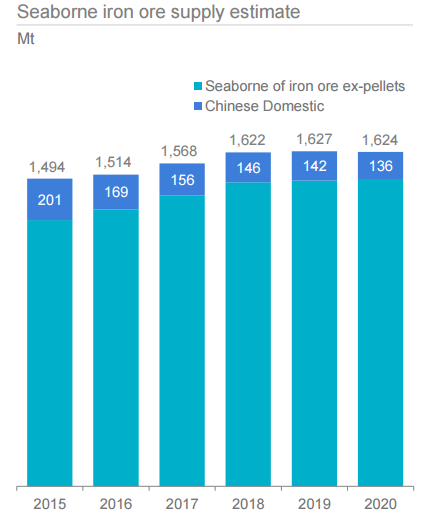 Source: Vale
As we can see above, seaborne iron ore supply into China is estimated to remain flat or even go down in the long run, which is bad news for drybulk shippers such as DryShips. Meanwhile, DryShips is also losing contracts in the oil segment.
For instance, in April, DryShips lost a contract from Petrobras (NYSE:PBR) for its oil spill recovery vessel Vega Inruda. This was not the first contract loss that DryShips has experienced as Petrobras has also cancelled contracts for the Vega Juniz and the Vega Crusader. As a result of these challenges, DryShips will find it difficult to meet its obligations going forward, especially as it does not have any revenue to generate money and repay its debt.
The business has almost diminished and the debt is high
The last reported quarter presented a quite clear picture regarding where DryShips' business is headed. On a year-over-year basis, DryShips' revenue dropped from $492.1 million in the prior-year period to $11.9 million in the last reported quarter. This represents a huge drop of almost 97.6% as DryShips did not earn any revenue from drilling contracts as pointed out earlier.
For instance, in the drybulk segment, DryShips' time charter equivalent rate has declined to $2,978 from $10,535 in the year-ago quarter, signifying a drop of almost 72%. Additionally, DryShips also saw a drop of 38.5% in the number of voyage days. However, DryShips' vessel operating expenses declined just 24% in comparison. Thus, the huge decline in charter rates and vessel days has created a huge negative impact on DryShips' financial performance.
In fact, DryShips posted an adjusted EBITDA loss of $15.6 million last quarter as compared to positive adjusted EBITDA of $242 million in the year-ago period. On top of this, the company's debt is also sizable at $269.5 million, according to its latest financial results. Considering that DryShips has just $5.7 million in cash and assets worth just $97 million for sale, it is not surprising to see why the company has defaulted on debt payments.
In all, DryShips has breached covenants on three of its facilities, apart from suspending interest repayments, along with principal repayments, on its other facilities. Given the current level of revenue that the company has, it will find it difficult to meet payments or enter into any sort of restructuring deal, especially considering how the end-market conditions are. In fact, as the following table shows, most of DryShips' drybulk fleet is out of business: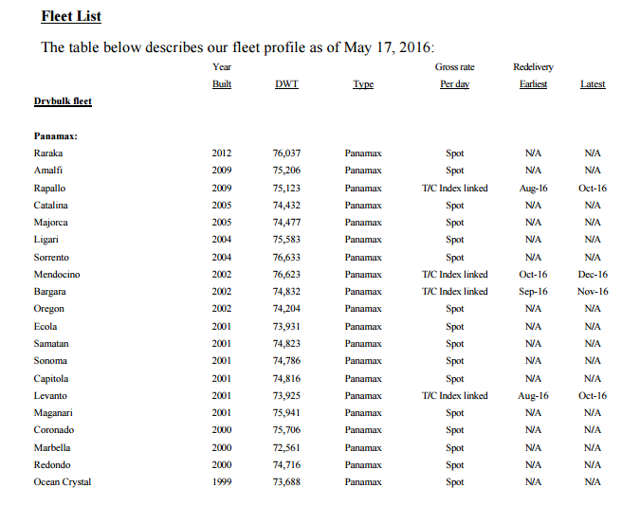 Source: DryShips
As seen above, there are only a handful of drybulk ships in DryShips' fleet that are currently active, as the delivery and redelivery dates show us. Moreover, these contracts will run down by the end of the year, post which DryShips' voyage days will decline further. Moreover, since the industry is not in the best of health due to weakness in China and the oil industry, as discussed earlier, the time charter equivalent could also go down.
In such a situation, DryShips will find it more difficult to make a comeback, which will push the company into deeper trouble.
Conclusion
DryShips does not have enough revenue, its cash position is almost non-existent, while assets held for sale are not enough either to meet the company's debt obligations. Since the end-market conditions are far from improving, I believe investors should stay away from DryShips as it is going to capsize.
Disclosure: I/we have no positions in any stocks mentioned, and no plans to initiate any positions within the next 72 hours.
I wrote this article myself, and it expresses my own opinions. I am not receiving compensation for it (other than from Seeking Alpha). I have no business relationship with any company whose stock is mentioned in this article.
Editor's Note: This article covers one or more stocks trading at less than $1 per share and/or with less than a $100 million market cap. Please be aware of the risks associated with these stocks.