Apple's (NASDAQ:AAPL) WWDC this year was all about its four major operating system/platforms: iOS, macOS, watchOS, and tvOS. While watchOS and tvOS received thorough and welcome revisions, the changes to macOS and iOS were mostly incremental, leaving Apple vulnerable to criticism for lack of innovation.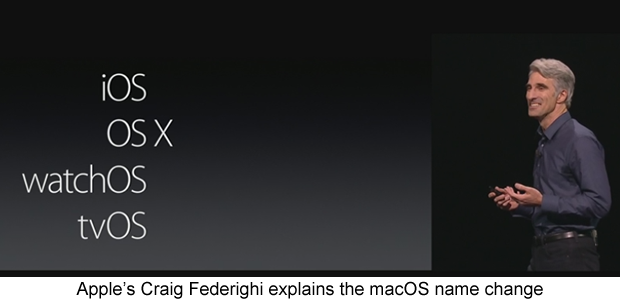 Source: Apple
watchOS Ascendant
In fairness to Apple, it probably isn't reasonable to expect ground-up revisions of all four platforms every year. There are bound to be "s" years where the changes are more superficial. This year seemed to be "s" years for macOS and iOS.
Before I delve into the changes to the various platforms and their significance for investors, let me remind the reader that I had identified five key "to dos" for Apple at this year's WWDC. How did Apple do against that list? Not very well, as I summarize in the table below.
| | | | |
| --- | --- | --- | --- |
| To Do | Maximum Score | Actual Score | Notes |
| #1 Multi-tasking on iPhone | 30 | 10 | Apple didn't implement any multi-tasking features from iPad, but did give users some enhancements for app widgets and extensions. |
| #2 HomeKit and more on Apple TV | 10 | 10 + 5 extra credit | Apple overachieved on Apple TV this time around, implementing HomeKit as well as many other iOS APIs. |
| #3 More effective Siri and Search | 30 | 15 | Apple is improving Siri, and making Siri APIs available to developers. But not much progress was visible in search. |
| #4 All in on enterprise Web services | 10 | 0 | Apple brought nothing new to the table this year, aside from revisions to the existing CloudkitJS. |
| #5 Enhanced Watch standalone capability | 20 | 20 | Apple did a great job enhancing Apple Watch functionality for standalone capability, and for the first time, direct Wi-Fi connections without iPhone. |
My maximum score is meant to indicate relative weighting for each of the tasks. I had considered #1 and #3 the most important, which is why they're weighted higher.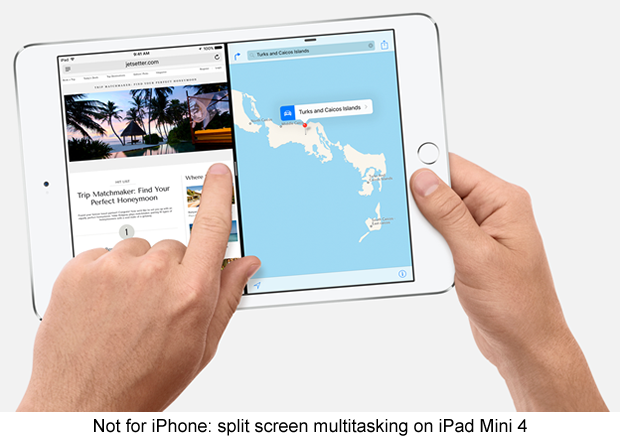 To Do #1: The lack of multitasking capability was by far the greatest disappointment of this year's WWDC. After Apple rolled out split screen multitasking for the iPad at last year's WWDC, I have advocated that it be available for the iPhone 6/6s Plus (in landscape mode, of course). Since Google (NASDAQ:GOOG) (NASDAQ:GOOGL) plans to implement a very similar set of features for the next release of Android, I assumed that Apple wouldn't miss out this time around.
Unfortunately, this train is leaving the station without Apple, and I'm pretty sure it's going to hurt. Apple seems to want to keep multitasking as a discriminator for the iPad. It isn't a matter of processing power. The newest iPad Mini 4 implements all split screen multitasking features of iOS 9 and it uses the A8 SOC from the iPhone 6.
I'm pretty sure it isn't a matter of screen real estate either. Split screen on the 6 or 6s Plus would leave an area of 1080 x 960 pixels for each app in landscape mode. This is larger than the first and second gen iPads in portrait orientation, as well as the iPhone 4s. Yes, the screen area for each app is a little small, but it's still perfectly usable.
Split screen would be even more useful for when the iPhone is attached to an external monitor via Airplay. Since Android N and Microsoft (NASDAQ:MSFT) Windows 10 Phone both anticipate use of the smartphone in desktop mode, Apple now seems to be a little behind the curve.
I would have given Apple a zero on this, except that iOS 10 implements some new features for iOS widgets that kind of scratch the multitasking itch. App widgets are now available in the lock screen, and in the home screen for apps that implement 3D touch for their icons, and have a widget available.
Certain built in apps such as iMessage and Maps will offer developers the ability to write app extensions. These extensions can be called from within iMessage and Maps to implement important functions of the third party apps. It kind of feels like multitasking, but in a very limited way. In effect, the extensions are special purpose widgets.
Useful as they are, widgets and extensions are not the same as split screen multitasking, in which the user has full simultaneous access to two apps, but it's better than nothing.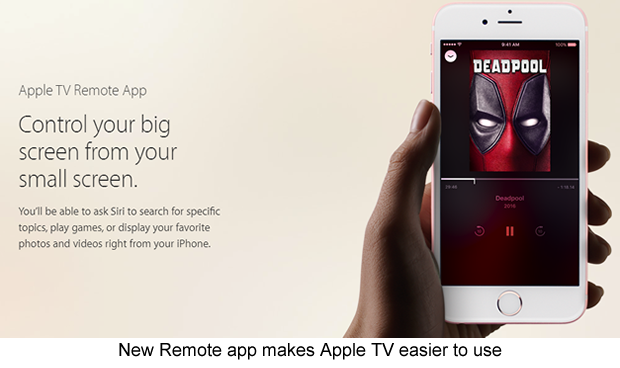 To Do #2: Apple did a great job of repairing the damage done with tvOS last year, by adding HomeKit home automation APIs to tvOS, as well as other supporting APIs that Apple TV can use to communicate and control any HomeKit enabled device. This makes Apple TV the natural hub for home automation control, including the ability to remotely access the home through Apple TV.
The Siri capability built into the Siri remote will be available for home automation tasks as well, making Apple TV competitive with home automation solutions such as Amazon's (NASDAQ:AMZN) Echo and Google Home. Apple TV doesn't have the potential ubiquity of these devices, but Apple may have a better solution through the new Apple TV Remote and Home apps.
The new Remote app allows any iOS device to function as a Siri remote for Apple TV. In addition, the new Siri enabled Home app available for iOS and watchOS affords direct control of any HomeKit device. I happen to like this solution better for privacy than the Echo or Google Home devices, which are always listening for voice commands.
To Do #3: As expected Apple did indeed release a set of APIs that developers will be able to use to enable Siri voice control in their apps. For the first time, we heard the phrase "deep learning" used at WWDC. Siri is also becoming more "assistive" in recommending answers in messaging, as well as in a new Quicktype keyboard.
Apple is also offering AI capability locally on the iPhone to search user photos by topic. Apple AI capability is clearly not in the same league as Google's Alpha Go, but Apple seems to have realized that AI is going to play a big role in making mobile devices more useful.
What we didn't see is much progress in search. Apple claims that Siri can now search the web on request in iOS 10 and macOS, but we didn't see much evidence of this.
To Do #4: The progress Apple has been making in enterprise Web services (offered as part of Xcode to developers) came to a crashing halt this year. As far as I can tell, Apple has decided not to intrude on the purview of its key enterprise partner, IBM (NYSE:IBM). This may have been necessary to cement the partnership, but it still represents a missed opportunity for Apple, as well as a loss for its developers. A set of server-side programming tools integrated into Xcode would have been really nice.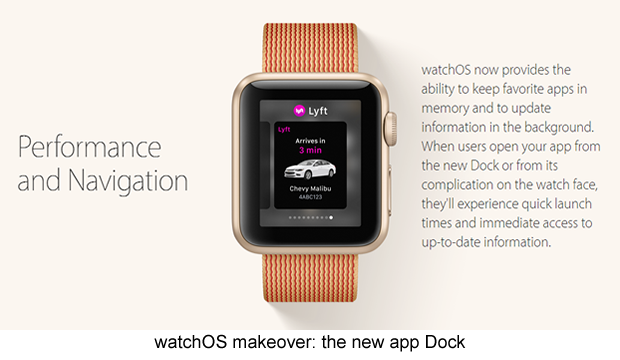 To Do #5: Last but not least, watchOS 3 is a thorough makeover, and significantly, was the first topic in the keynote. For the most part, watchOS 3 enhancements make the Watch a better standalone device. The Watch will get an app dock like its macOS and iOS siblings, making finding and launching favorite apps much easier and faster.
For messaging, there's a handwriting app called Scribble that allows composing text messages when Siri isn't available or working well (noisy environments). Most importantly, Apple took a big step forward, as I had wanted, in enabling independent Wi-Fi communication for the Watch without the need of an iPhone. The new SOS function allows the user to use Wi-Fi directly to call for help in an emergency if the iPhone is unavailable.
I've tried looking through the watchOS documentation to see if there are other cases where direct Wi-Fi connections are enabled. Unfortunately, I can't tell, since developers typically don't get control over things like hardware Wi-Fi connections. However, watchOS 3 brings many new capabilities such as iCloud that were only available for iOS before.
Combined with new 3D animation, video and audio playback capability, also brought in from iOS, watchOS 3 provides greatly enhanced standalone capability, and moves the Watch in the direction of being a more valuable device independent of the iPhone. This is the disruptive direction that I predicted.
App Enhancements
Apple's score of 60/100 against my To Dos would barely earn it a C-, except that Apple's built in app enhancements will provide some additional appeal for users. macOS brings Siri capability, along with Apple Pay for Web-based purchases. There's a whole new Apple Music app, which seems to be doing well with 15 million paid subscribers.
iOS benefits from new Maps, iMessage, and Phone calling apps. A particularly useful feature is voice message transcriptions that can be read when checking messages. All the various iOS and macOS feature enhancements probably raise the overall score to something like a B-, not terrible, but not exceptional either.
Investor Takeaway
One thing investors need to keep in mind is that Apple often doesn't tip its hand about future innovations at WWDC. WWDC is for public consumption, and Apple doesn't rely on developers to abide by their NDAs.
Thus, when Apple was about to release its new 64-bit processors in the iPhone 5s, there was absolutely no indication of this in the developer release of iOS the previous June. Apple simply waited until the 5s was out to provide an update of Xcode that would compile 64-bit apps.
There are any number of innovations that could be waiting in the next iPhone and Watch that are not indicated by anything we saw at WWDC, but the burden of innovation has definitely shifted to the hardware. For the most part, it's not really present in iOS and macOS. These are very much incremental upgrades.
The lack of breakthroughs, in iPhone multitasking, in AI and search are worrisome to me. The iPhone especially is starting to look vulnerable if the rumors of a very incremental hardware update for this year turn out to be true.
Regardless of the value of multitasking on a relatively small smartphone screen, it's clear that Android smartphone manufacturers will seize upon this as a discriminator. If the iPhone is otherwise unexceptional in hardware, the iPhone could face another fiscal year of iPhone sales decline. Yes, Apple investors have to consider that this has become a very real possibility.
Does this mean that I'm downgrading the stock to hold? Not quite. There are mitigating considerations. The first is that I still think we need to wait for the next iPhone before rushing to a judgment on its degree of innovation.
The second consideration is that if the really innovative iPhone comes out in 2017 as many rumors suggest, that's still within the 3-5 year investment horizon that has qualified my buy recommendation.
The third consideration is the disruptive potential of Apple Watch and other "phonewatches" that are in the works using Qualcomm's (NASDAQ:QCOM) Snapdragon Wear processors and the latest Android Wear OS. It may not matter that the iPhone is on the decline, if the Watch takes up the slack. I continue to regard the industry trend in smart watches as disruptive of the smartphone.
The final consideration is that Apple's stock is already so inexpensive that it probably has priced in a sales decline in the iPhone. The stock may simply tread water in the $90-$100 range as investors await "the next big thing" whatever that may be.
Under the circumstances, I continue to rate Apple a cautious buy for investors with a 3-5 year investment horizon.
Disclosure: I am/we are long AAPL, QCOM.
I wrote this article myself, and it expresses my own opinions. I am not receiving compensation for it (other than from Seeking Alpha). I have no business relationship with any company whose stock is mentioned in this article.