We still aren't exactly sure why we did it but we went ahead and followed Donald Trump, Hillary Clinton and Bernie Sanders on Twitter (NYSE:TWTR). Since we did that, we have been bombarded with a lot of, well, let's call it information.
Investors might want to pay attention to what Clinton and Sanders are saying. They both have fracking directly in their crosshairs.
Here are a few of the tweets that we have seen from the Sanders camp: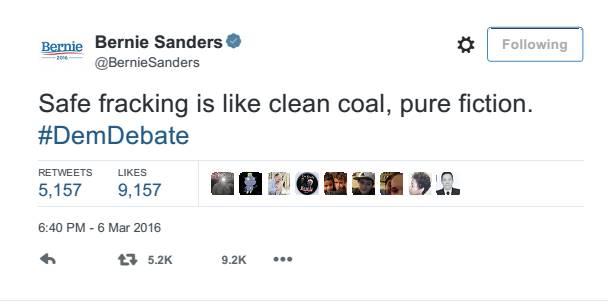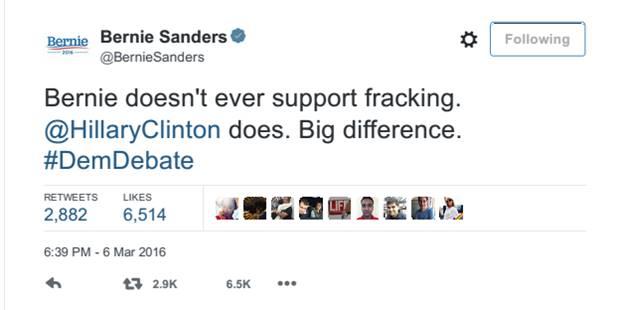 Bernie is talking about ending fracking entirely, Hillary wants to reduce it significantly. Given the importance of fracking to the energy supply of the United States today such moves would send the price of natural gas and certain stocks skyrocketing.
Do Clinton/Sanders Understand How Much Natural Gas Supply Is Tied To Fracking?
It is hard to believe today, but it wasn't that long ago that the big concern about natural gas in the United States was that it was going to be permanently in short supply.
In 2003, Federal Reserve Chairman Alan Greenspan stood before the political leaders of the United States and urged them to immediately step up imports of natural gas because a serious long-term shortage was imminent.
Greenspan could not have been more wrong about U.S. natural gas supply. Within a couple of years, the shale treasure trove was revealed and a secure supply of natural gas for decades to come was in place.
From a virtual standing start a decade ago, shale gas production now represents more than 55% of U.S. natural gas supply.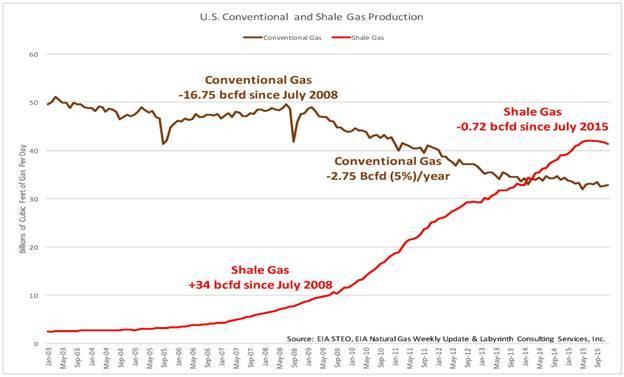 Source: ArtBerman.com
Shale already supplies the majority of natural gas in the country. Going forward it is expected to be even more important.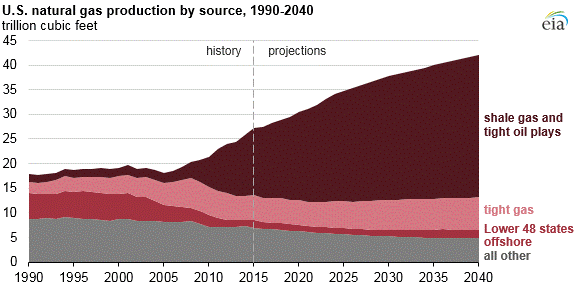 Source: EIA
The EIA's Annual Energy Outlook finds that, through 2040, total U.S. production from shale gas and tight oil more than doubles to 29 trillion cubic feet, accounting for about 69 percent of total output of natural gas in the country.
How would we get by without this source of natural gas?
What About Our Power Supply?
Natural gas has become the most important fuel for power generation in the United States. As natural gas becomes more important, coal power plants are being pushed out. Gas generated 32.1% of the United States power in the first quarter of the year, compared with coal's 28.7%.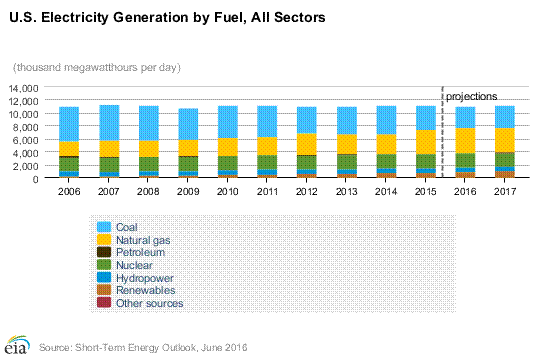 Source: EIA
If fracking were to be banned or significantly reduced in the United States, the country is going to need a lot of natural gas to supply these power plants. Going back to coal fired plants is not going to be an acceptable option for a Democratic led Government.
That would put certain companies to the north of us in a position to profit.
How Would You Profit If A Democratic Candidate Banned/Reduced Fracking
Like most people who have had more revolutions around the sun than they would care to admit, we have learned to never say never.
Both Clinton and Sanders are on record as saying that they will curtail (for Sanders end) fracking. Do we think that even if elected could they get that done? Probably not.
But it is exactly what they are promising to do, so as investors, we can't completely rule it out.
If they did curtail fracking in the United States, the obvious investment would be to go long U.S. natural gas (NYSEARCA:UNG) prices.
A second option would be to go long Canadian natural gas producers. If the U.S. bans fracking but Canada doesn't then these Canadian companies are going to have a high natural gas price and enormous demand increase for their product. That should translate into significant (and profitable) growth.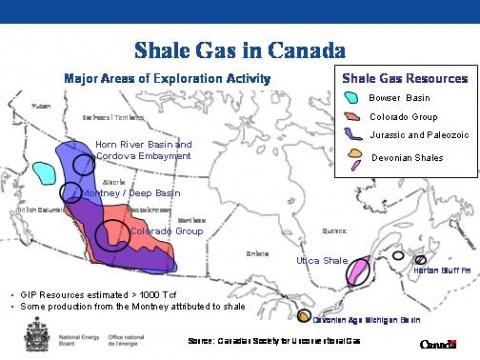 Source: gc.ca
As for a specific Canadian natural gas producer to look at if fracking was curtailed, we would suggest Peyto Exploration (OTCPK:PEYUF). Peyto may be the lowest cost natural gas producer on the entire continent.
A commodity producer that actually makes money.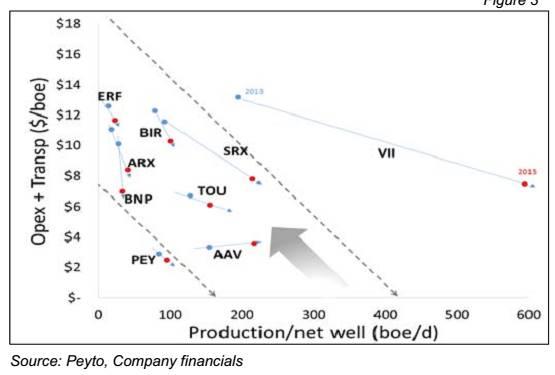 Source: Peyto
The key to Peyto's success is its 400,000 plus acres of land that is loaded with stacked natural gas formations.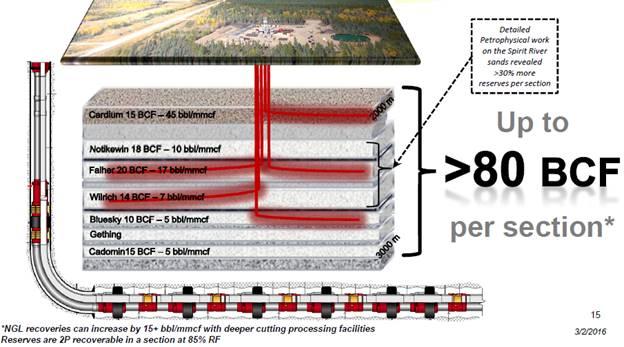 Source: Peyto
Having all of these formations stacked on the same land allows for significant cost efficiencies (infrastructure investments can be spread across all of the formations). Peyto further keeps costs low by having control of its natural gas processing facilities, which means it doesn't have to pay fees to third parties.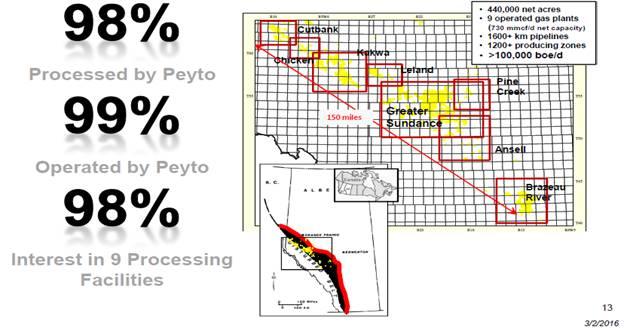 Source: Peyto
The only problem we see with Peyto is that without West Coast LNG export terminals (or a U.S. fracking curtailment) we see natural gas prices in Canada being very challenged. Canada needs to export natural gas to the U.S. and the need for that gas is diminishing because of the Marcellus boom.
Peyto is a really good company, one that investors can go to if a Democratic Candidate is elected and actually delivers on his or her campaign promises.
About The Superinvestor Bulletin

From November 2000 until June 2008, when he shuttered his initial fund, "Big Short" legend Michael Burry returned 489% vs. 3% for the S&P 500. For our subscribers, we have just released a 20-page comprehensive report explaining Burry's most recent investment idea into which he has allocated 16% of his portfolio. For just $12 per month, you can get the highest conviction ideas from Burry and other investing greats each and every month. Just follow the link and get started:
Good luck with your investing. Thanks for reading.
Disclosure: I/we have no positions in any stocks mentioned, and no plans to initiate any positions within the next 72 hours.
I wrote this article myself, and it expresses my own opinions. I am not receiving compensation for it (other than from Seeking Alpha). I have no business relationship with any company whose stock is mentioned in this article.
Editor's Note: This article discusses one or more securities that do not trade on a major U.S. exchange. Please be aware of the risks associated with these stocks.