Thesis: Virtual reality and augmented reality are going to be huge markets. Intel (NASDAQ:INTC) is desperate to be a player in this arena and one of their biggest bets is an investment in a company hyper-focused on this space, Vuzix (NASDAQ:VUZI).
Virtual reality is getting the press, but augmented reality is where it's at
When Facebook bought Oculus Rift for $2 billion in 2014, it marked a sea change for the virtual and augmented reality industries. Most people knew that, like graphene and robotics, virtual reality ("VR") was a thing of the future. A near certainty to occur, with timing being the issue. However, the landmark acquisition caused a total reset in investor attitudes toward VR. Virtual reality went from being the future to being a must-have current investment for any technology company focused on the consumer.
"The number of VR companies that we saw before late 2014 was very limited," said investor Mike Rothenberg of Rothenberg Ventures, "If Oculus is acquired and now you know it has the backing of Facebook and it's definitely going to come to market, that definitely de-risks (potential investments). You want to know the ecosystem is happening."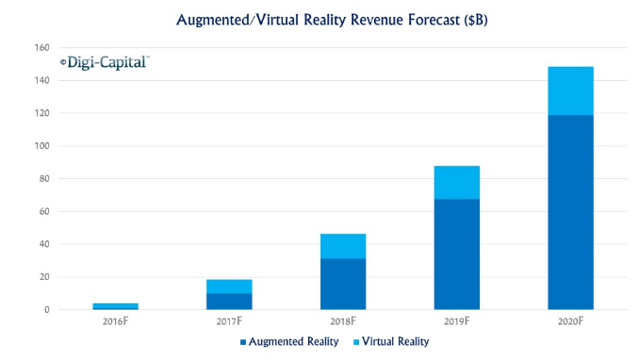 As you can see from the chart above, investment in the VR and AR (augmented reality) space has been booming. And these are not small players or strictly venture capitalists looking to develop a new market. Instead, a look at the landscape now in this space reveals a true "who's who" of the tech world. According to Goldman Sachs, the seven firms best positioned to benefit from virtual reality and augmented reality are the following: GoPro (NASDAQ:GPRO), Facebook (NASDAQ:FB), Alphabet (NASDAQ:GOOG) (NASDAQ:GOOGL), Microsoft (NASDAQ:MSFT), Advanced Micro Devices (NASDAQ:AMD), Samsung (OTC:SSNLF) and Sony (NYSE:SNE).
Big names, big money…the virtual reality space is happening. However, I believe that there are several reasons investors should ignore the hype and pay less attention to VR, instead focusing on augmented reality.
The first reason to focus on AR over VR is the end user. Augmented reality is coming to market with products focused on the enterprise customer. Products in this area are productivity enhancers - imagine DHL employees scanning boxes and recording deliveries all from a headset that fits like glasses. They now have two hands free, don't need to take a scanner from their belt, and their ability to move and deliver items has just increased dramatically.
From a market standpoint, selling to enterprise firms like DHL is much preferable to selling to the consumer market. You have one buyer that can order many thousands of units. A buyer that will return to you for replacements and upgrades. And a buyer that is not a trend chaser.
This is opposed to VR where the end customer is, quite likely, a teenager or gen-xer. Buyers who are going to be more concerned on looks and millisecond latency of the hardware on the platform than something like raw functionality and productivity enhancement.
The ability to control the end product is a second reason for AR to succeed over VR. If you remember the early days of the X-Box, Microsoft's sales were suffering from a lack of developers producing games for their platform. VR manufacturers will always be subject to product cycles and fickle consumers chasing hot games. Augmented reality developers need only be concerned on acquiring and then keeping enterprise customers - a much stickier market.
"Virtual reality is about to go mainstream, but a lack of content threatens to hold it back," - Tony Scherba, TechCrunch.com, April 3, 2016.
In order for a market to take off, there has to be a reason for users to want to use the product. Virtual reality might sound like a neat idea (which it totally is), but until there is a significant increase in the number of developers producing quality content, there is not going to be a compelling reason for consumers to get all excited about plunking down a thousand dollars or more on a device. This is not the case with AR, as an enterprise only requires one application to be run on a device to make it beneficial. Thus, the enterprise market for augmented reality should accelerate past the consumer focused virtual reality market.
The final reason for investing in AR over VR is in the applicability of the product. Virtual reality immerses users in a new world. Picture your teenager alone in their bedroom with a total immersion headset, blocking out the real world while jumping around and shooting aliens. It might be the best gaming environment, but it certainly isn't social and won't be happening anywhere beyond private locations.
On the other hand, it is very easy to imagine oneself wearing a pair of glasses that contain your cell phone. The lens of the glasses provides you with all the functionality of a smartphone - email, text, calling, directions…etc. Suddenly, by simply wearing a stylish pair of shades, you have complete access to your personal digital assistant, with the added benefit of never butt-dialing anyone again.
It's the pure functionality and usefulness of augmented reality that gives it a significant advantage over virtual reality. As the chart below shows, analysts agree that AR will be the larger market.
This is a nascent industry just in its infancy. And, there certainly is room for lots of competitors to take a share of the market as it develops. With the right backing (deep pockets, strong technology platform) some companies are going to make a killing.
Intel missed mobile, they don't want to miss AR/VR
When looking at the previous list of players in the AR/VR arena, a strong combination of both hardware and software companies are present. These are all powerhouses in their fields and, collectively, would make life very challenging for any small, underfunded startup in the VR space. Noticeably absent from the list, however, are several of the larger technology companies. For example, where are Apple (NASDAQ:AAPL), Cisco (NASDAQ:CSCO) and Intel?
Apple has their own initiatives (there are concerns that AR will end up taking over a large portion of the smartphone market) and I'm sure they will end up a player. Cisco is not directly in the space, but their equipment, by powering the internet, will be a beneficiary of the growth. On the other hand, when you see AMD listed as a large beneficiary of this market, Intel becomes, in my opinion, the most conspicuous name not on the list and simultaneously the company that has the most upside from inclusion while suffering the most from exclusion.
It is common knowledge that Intel's focus on the PC space led them to miss the whole shift to mobile. Had they properly anticipated the market, it is easy to believe they could have taken their financial and technological resources and made themselves the dominant player in mobile. However, they didn't make the right moves and the largest growth market for microchips over the last decade was a dud for Intel. The result is plainly evident in the graph below, which shows stagnant revenue and declining free cash flow for Intel over the last five years.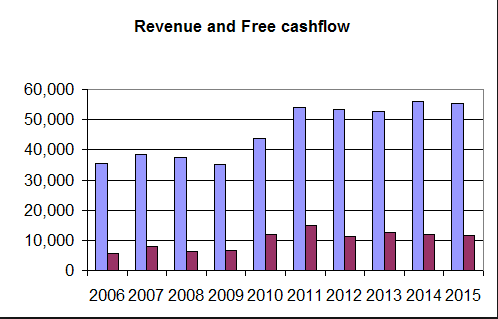 And, as a direct result of the lack of growth for Intel, their share price has gone nowhere for two years, with no real catalyst in sight.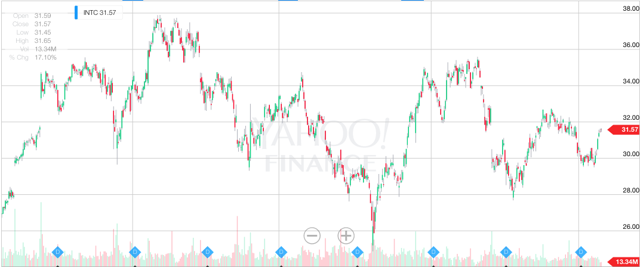 Intel has stalled in terms of growth and its investors are clearly suffering relative to the overall market. Which brings us to the virtual and augmented reality markets, the new arenas for microprocessors that are projected to show the most growth for the next decade for the hardware space. Intel has to see AMD listed as a top player and feel a ton of pressure. They can't let their main rival dominate a space that is expected to grow to a $150B market over the next 10 years.
All this leads us to Intel's strategy for VR/AR. Intel has shown their prowess over the years in getting their products into the enterprise space. Consumer and gaming devices has not been a strong suit. But for someone building out a network or deploying hardware on a large scale has been right in Intel's sweet spot. Thus, it makes perfect sense that Intel is looking to partner with companies going after the AR space. AR is not only anticipated to be the larger portion of the market, but it is a direct path to larger enterprise sales.
"Over the next 10 years, the form factor's just going to keep on getting smaller and smaller, and eventually we're going to have what looks like normal-looking glasses that can do both virtual and augmented reality," Mark Zuckerberg.
Vuzix has been a player in the VR/AR space for years. Their greatest traction, however, has been in the AR space. In particular, they have had pilot programs and initial sales of their augmented reality glasses to major corporations such as DHL. With a product that has garnered awards for its functionality and design, and with major enterprise customers expressing interest, but having had limited resources to fully develop their products, Vuzix was a great fit for Intel. For those reasons, Intel invested $25M into Vuzix just over a year ago and, in doing so, has picked Vuzix as their horse in the AR race.
Vuzix is at a transformational point in its lifecycle
What is Vuzix? Why did Intel invest in them? And what makes the company compelling at this time? These are the questions I will attempt to answer here…with the major caveat that I'm going to brush on the past of Vuzix and let you do your own digging there if you want more details. Instead, I'll really try to focus on explaining, in my mind, where Vuzix is going and why it makes sense to look at the stock at these levels.
The history of Vuzix is one of an early, but underfunded, adopter. Vuzix has been in the VR/AR space since their founding in 1997. They were not only among the first in the space, they have had success in product development...they had the first virtual reality headset available on Amazon. These guys were true visionaries by being early adopters. In contrast, Oculus Rift was initially funded only four years ago with $2.4 raised in a kick-starter campaign.
Here's a partial list of some of Vuzix's accomplishments:
· In 2005 introduced the V920, the first VR headset in the market
· Created the first video eye wear to support stereoscopic 3D for the PlayStation 3 and Xbox 360
· In 2011, Vuzix introduced the first production model augmented reality glasses, the STAR 1200
· M100 rated as one of the five top gadgets expected at CES by CNBC
· M100 given the CES Innovations award in 2013
Vuzix has had products available for over a decade. Not only were their VR headphones the first to market, but they also offered one of the first pieces of AR eye wear, the M100, which they tout as "the world's first commercially available Smart Glasses."
Yet, despite their accomplishments and early adopter status, Vuzix has failed to generate significant revenue and they have yet to bring a wildly successful product to market… at least as measured by commercial uptake. More importantly, they did develop a good enough product to attract the attention of several large enterprise customers, including DHL and many others. Breaking into the enterprise market is never easy and Vuzix's ability to garner customer interest was a major accomplishment for the little company.
And it was this success at bringing a product to market and successfully target enterprise customers that drove Intel to look at Vuzix. Furthermore, after looking at VUZI, in January 2015, Intel invested almost $25 million for a 20% stake in the company.
The Intel investment, according to Ross Silver of Vista Partners, was "to accelerate the introduction of Vuzix next generation fashion-based wearable display products." This represents a redirection of strategy for Vuzix. Whereas, in the past, they were working on both VR and AR devices, the Intel investment was designed to focus them on the augmented reality aspect of their business. Which makes a ton of sense - it's the larger portion of the market and it fits well into Intel's model of winning over large enterprise customers instead of targeting the end consumer.
Where does VUZI go from here?
As we near the midpoint of 2016, Vuzix is rapidly approaching a key moment in their history. They have over a year's time and effort under their belt since Intel bankrolled the company's development efforts. They have been focused on the next version of their smart glasses, the M300 which launches in this quarter.
I believe that this focus on the M300 comes at the expense of the company's VR efforts. When you have a development partner pushing for, and funding, one initiative, it makes sense to curtail efforts that distract from this vision. The company hints at this in their most recent conference call when they say, "as far as the 10,000 units go, yes that's our first batch we haven't - the company is not committed to a second batch at this stage."
In the VR space, Vuzix has been hampered by production issues in the past. They are now competing directly against better funded competitors, such as Oculus Rift. The company has inventory, sales of which will help their balance sheet tremendously. Yet, unless they see some large, upbeat response from the consumer market (and it doesn't look like they are expecting this), I believe the sale of the 10,000 iWear VR devices will mark the end of the company's efforts in virtual reality headgear. Instead, they will become a much more focused AR firm, with their future riding on the success of the M300 and its successor the M3000.
How will the M300 be received by the market? This is the key question for Vuzix at this time as their future seems to rest squarely upon success of the product. Here's Paul Travers take on the M300, from the company's recent conference call:
"We have developed the M100 at a time when Vuzix was not as well capitalized and still have sold thousands of M100s. We feel this has helped to create a high level of pent-up demand for a new solution that would solve the many problems current smart glasses have and we are confident the M300 does just that. As a result, we expect the M300 will far outpace the M100 sales, both in units and speed of sales ramp. Over the coming months, the initial demand should be robust."
This quote was from May 13th, about two weeks ago. Since the M300 rollout is this quarter, one would hope that the company's take on sales and demand would be fairly in touch with the market. Assuming that's the case, judging from his comments, the Intel investment has been put to great use in developing and delivering a quality product to market - the end result being "pent-up demand" and potentially "robust" sales.
Those are great words for investors, but how does one quantify this opportunity? It's certainly not that easy. As an example, DHL has indicated to Vuzix that over 200,000 employees could potentially be using AR devices down the road. Vuzix feels that this is the tip of the iceberg as they have, according to the company, 194 potential customers in their pipeline. They have been whittling that figure down a list of 50 V.I.P. customers, all of whom are large enterprise companies that, if converted to purchase orders, would each be buying many thousands of units.
Now, admittedly, Vuzix is not the only player in the AR space. Google was here with their Google Glass; one can easily envision them returning to the space. Facebook and Oculus certainly have AR on their radar screen. And a number of smaller players are producing competitive products to the M300. It is therefore easy to see that Vuzix will have their work cut out for them in securing their niche in this space. However, with their headstart in bringing products to market and their relationship with a premier technology partner, one can imagine that VUZI has the potential to be one of the long-term winners in this arena.
Where does this leave investors?
Vuzix, like many small cap companies, appears to be a very binary opportunity. The future of the company, and an investment therein, is really centered around the uptake of their next product to hit market - the M300. If the M300 takes off, so will shares of Vuzix. Of this I'm certain. Meanwhile, since Intel invested last year, the shares have been relatively stagnant.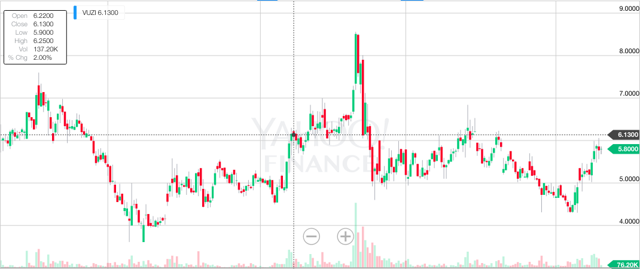 There are, however, several mitigating factors that lower the risk profile of VUZI and make it less binary of a situation than it appears at first glance. For instance, the iWear product. Vuzix is sitting on an inventory of 10,000 devices. If sales of this are robust (which they could be due to the strength of the product in drone racing of all places), the company will get several millions of dollars in sales. More importantly, it will get very positive PR in an industry that is hotter than hot. Success of any degree with their virtual reality product would certainly drive the shares higher.
Secondly, Intel is a great partner for a small company like Vuzix. A while back, a famous football coach said that he didn't like passing a football because there were three possible outcomes, two of which were bad. Well, in my opinion, accepting an investment from a strategic, like Intel, has the opposite risk reward scenario. There are three possible outcomes (buyout, increased investment, no more investment) and two of the three are positive. More exactly, if the company demonstrates any positive execution on their business plan, one would fully expect Intel to want to increase their exposure to AR through Vuzix.
Taking this one step further, buying VUZI stock now is a relative deal compared to where Intel invested. Intel's cost is $5 per share, only marginally lower than current trading prices. Yet, investors buying Vuzix today have the benefit of knowing that the M300 has had a successful pre-launch development and will be coming to market very soon. Basically, the major risk Intel took in investing pre-product development is off the table, making the stock a relative bargain compared to when they invested.
If Vuzix succeeds with the M300, I think Intel will eventually buy them. However, buying VUZI strictly on anticipation of an Intel buyout would not be advisable. Intel's involvement and the potential success of iWear are simply two factors that give Vuzix an opportunity to create positive returns for investors. The main driver here, and the primary reason for owning the stock, is the M300. If the M300 is a commercial success…well, let's let the CEO tell you in his words, "…it's exciting right now, and over the summer I think it's going to be even more fun." Investors can only hope he's correct.
Disclosure: I/we have no positions in any stocks mentioned, and no plans to initiate any positions within the next 72 hours.
I wrote this article myself, and it expresses my own opinions. I am not receiving compensation for it. I have no business relationship with any company whose stock is mentioned in this article.
Additional disclosure: I am not a registered investment advisor and this is not a formal investment recommendation. I am not telling you to go buy or sell this stock. I'm telling you that I recommend that you research the stock to see if it is a good fit in a well-diversified portfolio. I recommend that you do as much research as possible on every stock you purchase or sell prior to any action. I recommend that you consult your investment advisor or broker prior to any action. I am not liable for any transactions you make after reading this article. Do your own due diligence prior to making any investment decision. This article includes forward-looking statements and the investment is subject to uncertainty. This author explicitly disclaims any liability that may arise from this article, and all commentary in the chat area after the article.