Last week I wrote an article about the European Central Bank's latest quantitative easing attempt and highlighted 4 closed end funds that may be in a position to take advantage of the latest bond buying program.
You can read that article here.
In that article we identified the Nuveen Global High Income (NYSE:JGH) and the MFS Intermediate Income (NYSE:MIN) funds which are pure fixed income with large focus on Europe. In order to take advantage of the easing benefits for emerging Europe, we looked at the Templeton Emerging Markets Income Fund (NYSE:TEI). Finally we found the Calamos Global Dynamic Income Fund (NASDAQ:CHW)... and boy were some feathers ruffled.
Part of it was my fault in that I did not explain why I picked CHW out of the screened funds so let me do that right now.
Much like in the United States after QE1, 2, 3, etc... lower bond yields and higher bond prices were just one component of the equation. With the ECB looking to lower overall rates and borrowing costs, it hopes to make companies become more profitable, and thus equity prices should follow.
CHW is one of 13 closed end funds that comes up in the Global Growth & Income category and factoring in exposure to Europe, moderate expenses, moderate use of leverage, above average distribution rate and healthy discount to NAV, CHW fit the bill for the article.
On the surface looking at the fund at face value... it has underperformed many competing closed end funds, and significantly lags the S&P 500.
So is the fund mediocre? Or perhaps it is just misunderstood? Let's find out!
Fund Basics
The Calamos Global Dynamic Income Fund is a closed end mutual fund seeking high current income and capital appreciation. I am not going to go into details about the closed end fund structure as I have done in the previous articles, however it is important to understand the fundamentals of this structure. The most important part to keep in mind and where we will leave it at is that with CEFs, it is critical to understand what the fund is investing in and what is underneath the hood. Closed end funds are NOT an asset class, but merely a tax structure for a closed pool investment trading on the public markets.
Sponsor: Calamos Investments
Managers: Calamos Investments
AUM: $709 million inclusive of leverage, $479 million common assets.
Historical Style: Non-US/Other-Global Growth & Income
Investment Objectives: The Fund seeks to generate a high level of current income with a secondary objective of capital appreciation. The Fund has maximum flexibility to dynamically allocate among equities, fixed income securities and alternative investments around the world.
Number of Holdings: 370+
Current Yield: 11.95% based on market price, Monthly Distributions
Inception Date: 6/27/2007
Fees: 1.44%
Discount to NAV: 13.42%
Source: Calamos.com & CEF Connect
While the name of the fund suggests it may be like other high yield funds, the reality is, the portfolio is not exactly like other income funds.
Currently a good 50% of the portfolio is allocated to common stocks.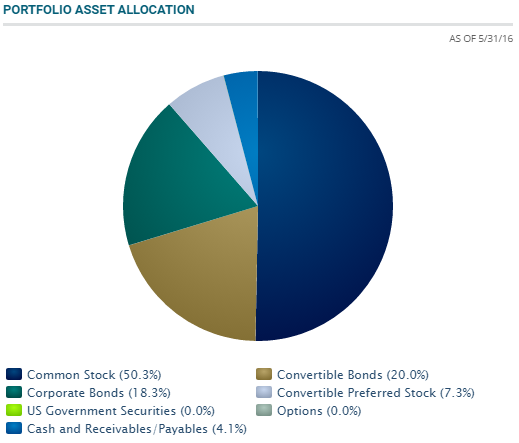 Source: CHW Calamos Website
The top 10 Holdings include household names found worldwide.
Source: CHW Calamos Website
Calamos does a great job with transparency of their funds. You can see the full holdings as of the end of April here.
Having seen the fund makeup, the highlights make sense.
Closed-end fund portfolio that flexibly blends global fixed-income securities, alternative investments and equities in order to maintain an optimum risk/reward profile.
Seeks a level-rate distribution policy in an effort to provide stable, monthly distributions.
Dynamically pursues areas of opportunity across countries, sectors, credit tiers and market caps.
Invests at least 40% and up to 100% of managed assets in foreign securities, including emerging markets.
Can write call options against up to 100% of managed assets to generate additional income.
Source: Calamos Website
This is a real flexible portfolio with the ability to employ a number of strategies and invest anywhere in the world. So how does it do?
The Numbers
The fund was launched at the peak of the market before the GFC (Great Financial Crisis). Like most funds of that time period, it suffered greatly, falling more than 60%. Finally after nearly 10 years, the fund has recovered on a total return basis, overcoming the sales load and the leverage induced losses of 2008.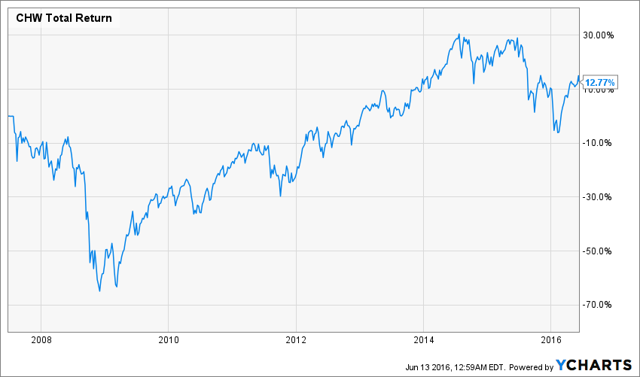 If you were fortunate enough to invest in the fund at the bottom you would of done well.
Since Jan 1, 2009, the fund is up 129% on a total return basis.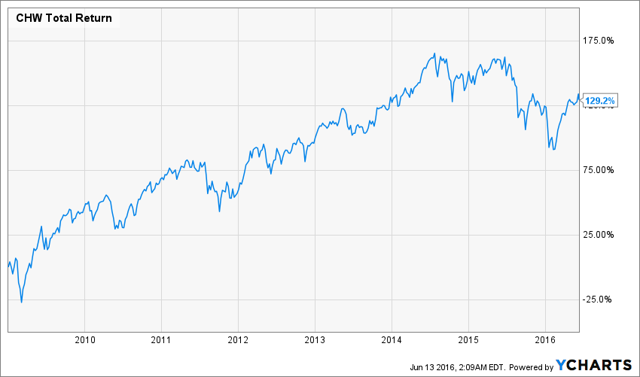 That's great... right?
Well, not if you compare it to the S&P 500 or other popular CEFs such as the BlackRock High Yield Fund (NYSE:HYT), the Cohen & Steers Infrastructure Fund (NYSE:UTF), or the Eaton Vance Tax Advantaged Dividend Fund (NYSE:EVT).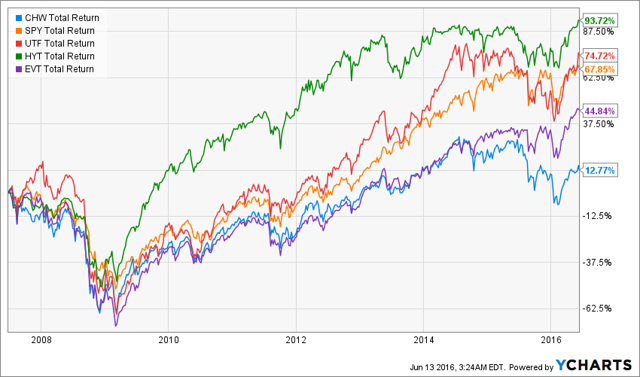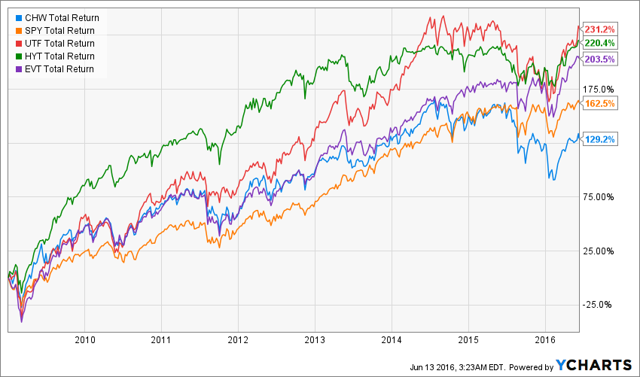 This was a big point of contention with the fund with numerous investors who have purchased it and held it over the years.
But is the fund really that bad?
Over the last number of years, the fund has outperformed versus its category peers, including 2012, 2014 and YTD, and has kept quite close in the other years.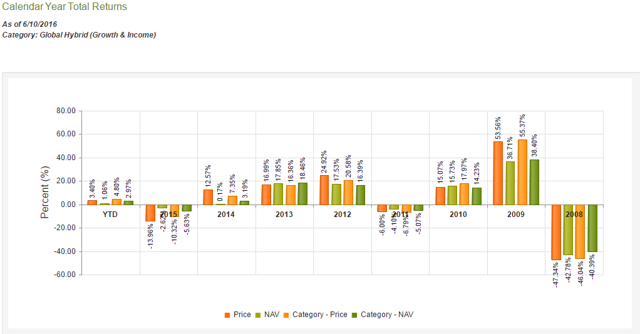 Source: CEF Connect
On an annualized basis, the fund does the same, on a 3 month, 3 year and 5 year basis.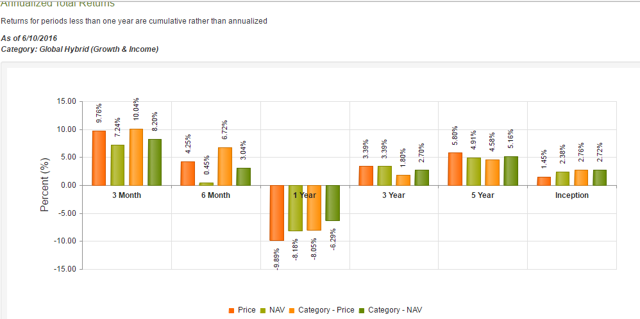 The reality is, when you are comparing the fund to the fund's benchmarks, it does fairly well.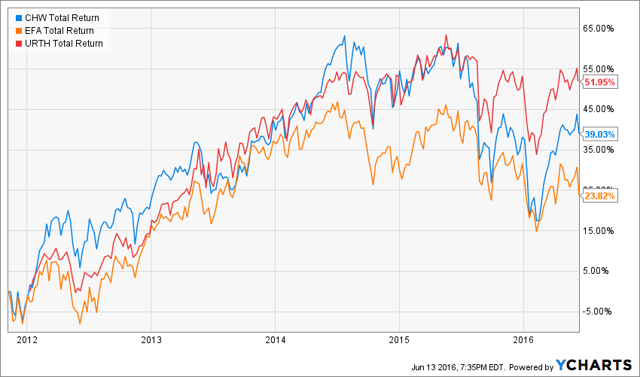 On a total return basis, the fund beats the MSCI EAFE (NYSEARCA:EFA) and just trails the MSCI World (NYSEARCA:URTH) indexes. The fund outperformed both through the middle of 2015 when high yield funds and closed end funds were being sold off.
Our Take & Bottom Line
As a Closed End Fund, it is easy to criticize this fund for the mediocre performance, especially compared to the multitude of high yield and covered call funds. In reality, I think this fund is just misunderstood.
On one hand, Calamos named the fund the Dynamic Income Fund which is a tad misleading considering that half of the portfolio is common stocks. While they are dividend paying equities, "Income" CEFs are not typically associated with common stocks.
As such, I can see why someone would compare this fund to CEFs such as MIN, HYF and more income oriented portfolios.
Perhaps this would be better called the Calamos Global Dynamic "Balanced" Fund. =)
In reality, compared to the underlying benchmarks, the fund is actually not bad.
Would I buy? Eh, I don't know.
As a short term trade, I would gladly consider this fund for a number of reasons. First, it is a growth and income play to capitalize on the ECB's bond buying program. Secondly, it is currently trading at a decent discount of nearly 14% to NAV. Lastly, it is currently distributing a nearly 12% annualized yield paid monthly.
Long term? I am not so sure. With a recent departure of a key manager at Calamos, and mediocre long term performance, there are better funds out there that deserve a permanent position in your portfolio.
The big area of concern would be how this fund performs during a protracted sell off. Even though the underlying assets may be fine, the fact that you do not have a large institutional ownership presence, the retail public would likely be the first to start selling the fund in case of panic. The market price would suffer, but it may present an opportunity to buy the fund as the discount to NAV opens up.
Just a final note to make on the distributions. This fund returns capital as part of the overall distribution a number of months out of the year. Because part of the fund's strategy is the arbitrage of the convertible bonds to stocks, this is expected. The benefit of the managed distribution is that you have a fairly reliable and stable income source for your retirement needs. The current distribution has been steady since 2014. In fact, the distribution has only been increasing since the market bottom in 2009.
Baby, do you understand me now?
Sometimes I feel a little mad
But don't you know that no one alive can always be an angel
When things go wrong I feel real bad.

I'm just a soul whose intentions are good
Oh Lord, please don't let me be misunderstood

The Animals - Don't Let Me Be Misunderstood
Final Note: I hope you found this article helpful. I am a believer in active management that works and I am here to help you find those opportunities. Please follow me here on Seeking Alpha as we look for those opportunities and sort out the good managers from the mediocre.
Simply click the "Follow" button below if it appears for you, or click "Follow" next to my name at the top of the article. Alternatively, you can click the orange "Follow" button from my profile page.
Disclosure: I am/we are long JGH.
I wrote this article myself, and it expresses my own opinions. I am not receiving compensation for it (other than from Seeking Alpha). I have no business relationship with any company whose stock is mentioned in this article.
Additional disclosure: Maks Financial Services is a registered investment advisor and our Form ADV Part 2 is available upon request. We certify that the opinions and predictions in these articles are our professional beliefs at the time of publication and should not be construed as personal investment advice. Please consult your financial professional to see how anything discussed here applies to you. Furthermore this is not a solicitation to buy or sell any securities. This is not Tax Advice. Please consult your tax professional.