May retail sales saw a 0.5% increase during the month according to the U.S. Census Bureau's retail sales report. This gain was more good news after the 1.3% increase in April, marking two months of consecutive gains. The latest retail data seems to suggest that the consumer is healthy, an important economic data point as it accounts for two-thirds of U.S. output. The latest data might also prove a complicating factor for the Federal Reserve. While May's jobs report increase of only 38,000 job, the worst figure since September 2010, took a June rate increase off the table, any signs of accelerating growth or inflation could mean a rate hike in July.
Looking at the May retail numbers, one key takeaway from the report is that consumers are increasingly shopping online. Besides gasoline sales which gained 2.1% thanks to higher fuel prices, nonstore retail remained the strongest category in May, up 1.3% for a 12.2% gain. No other retail category is demonstrating anywhere near that rate of growth. The disruption in retail continues, clearly favoring clicks, not bricks!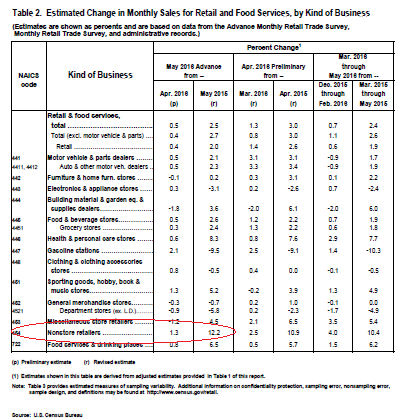 Another retail category that exhibited positive results in May was sporting goods. While this may be in part attributable to the continued popularity of the "athleisure" apparel trend, it was likely also fueled by consumers snatching up "bargains" at bankrupt closing stores like Sports Authority and Sports Chalet. These store closures are another sad testament to the disruption traditional retail in favor of non-store models.
One other item of note, apparel sales picked up slightly in May, up 0.8% versus last month's increase of only 0.4%. This may bode well for the upcoming back-to-school shopping season. In fact, eMarketer is expecting a strong back-to-school season this year with sales growth of 2.6%. This would be good news to languishing brick retailers in the category, but again it pales in comparison to the 15.3% growth projected for e-commerce sales for the back-to-school season.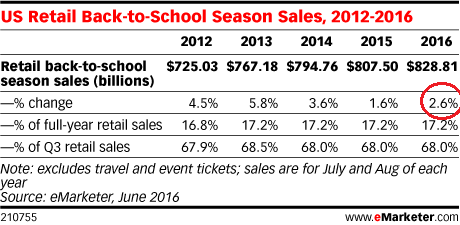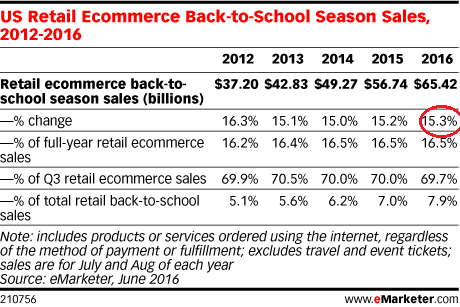 Clearly the online disruption of retail continues to gain traction to the benefit of online retailers such as Amazon (NASDAQ:AMZN) and Chinese e-commerce giant Alibaba (NYSE:BABA). At Alibaba's investor day on June 14, the company predicted a sales increase of at least 48% this year, versus last year's still huge growth of 33%. Analysts had been expecting 40% growth this year. New business in untapped rural markets, more cross-border transactions, and online media and cloud growth are the key catalysts for this impressive increase in growth.
So given the huge opportunities in the online retail segment, what investment vehicles are available to investors to harness this trend? Traditional retail ETF's have very little direct online retail exposure, nor much non-US exposure and individual stock names such as Amazon carry high stock specific risk and high P/E multiples. Amazon's trailing P/E based on 2015 earnings is over 500X.
For this reason, EQM Indexes created the EQM Online Retail Index (IBUYXT) to track online retail holdings in the market segments of retail, marketplace, and travel. The Index has been licensed by Amplify ETFs as an exchange traded product.
The online retail disruption of retail, #clicksnotbricks, is not a trend that is likely to reverse, but rather represents a permanent secular change in the retail industry brought about by digital disruption in internet, mobile, rapid delivery and payment processing. These innovations have rewarded consumers with low price, convenience and selection. So for the enlightened consumer, there is no turning back now!
Disclosure
EQM Indexes is the creator of the EQM Online Retail Index which has been licensed to Amplify Investments as an ETF. It is not possible to invest directly in an index. Exposure to an asset class represented by an index is available through investable instruments based on that index. EQM Indexes does not sponsor, endorse, sell, promote or manage any investment fund or other investment vehicle that is offered by third parties and that seeks to provide an investment return based on the performance of any index. EQM Indexes makes no assurance that investment products based on the Index will accurately track index performance or provide positive investment returns. EQM Indexes is not an investment advisor, and makes no representation regarding the advisability of investing in any such investment fund or other investment vehicle. A decision to invest in any such investment fund or other investment vehicle should not be made in reliance on any of the statements set forth on this website. Prospective investors are advised to make an investment in any such fund or other vehicle only after carefully considering the risks associated with investing in such funds, as detailed in an offering memorandum or similar document that is prepared by or on behalf of the issuer of the investment fund or other vehicle. Inclusion of a security within an index is not a recommendation by EQM Indexes to buy, sell, or hold such security, nor is it considered to be investment advice.
Disclosure: I am/we are long IBUY.
I wrote this article myself, and it expresses my own opinions. I am not receiving compensation for it (other than from Seeking Alpha). I have no business relationship with any company whose stock is mentioned in this article.