Shares of Chipotle (NYSE:CMG) have fallen more than 15% over the past month on several analyst downgrades. Despite the dip below $400, shares remain richly valued and still maintain an unattractive risk-reward profile. Considering the company's difficulty in recapturing customers, we believe the valuation needs to compress markedly even from these depressed levels in order to give investors favorable asymmetry on the long side.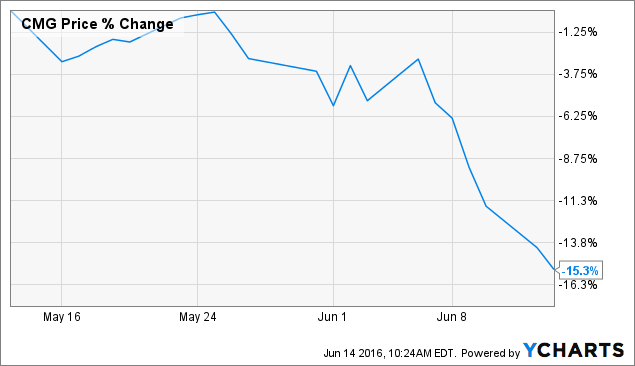 CMG data by YCharts
CMG has seen its fair share of bearish analyst sentiment over the past few weeks. Previously bullish Cleveland Research reported unimpressive channel checks and downgraded the stock to Neutral at the end of May. A week later, Nomura lowered its estimates after noting weak sales trends. Most recently, Deutsche Bank lowered its price target to $340 after saying that the company will continue to face ongoing pressure to boost traffic. Consensus recent analyst sentiment seems to be strongly bearish that weak sales trends will persist and that the company will continue to face challenges in recapturing its pre-E. Coli customer base.
We largely agree with this sentiment. In April, we warned investors that intensifying competition in the QSR space would mean it would be hard for CMG to recapture loyal customers. It certainly appears as if this is the case. According to a recent Harris poll, CMG has not only given up its position as the most popular fast-casual Mexican chain, but isn't even among the top 4 chains anymore. Moe's Southwest Grill, a high-growth chain with half as many stores as CMG, is now the most popular fast-casual Mexican chain, while Taco Bella, Qdoba, and Baja Fresh rounded out the top 4.
Meanwhile, other health-oriented QSR chains like Panera (NASDAQ:PNRA) and Shake Shack (NYSE:SHAK) are surging on CMG weakness. SHAK comped 10% MRQ while PNRA comped 6%, and both chains hiked full-year sales guidance on strong first quarter results. Even McDonald's (NYSE:MCD) is seeing some benefit from CMG weakness, with domestic comps growing 5.4% MRQ.
We think the story here is that CMG just isn't that much better than its peers. Consumers left CMG late last year and early this year amid the health concerns. They began eating more frequently at Moe's, Baja Fresh, Taco Bell, and Qdoba, among other chains. They now think that these other chains aren't that much worse than CMG and are satisfied with passing up on a CMG burrito as long as they are ensured they won't fall ill. Eventually, most (though we do not think all) of these customers will return to CMG, but with less frequency. Essentially, the E. Coli scare has forced customers to try or return to other fast-casual Mexican chains. The Harris poll shows us that these customers are not disappointed with their new options.
To us, the stock does not seem priced with these near-term growth concerns. The stock is trading at 17x trailing EBITDA. By comparison, PNRA, MCD, and The Habit (NASDAQ:HABT) are all trading around 14x EBITDA. These are each companies experiencing fairly strong growth driven by positive comps, but are less expensive than the reeling CMG.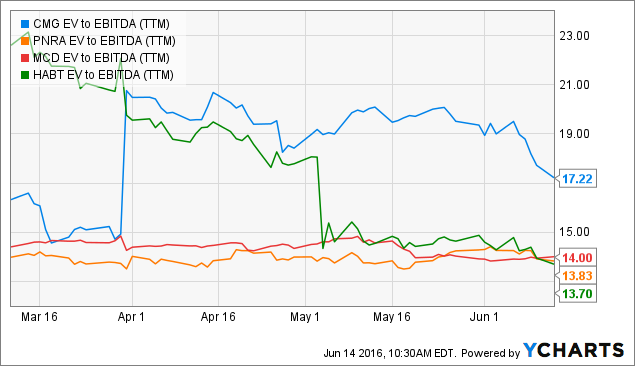 CMG EV to EBITDA (TTM) data by YCharts
The valuation still has a ways to compress in order to give investors favorable asymmetry on the long side. The return of customers to CMG has been more like a trickle than a waterfall. This means catalyst for a turnaround is still a ways down the road, and we see no reason to own the stock at this point in time.
Disclosure: I/we have no positions in any stocks mentioned, and no plans to initiate any positions within the next 72 hours.
I wrote this article myself, and it expresses my own opinions. I am not receiving compensation for it (other than from Seeking Alpha). I have no business relationship with any company whose stock is mentioned in this article.