I have always had a soft spot for Clarke Inc. (OTCPK:CLKFF) as it was the subject of the very first article I ever wrote for Seeking Alpha. It had many of the features I liked in deep value companies. Clarke had a strong capital allocator as majority shareholder, a substantial cash balance at its disposal, with a substantial shareholder yield. These characteristics have largely remained in tact since I wrote about the company last year. However, on June 10, 2016, Clarke issued a press release changing both its dividend policy and investment approach. This has caused me to take another look at the company and review my key bullet points in my original article.
Clarke has a significant cash hoard available for the next downturn.
Cash always provides a margin of safety for the downside and a latent catalyst for further investments in its business. Prior to the June 10 press release, Clarke was sitting on $36.8m in cash, representing 21.6% of its market capitalization. While this was down from $79.1m at the start of 2015, it still represented a substantial portion of its inherent value. Its cash levels have oscillated a lot over time as Clarke takes profits regularly on its investments, most recently on its stake in Supremex (OTCPK:SUMXF), a boat (the MV Shamrock) and its Terravest (OTC:TRRVF) debentures.
However, the press release detailed a special dividend of $2.00/share payable to shareholders, totaling $31.3m or 85% of its outstanding balance. This will leave Clarke with $5.5m on its books. This is no longer the same margin of safety that it previously had. It will still have enough to continue its operations, especially with an eliminated dividend, but will not have the same ability to further drive the business at this point.
Clarke is a very shareholder yield friendly company with an invested management team.
The upside of the special dividend is that it returns its previously generated profits to its shareholders. This is a return of approximately 20% on its pre-announcement share price. However, it was paid out of its existing cash balances rather than being the result of a windfall profit (ie share sale) that had not been previously recognized by the market. Its cash balance should not have been a secret. This dividend announcement was more analogous to a hedge fund closing up shop and returning cash to its investors then a real boon for shareholders.
Clarke has been also very aggressive in buying back shares, most recently renewing its Normal Course Issuer Bid (NCIB) on May 27, 2016. In fiscal 2015, it bought back a substantial level of shares:

Source: 2015 Annual Financial Statements
This is on top of a regular $0.40/share annual dividend that Clarke paid out to shareholders. This was a yield of just under 4% alone prior to June 10th's announcement. However, in the above press release, due to the lack of dividend paying investments, Clarke's on-going cash flows no longer support a regular dividend. As a result, it has suspended the dividend for the time being. This makes a lot of sense and is a smart corporate move, but it impairs one of the key tenets of an investment in Clarke. I suspect if shares drift down, they may continue to buy back shares if the discount become pronounced, but this is just speculation and will depend on the fate of its portfolio.
George Armoyan continues to be the majority shareholder with 7.3m shares, representing 46.5% of the company after the recent buybacks so relying on his acumen still has shareholders aligned with management's best interest. Shareholders will continue to benefit along side Armoyan, just not as much as they used to.
Clarke's market valuation is at a significant discount to book value.
Clarke has traditionally traded at a conglomerate discount to its book value.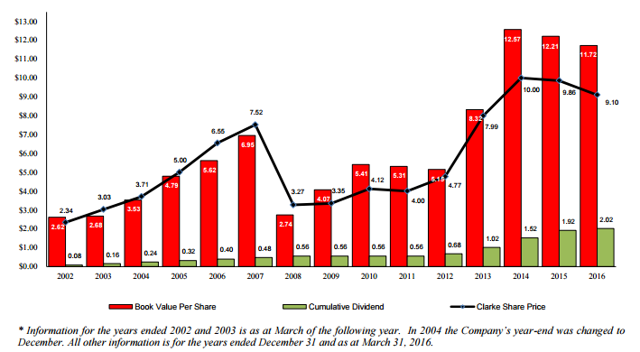 Source: Clarke Q1 2016 MD&A
Given that much of its asset base is either cash or marketable securities, this is not the same as owning a bunch of private businesses. Even after the bump in valuation from the special dividend announcement, Clarke still trades at a discount. The deep value component of Clarke still remains in tact.
Clarke consistently identifies diamonds in the rough and treats its shareholders well.
Clarke has done very well with its investments over time by buying very deeply discounted or distressed assets, investing its management expertise into improving its operations, and not hesitating to take a profit once it has achieved both operational and shareholder success.
However, with the run up in the stock market over the last several years, this is clearly proving more difficult for Clarke to do. In the June 10th press release, they say:
The Company continues to see limited investment opportunities outside of the energy industry. Moreover, the Company does not wish to materially increase its investment exposure to the energy industry at this time.
This is a substantial negative for me, as they see nothing beyond their current investments in Terravest, Holloway (OTC:HLLOF), Keck Seng (OTCPK:KCKSF) and its basket of energy investments. An investment in Clarke has really been an investment in the management and capital allocation skills of George Armoyan and his management team. However, if they are essentially hunkering down to wait for better opportunities, there is not much in the way of catalysts for shareholders in the near future, especially with the liquidation of much of its cash balance. It may be that they also decide to take some profits on these investments but with no other alternatives, I suspect they will be letting their investments ride.
I do agree with their management philosophy; buying investments for the sake of just doing something is always a recipe for losses. The suspension of the dividend is also prudent but it now no longer "pays investors to wait" for future appreciation in its book of investments. The special dividend takes away the cash as a potential catalyst (the company eliminated its debt several years ago so I don't see them re-levering).
The Takeaway
The market responded very well to the announcement of the special dividend, spiking up close to 10%: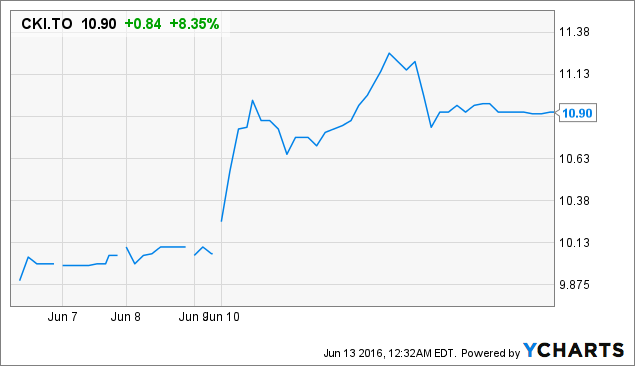 This has substantially narrowed the gap between market and book value but it was the final nail in the coffin for me with respect to future returns. All their decision were very prudent for the environment Clarke is facing but it doesn't give investors much upside in the near term. As a result, I decided to take profits here.
I will still be monitoring Clarke going forward as they have been a great creator of value for shareholders over the years. I respect their management immensely and bet they will make a sound investment near the bottom of the next cycle. I suspect they will take profits on a number of their investments in the coming years, based on their view of the market. At that point, it will be interesting to see where they go.
For continued discussion, please don't hesitate to comment below; I and other readers will be able learn from your feedback.
If you like what I'm doing, you can follow me by hitting the "follow" button at the top of this article. Plus, you can follow me in real time by selecting that option. It might give you somewhat of a head start whenever I write an article on what actions I am taking and why. Thanks for reading!
Disclosure: I am/we are long TRRVF.
I wrote this article myself, and it expresses my own opinions. I am not receiving compensation for it (other than from Seeking Alpha). I have no business relationship with any company whose stock is mentioned in this article.
Editor's Note: This article discusses one or more securities that do not trade on a major U.S. exchange. Please be aware of the risks associated with these stocks.