On the same day that LinkedIn (LNKD) was acquired for a 55x forward P/E on a non-GAAP basis (or 150x trailing P/E, including SBC or stock-based compensation), Twitter (NYSE:TWTR) rallied nearly 3%, and then another 4% intraday to reach a peak of $15.31 on Tuesday. Clearly, the Street is speculating on the San Francisco-based company being the next acquisition target in the tech world.

Credit: Facebook, Twitter and Gograph.com
I am not and have never really been a big fan of Twitter as an investment vehicle. As I stated recently, it concerns me that Twitter's MAU (monthly active user base) grew only 1.6% sequentially in 1Q16 to 310 million people, after declining in 4Q15. And MAU has remained flat at 65 million since 1Q15 in the U.S., a region responsible for generating 65% of TWTR's 2015 revenues. The graph below shows how Twitter's year-over-year user base growth has declined the most amongst its peers in the past 5 quarters.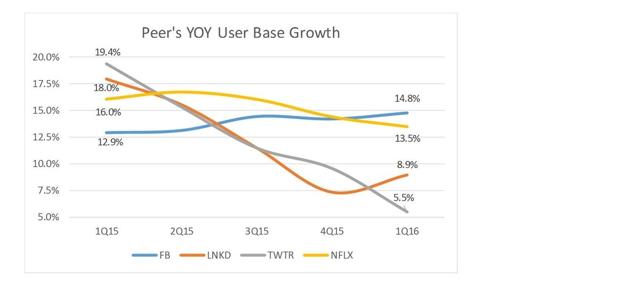 Source: DM Martins Research, using data from SEC filings
Furthermore, the company's ARPU (average revenue per user) has grown the least in 1Q16 compared to any of its previous 4 quarters: 5.4% vs. a 2015 peak of 12.4% (see graph below). This means that Twitter is suffering from both a stalling MAU base and monetization challenges. Not good news for top line growth.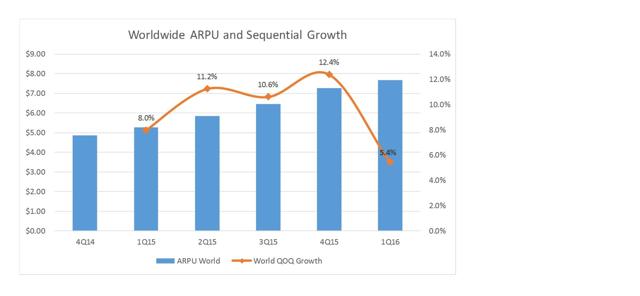 Source: DM Martins Research, using data from Company's 10-Qs and 10-Ks
If Twitter is to succeed, the odds are greatest under Facebook's wings
I think not all is lost for Twitter, however. First of all, the company has been doing a good job at containing costs, having driven operating expenses as a percentage of revenues sharply down over the past year - from R&D to S&M, and from G&A to SBC. This trend points to a responsible and fiscally-conservative management team that, in my view, is a great "soft asset" in any acquisition.
But most importantly, Twitter has a respectable international MAU base of 245 million people that has grown nearly 10% since 4Q14. By comparison, Facebook's (NASDAQ:FB) international MAU base surpassed 1.4 billion in 1Q16, about 5.8 times the size of Twitter's - except Facebook is larger than the rival in total revenue and market cap terms by nearly 10 and over 31 times, respectively.
What this means is that a Facebook acquisition of Twitter would give the Menlo Park-company even greater international exposure and a position of leadership that it does not currently have in certain markets - Japan being the most obvious of them. Not only that, but Twitter's current monetization efforts of its international MAU base is very incipient (international ARPU of only $3.40/year vs. U.S. ARPU of $23.76/year), and Facebook could execute on this green field opportunity and ride the upswing.
Strategically, I believe a Facebook-Twitter deal would make sense for both sides. Facebook is clearly trying to become the real-time social platform of choice - something that Twitter already is. CEO Mark Zuckerberg has expressed how "obsessed" he is with live streaming, which really means he values on-the-minute interactions among Facebook's users. Twitter, a company that owns Periscope and is already pushing to build its own livestreaming service, could play well into Zuckerberg's real-time vision. In the end, why duplicate efforts with a rival when you can collaborate with an ally? Also, Twitter owns large quantities of data that Facebook could use to boost its AI (artificial intelligence) efforts, as the company builds "technology intended to understand, at near human accuracy, all of the things its users post on the network".
On the Twitter side, the company has clearly stated its "drive to reignite user interest partly by focusing on video in 2016". For the time being, no one seems to be executing on video on a legacy social platform as well as Facebook has, and Twitter can probably learn a lesson or two from their potential acquirer.
Can Facebook easily absorb Twitter?
Good news is that Twitter, with a market cap of barely $10 billion, is still a relatively easy pill for Facebook (a company worth $325 billion) to swallow. In fact, Facebook owns about $20.5 billion in cash and marketable securities, and no debt on the balance sheet. Even at a 50% premium, the amount Microsoft (NASDAQ:MSFT) agreed to pay to acquire LinkedIn yesterday, Facebook could buy Twitter with cash only, without incurring any debt, and still be left with $7 billion in the bank account (considering Twitter has $2.1 billion in net cash on its balance sheet).
Since Facebook does not pay a dividend, does not have a share repurchase program in place and generated $6.1 billion in FCF (free cash flow) in 2015 without signs of deceleration in 2016, it seems like the Menlo Park company could engage in a deal to acquire Twitter and not strain its resources by much.
Final words: if the price is right, both Facebook and Twitter could benefit from a deal
In the end, I believe that a Facebook acquisition of Twitter would be beneficial to both sides, if Facebook's offer is reasonable for its shareholders. Facebook would be able to increase its international footprint and quickly become the real-time social platform of choice. Twitter, on the other hand, would have the resources it needs to execute on its video strategy and, depending on acquisition price, reward its shareholders in a way that it probably won't be able to as a stand-alone company.
Disclosure: I/we have no positions in any stocks mentioned, and no plans to initiate any positions within the next 72 hours.
I wrote this article myself, and it expresses my own opinions. I am not receiving compensation for it (other than from Seeking Alpha). I have no business relationship with any company whose stock is mentioned in this article.