MetLife (NYSE:MET) is among the largest global providers of individual insurance, employee benefits and financial services with operations throughout the United States and the regions of Latin America, Europe and Asia Pacific. The company's products include life insurance, annuities, automobile and homeowners insurance, retail banking and other financial services to individuals as well as group insurance.
MetLife plans to separate the U.S. retail business
On 12 January, MetLife announced a plan to break-up the company, largely driven by strategic and regulatory reasons. MET plans to pursue a spin-off, IPO, or sale of a substantial portion of its US Retail unit. According to the company's management, the high volatility of the variable annuity businesses and the low returns and long cash payback of the individual life product are the key reasons for the separation. In addition to the strategic rationales, MetLife's decision to separate the U.S. retail unit was driven, in our view, by regulatory concerns, primarily the threat of looming Fed and international regulation. Moreover, we think the planned break-up should reduce the company's exposure to the new Department of Labor fiduciary standards, which could put downward pressure on MET's variable annuity sales.
We believe a spin-off of the U.S. retail unit to existing shareholders is much more likely than a sale or an IPO as the business (circa $250bn) might be too large to be acquired by another global insurer. Furthermore, we think the current market environment (i.e. capital markets conditions and a valuation of MET's peer group) is challenging for an IPO. Hence, a spin-off is the more likely outcome.
The separation should enhance MET's profitability profile
The separation of the lower-return business should enhance MetLife's RoE and cash flow profile, as well as lower its cost of capital. Management estimates that new company would account for roughly 20% of MetLife's overall operating earnings, 25% of equity, and 25% of current assets. The separated entity will receive 60% of total variable annuity account values and 85% of in-force universal life with secondary guarantees. The remaining 80% of MET would mostly include: US Group, Voluntary and Worksite Benefits, Corporate Benefit Funding, Asia, LatAm, EMEA, personal lines P&C, and the closed block. Given the company's management anticipates an 11% total company RoE in 2016, we estimate the separation could lift the retained business' normalized returns to the 11-13% range.
Will a break-up boost MET's valuation multiples?
We think MET would face challenges in unlocking value with the planned split. Given its business mix, MetLife U.S. retail business will most likely be compared with Lincoln (NYSE:LNC), which is currently trading at a depressed valuation: 7.0x forward EPS and a forward P/B multiple of 0.66x with an RoE of 11% and a EPS growth rate of 12-13%. However, we think investors might assign a higher multiple to the MET's retained business due to improved profitability levels and its increased exposure to faster growth and high-margin products.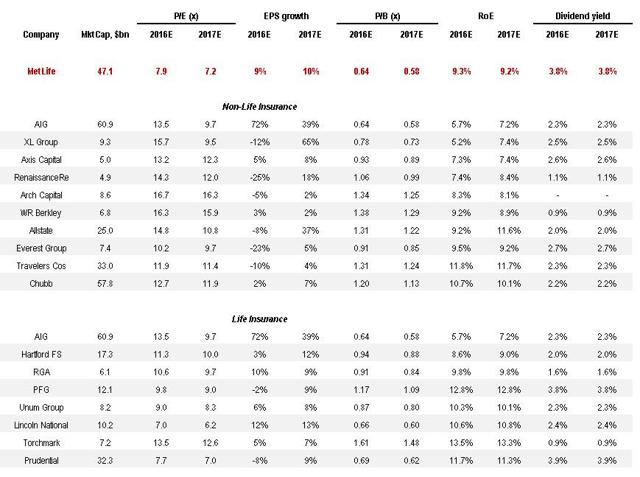 Source: Bloomberg, Renaissance Research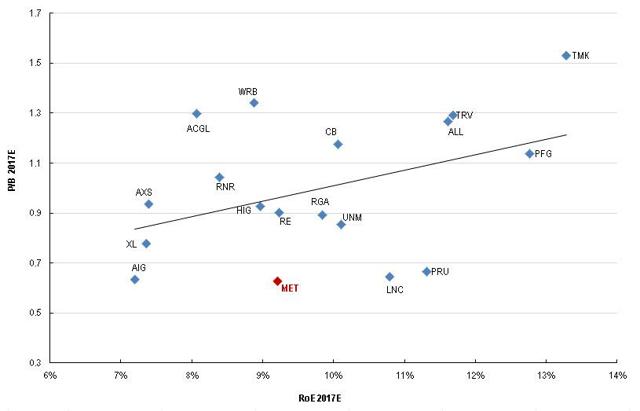 Source: Bloomberg, Renaissance Research
Uncertainty related to MET's status as a non-bank SIFI will likely continue in the near term
On 30 March, the US District Court for the District of Columbia rescinded the Financial Stability Oversight Council's (FSOC) designation of MetLife as systemically important.
To recap, in January 2015, MET announced that it would fight the SIFI designation in the court. The company argued that it already operated under a strict state regulatory system, that non-bank SIFI regulation creates an unlevel competitive situation, and the Fed should instead address specific systemic activities(similar to the asset management industry) regardless of the size of companies. However, FSOC has recently announced plans to appeal the 30 March ruling.
If MET is able to avoid being designated a non-bank SIFI, we think it would mean the company takes a more aggressive stance on share buybacks, which we would expect to drive its RoE and valuation higher. Should the FSOC prevail in its appeal, sentiment on MetLife could turn negative as the market gets concerned about potentially onerous capital standards for non-bank SIFIs and the downside risk to potential share buybacks.
MET has recently raised its outlook on free cash flow deployment to 55%-65% of earnings for shareholder dividends and buybacks with upside potential, up from 45%-55% previously.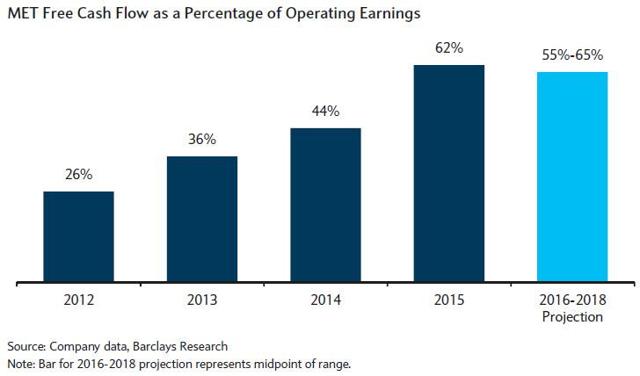 Source: Barclays Research
However, we expect constraints on share buybacks and/or special dividends to remain until receiving clarity on a SIFI status and the U.S. unit separation.
"Accelerating Value" initiative should support the company's RoE
The initiative, started in 2015, entails the analysis of the company's business mix by product, distribution channel, and customer segment. As part of the analysis, management is increasing its focus on products that have high IRRs, more predictable cash flows, and shorter cash payback periods, while deemphasizing businesses that exhibit high volatility or have longer payback timelines.
Bottom line
MetLife faces numerous headwinds, including a zero interest rate environment and constraints on capital returns to shareholders. Having said that, MET is trading at significant discounts to its peer group on both P/BV and P/E despite roughly in-line RoEs and earnings growth prospects. Although the U.S. unit separation will not be a game-changer for the company and MET would face challenges in unlocking value with the planned transaction, we believe greater clarity on a SIFI status along with the resumption of share buybacks and "Accelerating Value" initiative should support the company's earnings. Hence, we think the current stock prices offer an attractive risk-reward ratio.
Disclosure: I/we have no positions in any stocks mentioned, and no plans to initiate any positions within the next 72 hours.
I wrote this article myself, and it expresses my own opinions. I am not receiving compensation for it (other than from Seeking Alpha). I have no business relationship with any company whose stock is mentioned in this article.