Ah, our dear old friend leverage. It certainly has made a comeback in the past several years, as low interest rates coupled with (relatively) low asset prices in many industries have combined to boost interest significantly in roll-up strategies and other M&A activity. Spectrum Brands (NYSE:SPB) is a company that has significantly dabbled in this strategy - thus far, to great results for shareholders.
The company's equity is up over 250% in the past five years, putting a drubbing on larger peers in the space like Procter & Gamble (NYSE:PG). While the company doesn't control the world's top tier brands by my definition, many under the company's control are often easily recognizable to many consumers: Rayovac, Black & Decker, Iams, and ArmorAll just to name a few.

Drawing even more interest to the company of late has been the company's insecticide products (sold under the Repel, Cutter, and Black Flag brands). The Zika virus has driven a bit of a herd mentality among consumers rushing towards protecting themselves from a mild risk, and fiscal Q2 2016 sales proved that sales of these products were indeed strong, driving roughly half of the 25% y/y organic increase in sales within the Pet, Home, and Garden category. However, management struck a cautionary note on the earnings call:
"Just also a short comment on the Zika, because we were anticipating that question may also come up later on. The insect repellent category is for us roughly one quarter of the Home & Garden division. So therefore, even if insect repellents are growing, let me say, very strong, that the total impact is still only going to be rather limited for the total Spectrum Brands picture."
Despite that and valuation concerns, the market has shrugged off potential risks, sending the stock further higher. The smart money, however, is growing cautious. Short interest has been steadily climbing all along as the stock has rallied with little signs of covering. There really are two compelling and competing thesis present when it comes to this company - which one is correct?
Leverage
Growth. In this market, if your company doesn't have it, it will get left behind. This isn't something Spectrum has been lacking in, but it has all come at a substantial price. The company has spent over $2.8B in the past five years building up its brand portfolio. On nearly every measure of financial gearing or leverage you can think of, Spectrum Brands is more levered today than it was five years ago.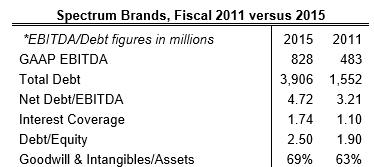 EBITDA has nearly doubled, but the same can be said for the company's debt (in fact, more so). Net debt/EBITDA is up, debt/equity is up, and goodwill and intangibles as a percentage of assets have risen. The only measure of improvement has been in interest coverage, which is primarily due to refinancing of debt at lower interest rates due to the substantial appetite in the market for corporate paper. Both the bull and bear sides presented thus far have neglected the makeup of the debt to this point, an area that has long-term implications for Spectrum Brands' viability.
Spectrum Brands has never been blessed with cheap terms on its debt given the leverage present. Credit markets have been cautious on the rates they are willing to agree to (below excludes some small miscellaneous debt and capital lease obligations):

The company does have some very real and meaningful exposure to variable rate debt on its term loan, which now constitute $1.5B worth of the company's debt. At 3% + LIBOR (0.75% floor), there is real room for a spike in interest costs given debt levels. Remember, LIBOR rates recently just hit 52-week highs, with the 12-month LIBOR now standing at 1.27%. This has gone relatively unnoticed, with LIBOR making highs it has not seen since 2011.
While refinancing activity is still years away on the senior notes, it is unlikely that this higher interest rate debt will get covered first. Covenants on the term loan mandate prepayment of 50% of cash flows, pushing dollars towards their least effective place from a value perspective (at least at current interest rates). In 2020, when these notes become due, what will the interest rate market be like? Market demanded interest rates could be much higher; not a good sign for a company with weak interest coverage during an interest rate bottom.
The story with Spectrum Brands is weighing this potential volatility versus free cash flow generation. Like many consumer brand companies, free cash flow is the preferred metric of evaluating cross-company in this sector. With fiscal 2016 guidance of $505-515M in free cash flow, the company trades at 4.6% free cash flow yield off of enterprise value. That caveat - free cash flow yield off of enterprise value and not market cap - is where the crux of my differing valuation on this company comes from compared to prior research, such as Donald Marchiony's excellent piece on the company.
As a highly levered peer in this space, you need to work off enterprise value, not market cap in my opinion, in order to better compare Spectrum Brands versus companies with vastly different capital structures. Procter & Gamble, the stalwart and guiding beacon of comparison valuation in this type of industry, currently yields a 4.7% free cash flow yield calculated in the same way.
Compared to Procter & Gamble, Spectrum Brands is:
- Smaller
- Less brand recognition
- Weaker margin profile
- Substantially more leverage
- Material variable interest rate risk
There isn't much compelling reason to take on that risk. Without acquisitions, organic growth within Spectrum Brands is minimal. Wall Street consensus is for just 3.1% in revenue growth in fiscal 2017 after the company benefits from the revenue tailwinds from recent acquisitions. Fiscal 2016-2018 free cash flow guidance is for $1.8B in total free cash flow, which even if you buy those figures, as they require significant margin expansion, still doesn't put much of a risk premium on the company.
Picking the right spot to jump into this story is paramount in my opinion, and that time simply does not look like it is today. A potential retracement back to the prior resistance level of $100/share would provide a much more compelling opportunity, and it is entirely possible we see those levels again once Zika hysteria wears thin and the shorts take their pound of flesh from this one.
For more research like this on small/mid cap companies perpetually under-followed by Wall Street and under-owned by retail investors, consider following me (by clicking the "Follow" button at the top of this article next to my name) to receive notification when I publish research. Feel free to ask any questions in the Comments section below.
Disclosure: I/we have no positions in any stocks mentioned, and no plans to initiate any positions within the next 72 hours.
I wrote this article myself, and it expresses my own opinions. I am not receiving compensation for it (other than from Seeking Alpha). I have no business relationship with any company whose stock is mentioned in this article.