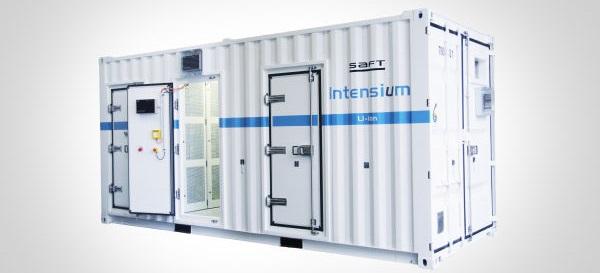 Saft Intensium Max lithium battery offering which provide MW-level energy storage in a 20 ft container
While other oil companies, notably Exxon Mobil (NYSE:XOM) and Chevron (NYSE:CVX) fight with their shareholders about even examining the consequences of the Paris climate agreement, Total (NYSE:TOT), which is headquartered in Paris, is just getting on with the transition and this involves becoming a major part of the solar revolution.
Last month Total announced a $1.1 billion acquisition of battery maker Saft Groupe. This follows a major $1.7 billion stake in 2011 in SunPower (NASDAQ:SPWR) which, except for a disaster in 2012, has performed pretty well. SPWR is trading at roughly 50% of its 52 week high currently, which is a pretty good result compared with how the oil price has tracked since 2011.
Some commentators have suggested that Total's investment in solar PV and battery storage is cover for its fossil fuel focus on oil and gas going forward. I suggest that this is a pretty substantial diversion if that is what it is, and it positions Total well for exit from fossil fuels. The ambition is either timid (compared with its fossil fuel spend) or ambitious (it aims to be a top 3 solar PV company) depending on how you view it.
I don't believe that oil and gas will make up 50% of Total's primary energy mix in 2035 as they suggest; things are changing too fast. At least it has plans for another future.
Senior management as well as "walking the walk" with its renewable investments, is also "talking the talk", with a major strategy document "Integrating climate into our strategy" released in May. This is a significant document that anyone contemplating investment in oil and gas, or indeed reviewing their energy portfolio should have a look at. It is about as good as it gets for an oil and gas major, but this doesn't mean that it is (yet) consistent with a serious attempt to address climate change.
The presentation is clear and comprehensive and has the support of Total's Board of Directors. The CEO has 10% of his variable compensation tied to targets on carbon emissions and energy efficiency. This is a concrete statement about how seriously the company takes these issues.
Laudable goals
1. Total aims to be consistent with IEA 2C scenario in 2035
Total may be the only major oil company to have a goal to keep global temperature rise below 2C. The others basically say that a 2C goal is unrealistic so they won't bother to even attempt to get there. Total makes clear that it has been embarked on the path to decarbonisation for a long time, so it sees its efforts in terms of ramp-up, rather than a shift in strategy.
Total's plan is threefold:
i) improving energy efficiency
ii) optimizing fossil fuel mix
iii) accelerating development of renewable energies
Total claims it can be consistent with 2C temperature rise and still have oil and gas close to 50% of its primary energy mix in 2035. It is clear that it expects gas demand to expand. However, many experts would question that such a position is consistent with 2C temperature rise.
Total aims to have low carbon business activities make up 20% of its portfolio in 20 years. They acknowledge that Electric Vehicles will grow, but they are focused on gas for trucks, aircraft and ships. They anticipate expansion of their existing solar PV and battery footprint and also to invest in onshore wind, but they exclude nuclear investment. There is an intention to invest in energy efficiency, especially in manufacture and transport.
2. Attitude towards the Paris Climate summit (COP21)
CEO Patrick Pouyanne indicates that COP21 was a watershed, with 195 countries agreeing to ambitious climate goals. He makes the point that business was engaged with this process and it isn't just a political goal. Pouyanne also notes that 40 countries and regions have or are intending to introduce some form of pricing carbon, with an intention to link different carbon pricing systems.
Some obfuscations
1. Focus on reducing greenhouse gas emissions in their operations (e.g. reducing flaring in gas extraction) misses the point that their oil and gas activities generate huge amounts of fossil fuels for others to burn. Total's figures are that 14% of emissions are produced during production and refining of oil and gas, with 85% of emissions generated by burning the fossil fuel. A casual reader might think that a 19% decrease in greenhouse gas emissions since 2010 in extracting and refining the oil and gas is significant, but when this is considered in the context of expanding oil and gas production, the real meaning is less encouraging.
2. Making noises about (CCS) (Carbon Capture and Storage) has a hollow ring in today's world (even if the IEA has the same mantra). The reality is that fossil fuel producers are having trouble competing with renewable energy on price without the additional cost of CCS. There is essentially no real world demonstration of CCS and the only projects with any scale are projects to enhance oil recovery from depleted reserves. It will be interesting to see what Total plans to do with the 10% of its R&D budget that it plans to dedicate to CCS.
3. Pricing carbon?
A cynic might conclude that being keen on pricing carbon could be just words as, until the US joins in, carbon-pricing mechanisms will be challenged. In other words it is easy to be in favor of something that you don't think will be achieved. The flipside of this is that it could backfire if the world engages and the US gets isolated and forced to participate.
Total makes the point that a carbon price of $30-40/ton would accelerate switch from coal to gas as well as make CCS more economically possible…. not a word about renewables, although clearly renewables would be favoured by pricing carbon.
4. Focus on exit from coal
This is a favorite strategy of the oil and gas industry. It could be considered to be a "look over there" strategy to avoid focus on the obvious fact that oil and gas are both fossil fuels that need to be exited too. When escaped methane emissions are considered it is not clear that coal is significantly more of a greenhouse problem than gas.
Dramatic coal reduction is convenient for Total as they have already essentially exited their coal production and marketing businesses. Total sees coal going from 28% to 18% by 2035, gas increasing from 7% to 22% and oil decreasing from 31% to 24% (which assumes only modest electrification of cars) by 2035 in their 2C scenario. Renewables grow from 8% to 22% in the same period.
It isn't clear to me that these numbers accord with what the science is saying about how much fossil fuel remains to be exploited before 2C is reached. A recent study claimed that only 20% of current coal reserves, two thirds of current oil reserves and 50% of current gas reserves can be exploited (see McGlade & Ekins, Nature 517:187-190). Total is planning to explore and exploit a lot more gas…
For a skeptic, having an intention to have more than 60% gas in their hydrocarbon production in 20 years time is a bad way to indicate an intention to exit fossil fuels, which is what a climate strategy requires.
What the market thinks
In the above I've given my take on Total's position on the effect of climate change on its business and how this company is the exception amongst the oil majors, where disbelief that the world will address greenhouse gas emissions rules.
The surprising thing for me is that Total seems to be treated pretty much the same as the other oil and gas companies. From this I conclude one of two things is happening:
i) The market doesn't believe that Total is serious
ii) The market doesn't care about Total's diversion of resources to invest in renewable energy as a way of addressing a coming need to exit fossil fuels
I suspect elements of both of these issues may be true. I suggest that the value of the Total position is not factored into the share price. Of course timing is critical here, but the pace is accelerating with a legally binding Paris summit agreement seeming likely to happen in 2016 rather than 2020 as planned. When that happens, perhaps we shall start to see the market differentiating how they perceive the oil and gas majors.
Perhaps a straw in the wind (joke) is the recent DONG Energy (CPH:DENERG) IPO which has been well received. DONG is winding down its oil and gas assets and focusing on offshore wind.
Conclusion
Total's recent major statement about integrating climate into their strategy is about as good as it gets from the oil and gas majors, although perhaps DONG Energy has a stronger commitment. A glass half-empty view is that this is about deferring criticism while getting on with staying with fossil fuels. A glass half-full view is that Total is positioning itself for inevitable exit from fossil fuels. I take the latter view and suggest that investors might watch closely how this plays out.
Whatever, investment in oil and gas is no longer a sure thing and investors are advised to pay attention to the climate stuff as it isn't going away.
Disclosure: I/we have no positions in any stocks mentioned, and no plans to initiate any positions within the next 72 hours.
I wrote this article myself, and it expresses my own opinions. I am not receiving compensation for it (other than from Seeking Alpha). I have no business relationship with any company whose stock is mentioned in this article.