The rise of on-demand video services such as Netflix (NASDAQ:NFLX), Hulu and Amazon (NASDAQ:AMZN) Prime has lead to grave concern for traditional multichannel video services. But what do the numbers show? Are consumers actually cutting the cord? And if so, how fast are service providers losing subs?
Video Subscribers
We've seen a decline in cumulative video subscribers since reaching a peak in early 2015. However, the death of the traditional video bundle as we know it still has a long way to go. In the past year, total video subscribers have declined to 87M, down just 1M or 1% from its peak.
or iterate)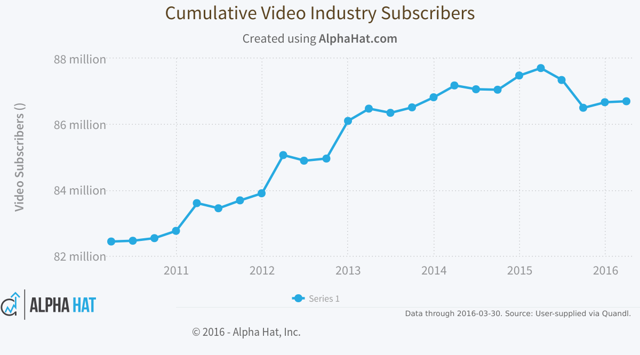 All publicly traded cable (Comcast (NASDAQ:CMCSA), Time Warner Cable (TWC), Charter (NASDAQ:CHTR), Cablevision (NYSE:CVC)), telco (Verizon (NYSE:VZ), AT&T (NYSE:T), Frontier (NYSE:FTR) and CenturyLink (NYSE:CTL)) and satellite (DISH Network (NASDAQ:DISH), DirecTV (DTV)) providers have now reported for first quarter 2016. Here's what their net adds for the most recent quarter look like:
or iterate)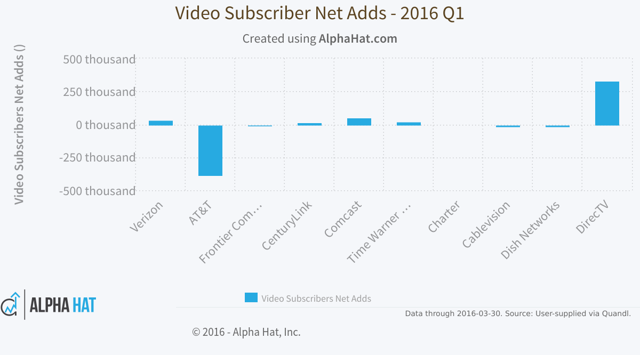 The industry actually added 30k net subscribers this quarter although that's down significantly compared to the 225k it added in 2015 Q1. Note that Q1 is typically a strong quarter for the industry.
or iterate)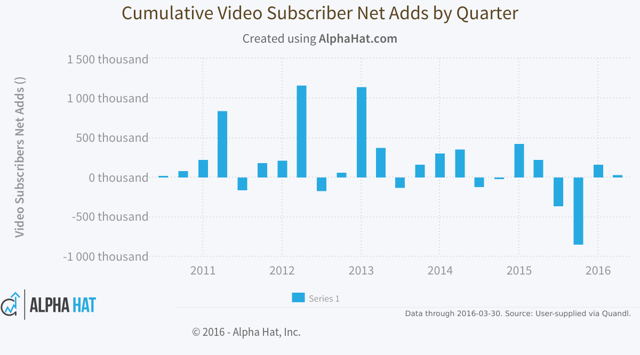 High Speed Internet vs. Video Subscribers
Perhaps the most interesting way to measure cord cutting is by comparing the aggregate number of high-speed internet (HSI) vs. the number of video subscribers at cable companies.
or iterate)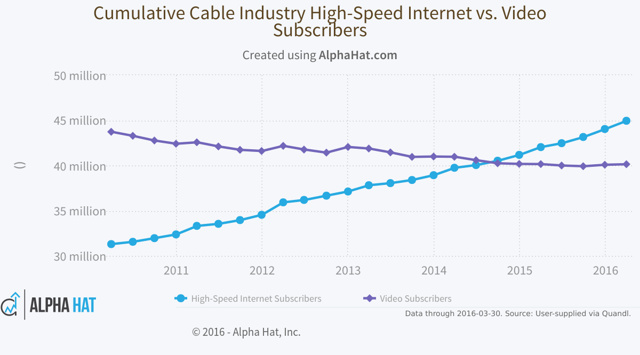 Q2 2014 was the first quarter where the number of HSI subs surpassed the number of video subs. The trend has accelerated with HSI continuing to grow at a faster rate than video subs. This appears to be the clearest indication that consumers are increasingly opting for HSI services in lieu of video.
or iterate)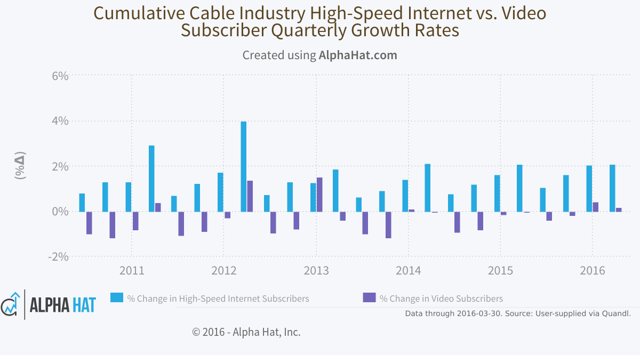 Average Revenue Per User
As the threat of cord cutting continues to gain steam, it's worth monitoring its effect on Average Revenue Per User (ARPU) at cable companies. Cable ARPU (which includes video plus internet plus voice services) has continued to grow marginally at each provider over the last few years. We would expect downward pressure on ARPUs as subscribers decrease their services and competition intensifies.
or iterate)
Overall cable revenues have continued to grow at all providers - increases in ARPU and HSI subs has offset decreases in video subs. Below we see compounded annual growth rates for key metrics since 2013.
or iterate)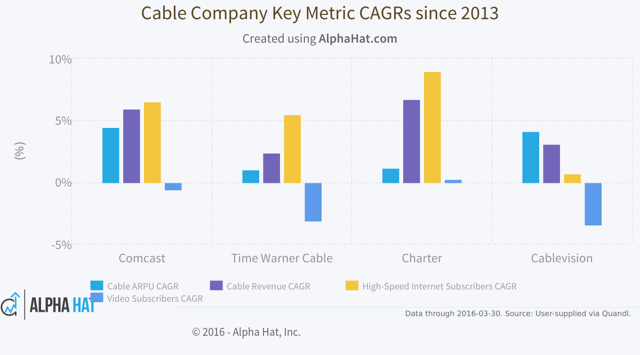 Industry Valuation
Even with the threat of cord cutting, the market has continued to pile into cable and telco operators with cumulative market cap and enterprise value growing 70% over the last five years.
or iterate)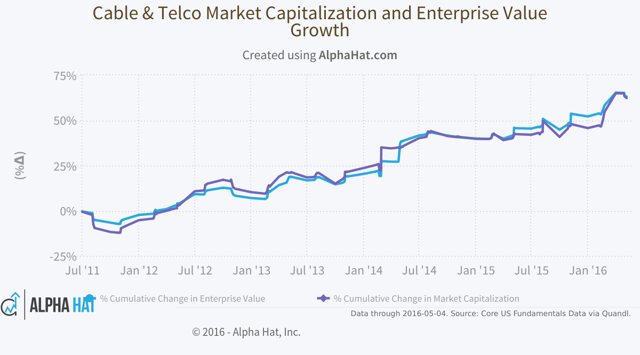 Summary
These analyses show that we're still in the early stages of the cord cutting trend. We're seeing evidence of video sub declines but traditional vendors have been able to offset these losses with strong growth in high-speed Internet subscribers and continued ARPU increases across all services.
____________________________
A couple of notes on the data used in these analyses:
All of the above data is taken directly from company filings.
The data in these charts will be updated on a quarterly basis as companies report. Click refresh in any of these charts to reflect updated data or stay tuned for our next article in this series when 2016 Q2 results are announced.
We've chosen to keep DirecTV and AT&T subs separate for now even though they're now the same company. This allows us to view subs by delivery mechanism (cable vs. telco vs. satellite).
Dish counts their SlingTV subs in their total sub count, so their subscriber additions are overstated. As of February they had 600k SlingTV subs (WSJ).
We're only including residential subs in the numbers above. Most of these companies have business subscriptions too but these are less relevant when analyzing cord cutting trends.
Disclosure: I/we have no positions in any stocks mentioned, and no plans to initiate any positions within the next 72 hours.
I wrote this article myself, and it expresses my own opinions. I am not receiving compensation for it. I have no business relationship with any company whose stock is mentioned in this article.