Recent news out of China indicates that the country is gradually getting back on track. This bodes well for copper mining company Freeport-McMoRan (NYSE:FCX). This is because China consumes 40% of the global copper production, and since copper is a widely-used metal in industrial applications, an improvement in demand in the country's manufacturing sector will act as a tailwind for pricing. This will, in turn, allow Freeport-McMoRan to improve its EBITDA performance going forward.
More importantly, an improvement in copper prices will provide boost to Freeport's shares as the stock has closely mirrored the copper price trends. This is evident from the chart below: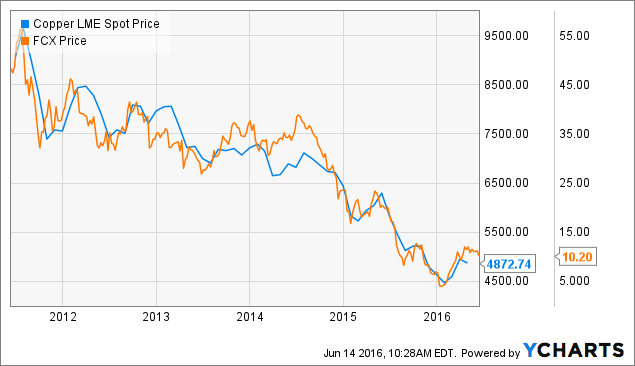 Copper LME Spot Price data by YCharts
As such, in this article, we will take a closer look at the latest data out of China and see why copper prices are set to recover in the long run.
China's recovery will be a boon for copper
China's copper imports have been increasing at a tremendous pace this year. Last month, the country boosted its copper imports by 19.4% year over year to 430,000 tons. Moreover, for the first five months of the year, China's copper imports have grown at an impressive pace of 22%. In my opinion, the increase in China's copper imports is quite logical if we consider the fact that the country is witnessing a rebound in construction and is investing in infrastructure projects at the same time.
From January to April this year, sales of homes in China have shot up 61.4% as compared to 2015 levels to a massive $369 billion. Driven by this rise in housing demand, housing starts have also increased by 21.4%. Encouraged by the pick-up in home sales, investors have also become bullish about the real estate sector in China. As such, China's property investments have increased 7.2% from January to April to almost $390 billion.
The improvement in China's housing market this year has been a tailwind for copper consumption since the metal is used in a number of applications related to housing. More specifically, 25% of copper is used in the construction industry, with a whopping 65% used in electrical. Now, as more houses are constructed, the need for electrical fittings such as wires, Internet and telephone networks, and equipment such as air conditioners will rise.
This will lead to an increase in copper consumption. Moreover, this trend of increasing copper consumption in housing and electrical will continue due to the influx of 350 million people into China's cities by 2025. Additionally, China's manufacturing activity has been picking up pace for the past three months as its PMI has consistently been above 50.
Thus, an improvement in China's manufacturing and construction activity will prove to be a tailwind for copper consumption going forward. In fact, Chile, which is the world's biggest producer of copper, believes that China's share of copper consumption will increase to 58% within the next decade from the current levels.
Lower supply will also aid improved pricing
The surplus in the copper market has come down this year. According to the International Copper Study Group, the surplus in the copper market dropped to just 24,000 tons in the month of February from 51,000 tons in January. Therefore, the copper surplus in the first two months of 2016 was at 75,000 tons, which is much lower than the surplus of 134,000 tons in the year-ago period.
Looking ahead, I believe that the copper market will soon see a deficit due to the supply discipline that's being practiced in the industry. According to Bank of America Merrill Lynch, copper supply losses so far this year are clocking an annual rate of 6%. This is because of the cut back in copper production by key producers such as BHP Billiton (NYSE:BHP), which reduced output at Escondida in Chile. In fact, BHP is one of the many producers which have cut their output. As reported by Mining Weekly:
"So far this year, several copper producers had announced supply cuts and closures on the back of lower prices, including Capstone Mining, Jinchuan Group, Imperial Metals, Mawson West and Atlas Mining, which added to last year's supply-cut announcements from Glencore and Freeport-McMoRan."
As a result of these production cuts and higher demand in China, the copper market will move into a deficit going forward. This can be seen in the chart given below: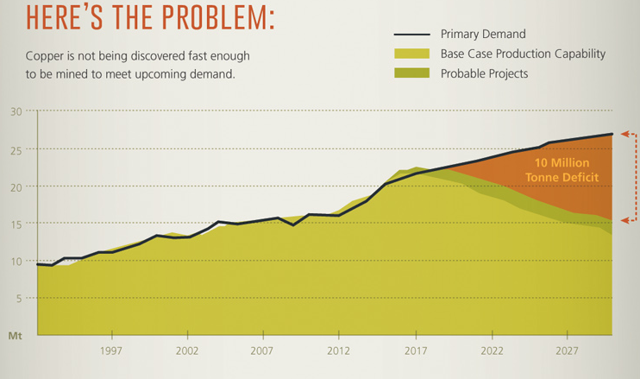 As seen above, the copper market is expected to see a supply deficit of 10 million tons by 2028 as there aren't enough production projects in the cards to satisfy the demand. Due to this widening gap between demand and supply, the price of copper will eventually rise going forward. In fact, the Chilean Copper Commission forecasts that copper price will rise to $6,330 per metric ton in a couple of years as compared to the current price of around $4,500 a ton.
Conclusion
As shown earlier in the article, Freeport-McMoRan's share price closely follows the price of copper. Looking ahead, it is quite likely that the price of copper will gain momentum in the long run and help Freeport deliver more upside. As such, even after 50%-plus gains this year, investors should continue to remain invested in Freeport-McMoRan.
Disclosure: I/we have no positions in any stocks mentioned, and no plans to initiate any positions within the next 72 hours.
I wrote this article myself, and it expresses my own opinions. I am not receiving compensation for it (other than from Seeking Alpha). I have no business relationship with any company whose stock is mentioned in this article.