Since my previous write-up on Atlantic Tele-Network (NASDAQ:ATNI), there have been significant developments that warrant an update. The initial bull thesis was premised upon three main factors: first, the strong growth in its Wireless segment would continue; second, that the IIT segment would decline at a moderate pace; third, ATNI's large cash pile would limit the downside and give management plenty of dry powder to engage in accretive M&A; lastly, we assumed the company's newly acquired solar energy business would generate decent returns. Thus far, most of these have been valid with the exception of the U.S. Wireless business, which is declining due to the compression in roaming rates. We will evaluate these factors below and assess the impact on ATNI's valuation.
Growth In Wireless Segment Has Stalled Due To Lower Roaming Rates
Since the previous write-up, growth in ATNI's wireless business has slowed due to lower wholesale rates on roaming agreements signed with large customers such as AT&T (NYSE:T) and Verizon (NYSE:VZ). Whilst I expected wholesale rates to fall over time, the drop was faster and steeper than anticipated, with management now expecting a decline in segment revenue and operating profit in 2016.
To recap, ATNI's business is different from that of a typical telco - it provides connectivity in rural areas for customers of major telcos such as Verizon and AT&T. In exchange, the carrier licenses spectrum to ATNI and enters into a contract with specified pricing and periods. Although ATNI built and owns the infrastructure that enable voice and data access, but it needs the customers from Verizon and AT&T in these markets. Its delicate position means management has to tread very carefully when negotiating roaming, as the sustainability of the business depends largely on how much its clients choose to use its network.
If the cost of offloading traffic to ATNI's network becomes prohibitive, large carriers like AT&T and Verizon could simply choose to expand their own infrastructure in that market to meet their own needs, which would essentially sound a death knell for Atlantic Tele-Network's business. However, as long as wholesale roaming rates are below the costs for these carriers to build/expand their own networks in these regions, ATNI has a source of stable and growing cash flows.
In this context, slowing wireless revenue growth is a deliberate act - management wanted to secure long-term agreements with larger telcos and prioritized that over charging higher rates.
Basically, we're trading lower rates, mainly for data traffic for more strategic agreements that reduce our risks and provide better shared infrastructure benefits to both us and to our customers.
Although revenue growth is slowing, data traffic is still growing tremendously in ATNI's rural markets, with overall traffic up 88% year on year in 2016. Demand for wireless connectivity is growing rapidly in ATNI's markets, which should aid to offset the rate concessions that management has to offer.
These developments suggest our initial assessment of growth is partially wrong - whilst the segment will continue to generate stable cash flows, we expect slight contraction in revenues and margins as wholesale rates continue to fall. However, the positives are that this arrangement with its largest customers removes any risk of a sudden drop in wireless revenues.
IIT Segment Performing Better Than Expected
The International Integrated Telephony (IIT) consists of both wireline and wireless services in Guyana. ATNI holds the exclusive license to operate local and international wireline calls in Guyana, which means it operates in a captive market. The company also has a strong position in the wireless market as its only major competitor is Digicel (Pending:DCEL), which only entered the local market in 2006.
Overall, our previous assertion that the IIT segment would decline moderately seems to have been slightly pessimistic.
Revenues from ATNI's wireline business in Guyana actually grew modestly in the past year, suggesting the trend of decline in recent years have stabilized. The improvement is mainly driven by the growth in broadband compensation for the decline in voice revenue. Given that ATNI owns the majority stake in the only undersea fiber-optic cable network connecting into Guyana, it is poised to benefit significantly from the increasing demand for bandwidth in the country.
The wireless business in Guyana is under-performing due to intense competition from Digicel, low subscriber growth and general economic conditions in the country. However, ATNI (through its GT&T subsidiary) recently released 4G connections, which should boost growth in the near term. As smartphone adoption increases, GT&T should logically experience growth, but we think the conservative assumption here is that revenues are due to remain flat.
Despite the stabilization of overall revenues, the Guyana business is experiencing margin contraction due to increased spending on the wireless business and high operating leverage.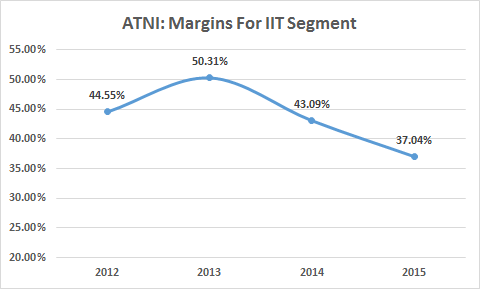 (Source: Author's work)
Going forward, we think the segment should experience low revenue growth between 1% and 3% with margins declining at roughly the same pace before stabilizing near 30%.
Solar Energy Business Generating Strong Cash Flows
ATNI entered the distributed solar generation business with its acquisition of Ahana, which closed on Dec. 24, 2014. The business model is simple - Ahana builds multiple small solar farms on different sites that are connected to a grid, which enables it to generate and supply electricity to customers such as corporates, utilities, municipalities and schools. The sites used are either customer-owned or leased sites, which significantly reduce the start-up costs and risks to Ahana.
Once construction is finished, electricity is sold via long-term power purchase agreements that range from 10 to 25 years, which guarantees long-term free cash flows to the company in return for the upfront investment. Crucially, these PPAs are signed before construction commences, which provides an assurance that the project will generate acceptable return as long as cost overruns are avoided.
From an ROI perspective, the Ahana acquisition has been accretive - in FY2015, the solar business generated $11.5M in EBITDA from revenue of $21M. The original purchase consideration included $66.3M in cash, $12.5M in reimbursements for cash held by Ahana and the absorption of debt totaling $39.8M. Taking segment operating profit as a measure of returns, the Ahana acquisition yields a ~6.5% annual return after accounting for interest and depreciation costs. Although this yield itself may not seem impressive, it is somewhat attractive when coupled with the stable and long-term nature of free cash flows, with a strong possibility of renewal at the end of contract periods.
Moreover, the acquisition opens up the possibility of expansion into a new business. Typically, I am fairly skeptical of growth through M&A, especially when companies try to deviate from their main business. However, ATNI's management team has shown it is capable of creating value through acquisitions. Recently, on April 7, management acquired another solar business - Vibrant Energy - for $11M in cash. Vibrant operates primarily in India and the UK, and has an ongoing pipeline of projects that should be completed in 2017.
Management has characterized Vibrant Energy as a "greenfield development," indicating there is sizeable potential due to the under-penetration of the market. This is particularly true when it comes to solar projects in India, which is growing at a tremendous pace due to the need for off-grid and new renewable energy sources to complement the existing energy supply infrastructure.
KeyTech Acquisition Bolsters Presence In Bermuda
As part of its Island Wireless segment, ATNI has a controlling interest in CellOne (a wireless carrier in Bermuda). On May 3, ATNI merged its interest in CellOne with KeyTech, a wireline services provider in Bermuda. The transaction effectively enabled ATNI to take control of KeyTech with KeyTech's shareholders gaining a minority stake in both companies. ATNI contributed 43% equity in CellOne and a $42M for a 51% stake in KeyTech. Thereafter, the two entities merged and CellOne became a wholly-owned subsidiary of KeyTech.
Typically, there are multiple synergies in a wireline-wireless merger due to higher utilization of technical assets (base stations, fiber networks, etc.), as well as corporate synergies. Overall, we think management is growing its Island Wireless segment to compensate for the slowdown in U.S Wireless. The impact of this transaction is yet to be seen as details are scarce at this point, and the first indication will be 10-Qs filed in the next two quarters.
Valuation
ATNI has five main separate businesses in different geographies. Hence, we take a segment-by-segment approach to forecasting revenue and operating profit.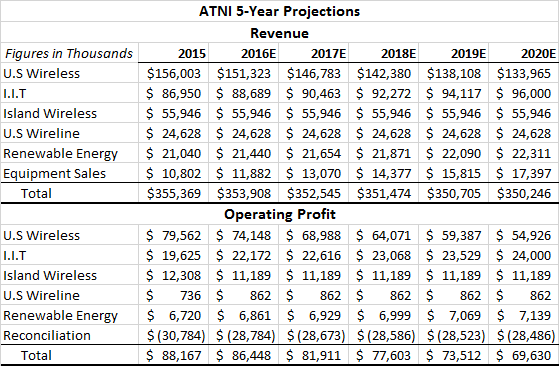 (Source: Author's work)
The projections above incorporate the assumptions discussed in the earlier analysis of all the separate segments. The figures also assume an organic scenario (i.e. the absence of M&A activity), and do not take into account the recent KeyTech acquisition given that the impact cannot be assessed accurately until figures from subsequent quarters are released.
Given that ATNI's businesses (telecoms, renewable energy) typically generate stable free cash flows with predictable depreciation, I think the most accurate way to value the company is through a discounted cash flow (DCF) model. However, operating cash flow is quite volatile due to fluctuations in working capital caused by accrued taxes on acquisitions and sale of discontinued businesses in recent years.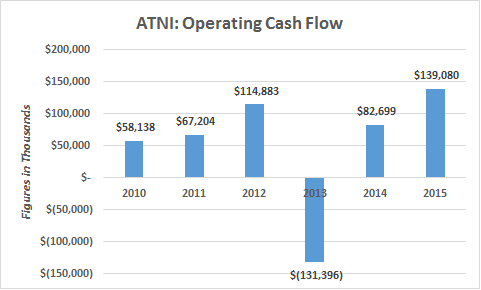 (Source: Author's work)
Hence, stripping out the effect of changes in working capital should show a cash flow trend that is more consistent with the fundamentals of the business.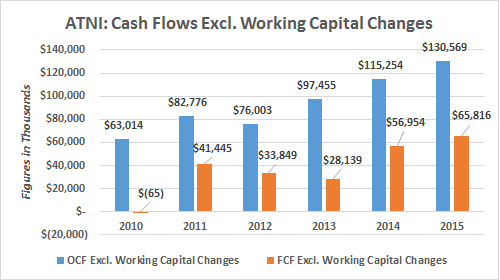 (Source: Author's work)
Assuming CapEx growth stays in line with depreciation, we forecast free cash flows on the basis of excluding working capital changes given that the cash conversion cycle of ATNI's businesses are unlikely to change. Furthermore, telecom businesses such as ATNI's have fairly stable margins and a predictable outlook, which means large fluctuations within short periods of time are improbable.

The model above uses a 7% discount rate and assumes OCF declines at a similar pace to operating profit. Also, we assume a step-up in CapEx in 2016 due to the KeyTech acquisition, and a subsequent gradual decline in CapEx requirements. Taking ATNI's current market capitalisation of $1188M and backing out $360M in net cash, we arrive at an EV of $820M, which is more than our estimated present value of $520M. However, it is worth noting that the incremental free cash flow from the KeyTech acquisition has not been factored in. Also, a 1% change in the discount rate results in a $150M increase in ATNI's present value. Thus, a large part of the decision on whether to buy ATNI equity depends on the discount rate one is willing to accept.
Conclusion
The interesting part about ATNI's assets is that they are in different geographies and industries - ATNI has a sizeable distributed solar generation business and wireline/wireless businesses in different countries that seem to have no apparent synergies other than some centralized corporate functions. Management's strategy seems to be that of acquiring businesses with long-term, stable free cash flows and growing them for a while before redirecting these cash flows to acquiring other similar businesses. This would explain its large solar acquisition despite having never invested in this arena. In this context, it is unsurprising that long-serving CEO Michael Prior has an investment banking background.
Hence, we expect its M&A strategy to continue, and thus far management has proven its strategy can be accretive particularly with returns on its solar generation projects. However, the deterioration in the U.S. Wireless business will disproportionately impact the company's overall financials, and this means ATNI is no longer in a position for strong upside. A re-evaluation is warranted after the effects of the KeyTech acquisition can be more accurately observed in the next few quarters, but for now, I think shares are more than fairly valued.
Disclosure: I/we have no positions in any stocks mentioned, and no plans to initiate any positions within the next 72 hours.
I wrote this article myself, and it expresses my own opinions. I am not receiving compensation for it (other than from Seeking Alpha). I have no business relationship with any company whose stock is mentioned in this article.