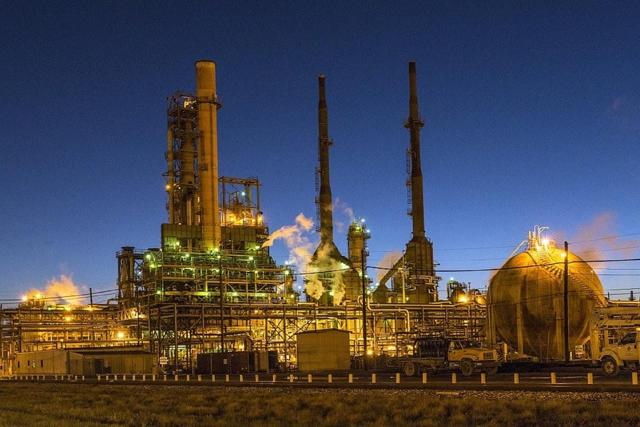 source: Stock Photo
Major Asian economies are struggling to maintain growth, especially in the area of exports, where the four largest economies in the region are struggling to find markets for their products and services.
With models for oil demand including these economies as major growth catalysts, it does generate the question as to whether or not this is going to be a drag or boost for the price of oil over the 18 to 24 months.
So far, China's decision to buy up a lot of oil in order to add to its stockpiles, as well as its independent refineries (teapots) acquiring and flooding the market with products, has masked the slowdown in economic growth in the region. With inventory levels approaching capacity and little in the way of other storage options (it did make a deal with South Korea for storage of 3 to 5 million barrels recently), we're likely to at least see buying to get oil at a low price starting to fade.
The other major economies - Japan, South Korea and India - are also struggling economically, with India's data concerning its growth coming under scrutiny and question as to its accuracy, as a number of sectors don't align with the data.
With the region starting to struggle more, it does suggest oil is probably not going to get the boost the market is looking for over the next 18 months or so.
China's economy
The latest data show China's exports have dropped by 4.1 percent in May against the same period last year. The market was looking for a decline of 3.6 percent.
Another ominous piece of data showed China's investment in fixed assets plummeted to the lowest level since the turn of the century.
Trying to put a positive spin on the numbers, the Chinese central bank said last week it's still looking for growth of about 6.8 percent in 2016. That of course means nothing. Just about everyone knows China was going to continue to reinforce its official growth expectations by reasserting growth of approximately 7 percent throughout the year.
Concerning oil, China now produces about 150 percent of its domestic demand, which means it's becoming an exporter of refined fuels. This could be a huge factor that very few analysts or investors are including in their analysis. In other words, are we going to see China flood the market with refined products at this time and going forward? If it does, it would drive the price of oil down. It wouldn't be the first time China has done that with a commodity.
As for its economy, it is slowing down with the rest of Asia. That, at minimum, would mean less domestic demand; at least concerning its stockpiling strategy.
Japanese economy
That the Japanese economy is struggling to grow isn't anything new, but the World Bank recently downwardly revised its outlook for GDP growth to 0.5%, 0.5% and 0.7% for 2016, 2017 and 2018. Those numbers are almost 50 percent lower than prior estimates, which in an economy the size of Japan's, which is now the fourth-largest consumer of oil, is significant.
The World Bank sees Japan swaying back and forth from contraction to incremental growth.
A big part of Japan's economic challenge is demographics, as the average age climbs while its labor force continues to decline in size. Also a factor is Japan has little in the way of immigration, which limits the replacement rate of its workforce. Other than encouraging its people to have more babies, there isn't much it can do to solve the problem.
After attempting to use negative interest rates as a tool do boost its economy, a measure that failed as market yields fell and the yen increased in strength.
Oil consumption dropped 3.9 percent to 4.15 million barrels per day in 2015, down from the 4.15 million barrels per day consumed in 2014. A slowing economy will probably push oil consumption in Japan lower.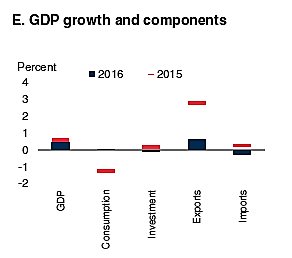 source: World Bank
South Korean economy
Catching the market by surprise about a week ago, the Bank of Korea cut its key interest rate to a record low of 1.25 percent for June. It was the first cut in about a year, after it raised interest rates twice in 2015.
What was surprising for most was the timing of the cut, which had been expected to come in the second half of 2016 based upon its economy slowing. That means its economy is slowing down quicker than assumed.
The South Korean central bank gave as reasons was the lack of "improvement in domestic demand" and the "considerable downside risks surrounding the future growth path, such as corporate restructuring and the slowdown in global trade."
What the bank primarily meant by restructuring was concerning the shipping industry, which has been experiencing losses because of a decline in global trade. As the debt of shipbuilders and shipping companies is restructured, it'll result in the southern part of South Korea's economy being slowed down even more, and the loss of more jobs.
Interestingly, part of this has come from the ongoing oil glut and the plunge in the price of oil over the last couple of years. This points to the belief oil prices aren't going to recover to levels that would bring relief to the shipping industry of South Korea.
In the first quarter, its GDP grew by only 0.5 percent. That's the lowest pace in over a year.
The government also established a $9.5 billion fund to support state-owned banks under pressure from losses associated with its shipping industry.
India's economy
After official data from India's GDP in the first quarter came out, concerns were raised from a number of quarters about how accurate they were, with some saying they may have been overstated by as much as 4.8 percent. GDP for 2015-16 was reportedly 7.6 percent, while in the first quarter of 2016, it allegedly jumped to 7.9 percent.
SA Aiyar, who has been a consultant to the World Bank and Asian Development Bank, and is consulting editor of The Economic Times, recently expressed his concern over the "inconsistencies" in economic data from India. One area he mentioned was the discrepancy between growth numbers in manufacturing from the National Accounts, which said it was at a growth rate of 9.3 percent in 2015, whereas the Index of Industrial Production (IIP) had growth at close to zero.
One caveat there is the IIP only includes the bigger industries in its data, excluding the faster-growing smaller industries. Even so, Aiyar says the differential appears to be too large to explain it away.
Also defying acceptance is the 7.9 GDP growth in the first quarter, when considering exports have dropped for 17 straight months. He compared with other Asian economies during times they were growing at a hefty pace, led by export growth in the double digits.
Aiyar was quick to add this isn't something dishonest being done, as its statisticians are considered to be highly skilled and have a lot of integrity. I agree with him. The problem for India isn't those who are interpreting and reporting the data, the problem is the gathering of the data in the first place.
Skill and integrity or not, there are systemic problems in its data collecting, and there is a need for India to vastly improve it to give an accurate measure of its economic growth.
There is no doubt the Indian economy is growing, but it looks like it isn't near the optimistic pace suggested in the data released from the first quarter.
As it relates to oil, that means demand may slow down with the rest of Asia over the next 18 months.
Conclusion
No matter how it's spun, Asia is definitely slowing down, as evidenced by the largest economies. With the market pointing to Asia as the key catalyst for growth in demand for oil, it will probably underperform unless they find a way to increase economic growth. I see nothing in the next couple of years that will propel them forward.
When combined with the inevitable increase in interest rates by the Federal Reserve, this is a couple of negative catalysts that will be very difficult to overcome. All of this when OPEC is increasing global supply and the stronger U.S. shale producers are completing wells, which will add to supply.
For these reasons, I see the assertions by those saying there will be a rebalancing of the oil market before the end of 2016, as being premature. We are moving slowly toward a global recession, and I don't see very many organizations or analysts including that as a part of their models for growth in demand.
All of Asia is slowing down economically, and that will have a significant impact on global economic growth, as well as demand for oil. I don't see how that can be overcome in the next year or two. It's going to get worse before it gets better.
Disclosure: I/we have no positions in any stocks mentioned, and no plans to initiate any positions within the next 72 hours.
I wrote this article myself, and it expresses my own opinions. I am not receiving compensation for it (other than from Seeking Alpha). I have no business relationship with any company whose stock is mentioned in this article.