This morning the German 10 year, for the first time in history, is now yielding a negative interest rate. So anyone buying that German 10 year is basically letting the German government borrow one's money and at the same time will have to pay the government interest for the privilege of doing so. This is happening as investors are worried about the June 23rd vote, which is called the Brexit, where the British are voting on whether to leave the European Union or not. The FTSE (NYSEARCA:VWO) or the British equivalent of the S&P 500 index (NYSEARCA:SPY) will be center stage as a result of the election and investors who really don't understand what a threat of implosion looks like, will find out real fast, if the British were to vote to leave the European Union. The British investing public, as well as everyone else in the world, will experience another type of exit as retirement savings will also exit, in the form of serious potential losses.
The reason I say there could be serious losses is because I have gone through 6000 US stocks, running each through my Friedrich Algorithm and out of those 6000 I only found a handful of stocks that were bargains like:
Apple (NASDAQ:AAPL)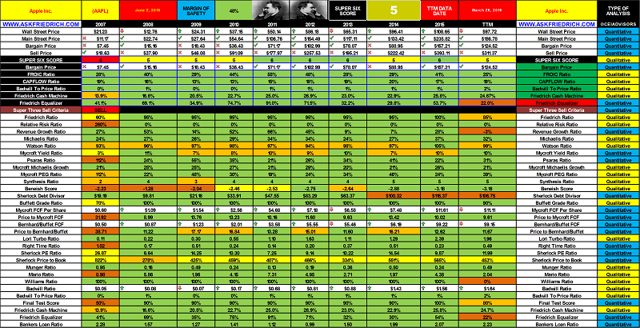 or
Gilead Sciences (NASDAQ:GILD)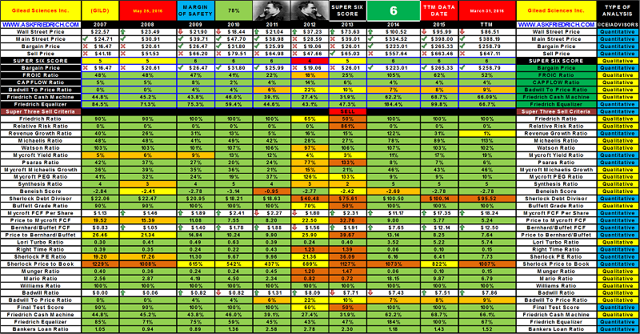 The reason I am having great difficulty finding anything to buy is because my research is showing that everything is extremely overvalued on Main Street relative to each companies Wall Street valuation. This is clearly shown by looking at this chart of the S&P 500's Price to Sales ratio below.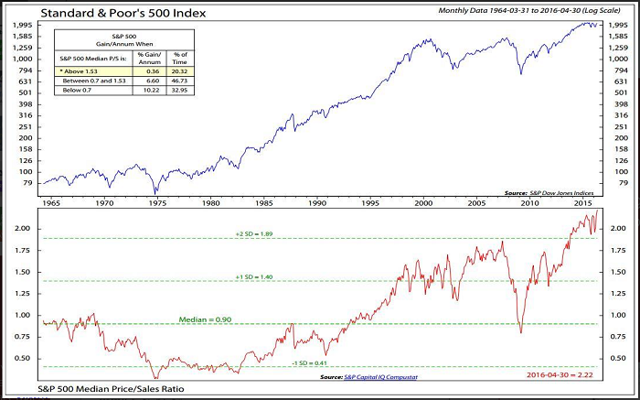 The chart shows that the price to sales ratio for the S&P 500 index is at 2.22 (52 year high) and for those interested I recently wrote two articles on Seeking Alpha detailing what that means.
The S&P 500's Price to Sales Ratio is Screaming from the Rooftops! Is Anyone Listening?
Why The S&P 500 Is Overvalued (And How To Become a Main Street Investor on Wall Street)
On May 24, 2016 I showed everyone how they could analyze any ETF, Mutual Fund or Index using three unique free cash flow ratios that I introduced in an article here on Seeking Alpha . Today I will continue my series of articles by comparing the S&P 400 Index (NYSEARCA:MDY) to the S&P 400 Index Value ETF (NYSEARCA:MDYV) and the S&P 400 Index Growth ETF (NYSEARCA:MDYG). In the interest on not ending up with a 50 page article you can view the entire S&P 400 Index analyzed by going HERE:
Then here is the corresponding Value and Growth ETF's fully analyzed for you:
S&P 400 Index Value ETF

S&P 400 Index Growth ETF

Now that we have the final data (in yellow) we can compare each to the other portfolios I have previously analyzed: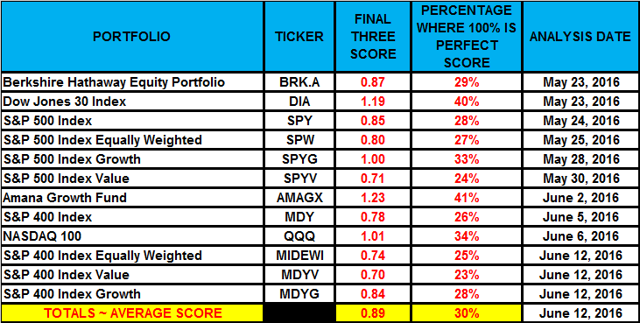 Having now analyzed the Dow 30 Index (NYSEARCA:DIA), the S&P 500, The Nasdaq (NASDAQ:QQQ) and the S&P 400 we have a clear picture of what everything is worth. What is really scary is that the S&P 400 Value Index came in with a 23% score out of 100% while the average of all the portfolios listed above came in at 30%. So obviously when the average scores of the portfolios on the list above come in at just 30% out of 100% then ===> HOUSTON WE HAVE A PROBLEM!
What is also fascinating is that the Value portfolios for both the S&P 500 and S&P 400 Indices are scoring the worst as you would think that value would be more attractive, but the exact opposite is true according to my Friedrich Research. You would also think that the Nasdaq QQQ's would be the most overvalued but it is not. It seems that everyone is running out to buy value stocks and in effect are making that group more overvalued than the rest, just as investors keep buying up the German 10 year looking for safety. Unfortunately the opposite is true.
Seeing such horrific results you would think that I would be 100% in cash or short but I have my clients 25% invested and not 100% in cash as this overvalued scenario could go on for a lot longer, as my fellow investors tend to do very little in the way of research and tend to just let it ride in the majority of cases. Only a major negative catalyst like a Brexit for example, would get them to move and by then it maybe too late. The portfolio I do have is filled with free cash flow superstars like Apple and Gilead Sciences that are just pumping out insane levels of free cash flow.
Going forward I am not panicking as I use zero emotion when I invest and am taking it one day at a time, but will not be buying anything until I find out what the British will do on June 23rd. God save the Queen if they vote to leave. What the Federal Reserve will do with interest rates is quite obvious (it will do nothing) as how can it raise rates when the world (as we witnessed today in Germany with the 10 year yield) is slowly moving to negative interest rates? If you want my opinion on what that means you can find it here.
DISCLAIMER: This analysis is not advice to buy or sell this or any stock; it is just pointing out an objective observation of unique patterns that developed from our research. Factual material is obtained from sources believed to be reliable, but the poster is not responsible for any errors or omissions, or for the results of actions taken based on information contained herein. Nothing herein should be construed as an offer to buy or sell securities or to give individual investment advice.
Disclosure: I am/we are long AAPL, GILD.
I wrote this article myself, and it expresses my own opinions. I am not receiving compensation for it (other than from Seeking Alpha). I have no business relationship with any company whose stock is mentioned in this article.