Baidu (NASDAQ:BIDU) announced Monday that it was revising its Q2 revenue guidance lower in the face of regulatory pressure. The company drew the scrutiny of China's regulatory agencies after a story circulated and went viral about a Chinese university student with terminal cancer that found treatment through medical advertisements on Baidu's search engine.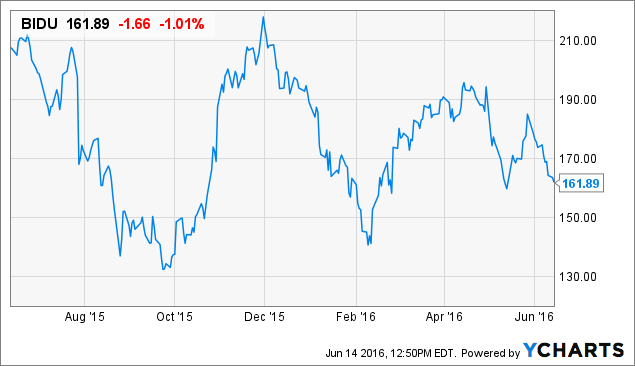 BIDU data by YCharts
In an article I wrote on the story and its effect on BIDU, which can be found here, I came to the conclusion that Baidu was likely not going to receive any severe punishment over the saga considering the blame does not all rest on the company's plate. However, regulatory pressure has evidently reared its head as the Q2 revenue guidance slash proves.
Using the midpoints of the original guidance and revised guidance, the company expects 10% lower revenue than it did when it provided the former. That's a fairly substantial adjustment, and has led to questions about long-term impact and lingering effects. Immediately after the revision was announced, BIDU fell more than 7% after-hours, but that knee-jerk reaction was quickly rectified after investors gobbled up the price dip. In fact, before the market went sour Tuesday, BIDU was actually up 2%.
Stock price rising after a downward revision of revenues sounds a bit unintuitive, with the likely catalyst being that the market expected the investigations and scrutiny to have a more significant effect on Baidu's top line. Therefore, the 10% adjustment was better than many investors expected, and BIDU recovered lost ground quickly.
Before providing my take on the long-term consequences here, I would like to quickly summarize what Baidu had to say in regards to the guidance cut. The company cited two reasons for the revision, both regarding the recently launched investigations by various Chinese regulatory agencies. The first was Baidu has increased its scrutiny of advertisers and their advertisements, leading to lost business from some advertisers that didn't make the more stringent cut. Advertisers were also wary of the regulatory probes and so paid for fewer ads than they otherwise would have. The second reason was Baidu cutting down the number of sponsored links that appear on its search engine to at most 30% of a page's links. These developments show Baidu's willingness to cooperate fully with regulatory authorities, and to try and repair what many see as a damaged relationship with Chinese consumers.
Now to my opinion on how this whole situation will affect BIDU going forward. Like the market, I too was pleasantly surprised by the relatively small revision from Baidu. Considering that estimates put Baidu's revenue contribution from medical and pharmaceutical ads at between 20% and 25%, the 10% downwards revision is not nearly as large as it could have been, indicating that Baidu relies mostly on legitimate and properly vetted advertisements to generate its revenue.
In addition to this positive, Baidu's quick cooperation with authorities and implementation of new business practices indicates that the investigation likely will not escalate beyond a few enforced regulations and perhaps a fine.
For the reasons I've stated, any long-term effects on Baidu's business model and future growth prospects will likely be minimal. Nothing fundamental has changed within the company or in regards to its product offerings that will change long-term revenue growth possibilities, which leads me to the conclusion that BIDU is still a high-upside opportunity going forward.
Disclosure: I am/we are long BIDU.
I wrote this article myself, and it expresses my own opinions. I am not receiving compensation for it (other than from Seeking Alpha). I have no business relationship with any company whose stock is mentioned in this article.