By Tony Termini
When Caterpillar (NYSE:CAT) reported Q1 2016 earnings on April 22nd, management told analysts that they were lowering their sales and revenue guidance by about 2% for the remainder of 2016 and cautioned that restructuring costs would go up. This is the fifth time in five quarters that they've reported lower numbers and offered cautious guidance.
There are lots of reasons for the continual declines and they affect every one of CAT's operating segments. Lower energy prices have hurt CAT in both its Energy and Transportation business as well as its Resource Industries segment. Weak prices have caused reductions in exploration and extraction. And, this has led to a decrease in the volume of equipment sold into both the oil and gas and mining sectors. The result of this for CAT has been about a 10% decrease in revenue in Energy and Transportation and a nearly 35% revenue decrease in Resource Industries since 2013. The Construction segment didn't help in 2015 as it had the year before. Revenues declined more than $2.8 billion from 2014. In the aggregate, sales are off more than $8.6 billion, or nearly 15%, since 2013.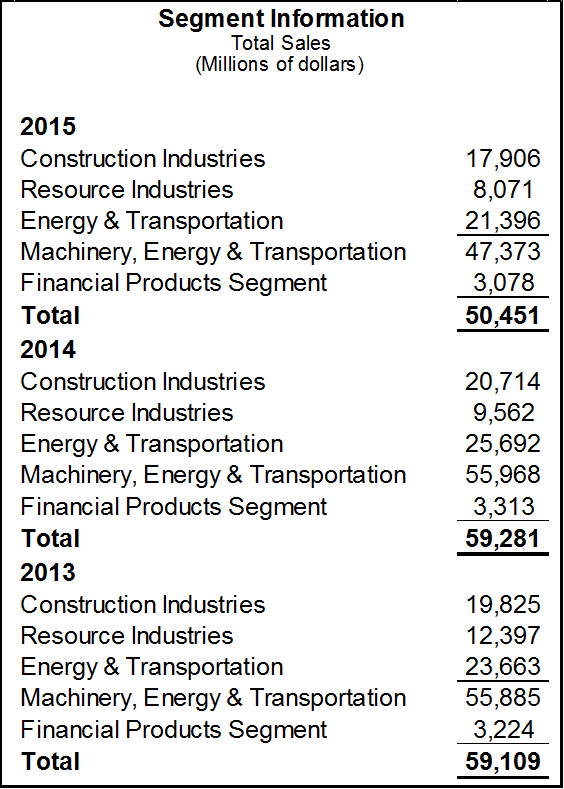 (Source: Company filings)
If declining sales weren't bad enough, the fact that about 59% of CAT's revenues come from international markets has added even more pain to the bottom line. The strong US dollar has put even further pressure on earnings, which were off 27.4% from 2014 to 2015. And, the fact that CAT has been actively restructuring the company since 2013 and taking a hit to earnings as a result is another weight.
If we follow CAT's recent guidance, revenue in 2016 will be off by almost 13% from 2015 and EPS will come in more than 24% lower. To me, these are not compelling reasons to buy this stock!

(Source: Company filings and press releases)
And, I wonder how much longer these trends could continue. We have to rely on CAT's comments that it's going to keep restructuring. And, that will keep pressure on earnings. For me, the problem is that restructuring costs keep getting bigger just about every time CAT talks about them. According to Chairman & CEO Doug Oberhelman, 2016 restructuring costs are now estimated to be $150 million more than they anticipated just back in January when they reported Q4 2015 earnings. I am not convinced that the trends that have driven sales and earnings lower the last couple of years are going to snap back anytime soon.
Let's start with construction. According to CAT, retail sales of machines it makes for the construction industry are down 7% worldwide for the three months ended April 30, 2016 when compared to the same period last year. Oh, by the way, when you aggregate the numbers across all of CAT's operating segments, they show that sales are down 12% worldwide in the most recent period, again compared to 2015. CAT publishes these numbers every month on a rolling basis, and I'd want to see an increase here before I got bullish on the stock. To give this more meaning, look at the numbers in the context of global economic growth. The World Bank just cut its current year forecast for global GDP growth from 2.9% to 2.4%. If this trend continues, or if the US economy actually slips into recession next year (which I believe could very well happen), then CAT is going to get clobbered.
I don't see sunshine and rainbows for utility sales either. According to the Edison Electric Institute, planned transmission infrastructure investment by public utilities is expected to decline by more than 8.5% between now and 2018.
What about railroads? According to a January 2016 survey published in Progressive Railroading, most domestic railroads plan to spend less on capital expenditures this year than they did last year. The table below illustrates the magnitude of these reductions in millions of dollars.

(Source: Logistics Management Magazine)
And, what does the future hold for the oil companies and miners? Well, according to accounting and consulting firm Deloitte, don't expect the fortunes of mining companies to change much in the near term either. And, good ole OPEC itself says that project deferrals will keep a cap (no pun intended) on capital expenditures for the foreseeable future.
All of this puts pressure on earnings this year. Whether or not these issues are already priced into the stock has yet to be seen.
So, let's take all of this and juxtapose it against CAT's recent advance. While it has been a bumpy one longer term, the ride that CAT has taken since January 25th has been great for investors. The stock has advanced more than 30%. Technically, the chart looks great. CAT is above its 40-day moving average and its relative strength vs. the S&P recently crossed back into positive territory.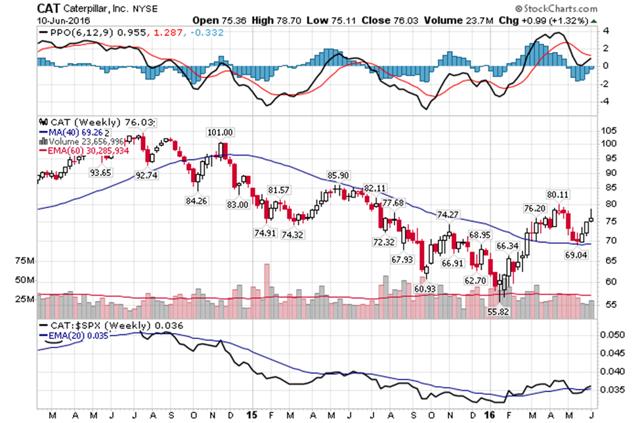 (Chart courtesy of StockCharts.com
Granted, CAT has not treated its holders very well since its 2011 peak of $111.98, but the movement since mid-January this year has been pretty terrific. While there may well be some more near-term upside in CAT, I caution would-be buyers. To me, it feels as if CAT is trading on unfounded hope that the growth prospects for its traditional customers are about to change. I don't see that anytime soon. After reviewing the forecasts of each of the industries that CAT sells to, I am not left with a warm and fuzzy feeling.
The current (albeit tepid) US economic expansion has been maundering on now for about six years. Now, I am not an economist, and am not about to make a prediction, but if the economy falters for a quarter or two in the next 18 months, then we'll likely to see some kind of stock market correction. And, if that happens, I don't want to be long CAT.
Okay, someone out there is going to say, hey CAT's dividend pays me more than 4% right now and it looks solid. Yup. CAT has paid a dividend every year since the company was founded and, in my opinion, it is as solid as the bucket on a skip loader! CAT's free cash flow yield tops 7.5%, so I see no risk in that income stream. But, I think you risk a lot more than 4% if you hold CAT and its earnings prospects continue to worsen.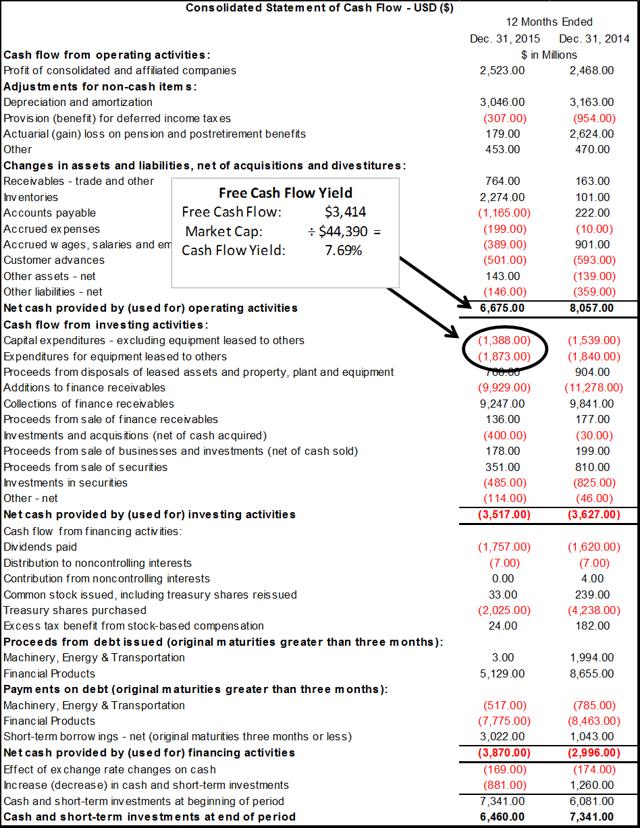 (Source: Company filings)
So, my suggestion is that investors take their 30%-plus return in CAT and move on.
Conclusion
While CAT may be a solid company, I would not be a buyer of the stock right now. I'd be a seller. I don't see much on the horizon that would appear to change CAT's current operating environment and spur earnings growth. The stock has run up more than 30% in the last six months, and without a near-term catalyst, I think the stock has given investors the bulk of what they can expect to earn in this cycle. CAT is a sell to me.
Disclosure: I/we have no positions in any stocks mentioned, and no plans to initiate any positions within the next 72 hours.
I wrote this article myself, and it expresses my own opinions. I am not receiving compensation for it (other than from Seeking Alpha). I have no business relationship with any company whose stock is mentioned in this article.