While the exact date and location of the origins of Memorial Day are debated, it is generally accepted that the idea came from a group of Union Army Veterans as a way to honor those that died in the Civil War.
"The 30th of May, 1868, is designated for the purpose of strewing with flowers, or otherwise decorating the graves of comrades who died in defense of their country during the late rebellion, and whose bodies now lie in almost every city, village and hamlet churchyard in the land,"

...The date of Decoration Day... was chosen because it wasn't the anniversary of any particular battle.
Following World War I, it was broadened to honor the memories of all those that died in the service of their country, and in 1971 was moved to the last Monday in May. While it is clearly a somber holiday, it also marks the beginning of the Summer driving season and the unofficial start of Summer. This is not intended to in any way trivialize the holiday (Congress already did that when they decided to make it a three day weekend), but since this is an investing web site, it is also important to recognize that the weekend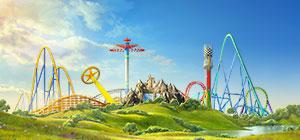 marks the beginning of the four most important months of the year for amusement park operator, Cedar Fair, LP (NYSE:FUN).
As the name indicates, Cedar Fair is a publicly traded limited partnership (or LP), and while it trades like many other companies on the NYSE, it trades "units" rather than shares, and pays a "distribution" rather than a dividend. The difference is perhaps most notable when income tax time rolls around, and instead of receiving a 1099-DIV, one receives a Schedule K-1. While the K-1 is somewhat more complex than a 1099, most tax software programs make entering the data a simple task. There is also an added complexity for certain custodial accounts, such as IRAs.
For some investors, it's simply not worth the hassle. That would be unfortunate. It has a current distribution that yields more than 5.5%, and as CFO Brian Witherow recently pointed out, it's been a very attractive investment:
Our focus has been and always will be, on optimizing the use of free cash flow to maximize unit holder value in both the short and long term.

This includes making strategic high-ROI capital investments at our parks and continuing to grow our distribution ... This has been our strategy since going public almost 30 years ago and it has delivered a 17% compound annual total return to investors over that time. We believe we're well-positioned to continue that success for the foreseeable future.
The growth hasn't been uniform, and the distribution has been far from consistent, but the long term growth story is impressive. It is even more impressive since the first time I recommended it as an investment on Seeking Alpha in June of 2011:
Following distributions totaling $0.33 during the first 2 quarters, management stated the following, "Assuming results continue to meet our expectations, we intend to pay $1 per unit in distributions in 2011. To that end, the board has already declared the quarterly cash distribution of $0.10 per limited partner unit payable on June 15. Looking ahead with that same assumption, our goal is to double the $1 per unit distribution in 2011 to $2 or more per unit in 2013." ...Based on a current unit price under $20, yield for 2011 would exceed 5% and 10% by 2013. And for those with a less serious bent, what's not to like about a company with the ticker symbol of FUN?
That distribution would get to "$2 or more" by 2013, coming in at $2.575. It has continued to grow steadily, reaching $2.85 in 2014, $3.075 last year, and is on track to pay out at least $3.30 in 2016. If the past few years are any indication, there is the likelihood of a further increase from the current quarterly rate of $0.825 by December. If the quarterly distribution increases to $0.90, as I expect, then the yield would be moving above 6% based on the current unit price of less than $59.
And while the yield is important, there is also the expectation of additional capital appreciation. How much appreciation is difficult to forecast and dependent on a host of factors, including interest rates, vacation plans, weather, competition and the success of new initiatives that Cedar Fair continues to roll out. In addition to the difficulty in quantifying the variability of these factors, the company ceased issuing annual guidance just over a year ago. Instead, it began issuing conservative multi-year objectives labeled FUNforward. After exceeding the target set in FUNorward earlier than projected, it issued FUNforward 2.0 before the company's results for 2015 were released.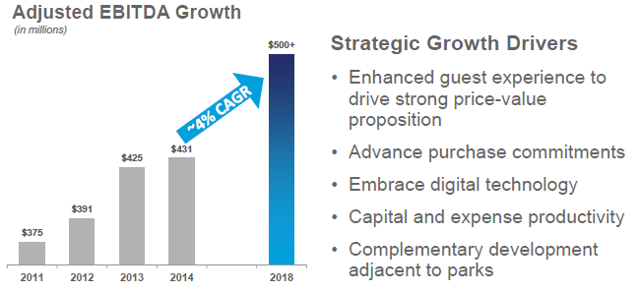 Management has also stated that it expects to grow the distribution in line with the growth in Adjusted EBITDA. Note how 2014 showed exceptionally poor growth. This was due to a number of unusual factors, including a water main break outside the company's largest park that forced a closure during a key weekend in May, flooding that affected another park in Minnesota, and unusually heavy snows that extended the school year in the Midwest, delaying summer vacations. The combination of events led to a 0.2 million drop in park attendance.
This attendance drop was not about bad summer weather. The company has always stated on a year to year comparison, bad weather tends to even out over the course of the company's busy season. (The expansion of Halloween themed events that take place during October weekends can also be impacted by poor weather, and the compressed time frame for "Halloween Haunts" makes it unlikely that attendance lost to poor October weather can be made up.)
At any rate, 2015 was a signature year with attendance increasing 1.14 million visitors, or 4.9%, to a record 24.45 million. Adjusted EBITDA grew even faster, rising $28 million (or 6.5%) from $431 million to $459 million. That was well above the company's guidance of ~4% CAGR and led to the 10% increase in the quarterly distribution from $0.75 to $0.825. Are further significant increases on the way?
If Q1 results and management optimism are any indication, that would certainly appear to be the case. Before going further, it should be understood how Cedar Fair operates. It's a very different model than competitors such as SeaWorld (NYSE:SEAS), Universal Studios (owned by Comcast (NASDAQ:CMCSA)) or Disney (NYSE:DIS) whose parks are located in warm weather locations and remain open all year. It's also different from Six Flags (NYSE:SIX), since Six Flags, like the other three, has a single brand.
In one sense, most of Cedar Fair's geographically dispersed parks don't have many direct competitors, and the much larger Comcast and Disney may not even consider Cedar Fair a competitor. The reverse isn't the case. Knott's Berry Farm is one of the top parks operated by Cedar Fair, and its location in Southern California has it competing for entertainment dollars with Disneyland, Universal and other theme parks and attractions in the area.
Other parks, such as Dorney Park in Eastern Pennsylvania, targets the same customers that could go to Hershey Park, Sesame Place and Six Flags Great Adventure. And, its not just other theme parks that Cedar Fair has as competition. The company also has to compete for that portion of the family budget allocated for entertainment. It also has to give potential visitors a compelling reason to plan a round trip that is likely to take several hours.
To do this, the company has to consider its target markets and constantly invest capital in new rides and attractions that give families a reason to return. Except for Knott's Berry Farm, Cedar Fair's parks are closed most of the year and those capital projects typically take place between November and April when parks are closed, and makes for very uneven quarterly reports.
The parks each have unique names, which is both a positive and a negative. It's a negative in the sense that marketing has to be regional and a positive image generated by one park or a major new attraction at one park won't benefit the others. However, this can also work in the company's favor. For instance, the company can try out new ideas at a single park, and if successful, those ideas can be rolled out to the other parks. If unsuccessful, there is only localized damage to the brand and the negative impact or costs would be minimized. CEO Matt Ouimet and his team have successfully rolled out a number of ideas, including premium ticketing, implementing a CRM system, changing food menus, introducing laser light shows and both in-season and out of season festivals, etc.
These new programs have resulted in increases in both attendance and revenue per visitor. And, it appears that more initiatives are on the way. During the latest conference call Ouimet discussed creating destination sports venues on property adjacent to current parks in order to attract more visitors:
Another important organic growth opportunity for us is developing land adjacent to our parks. We currently have more than 1,300 acres of undeveloped land across North America and we have exciting plans for putting more of it to use. We just broke ground last month on the Cedar Point Sports Center, a new amateur youth sports facility in Sandusky, Ohio that overlooks the amusement park. This facility will begin hosting tournaments at the beginning of 2017 which will bring a new incremental audience to Cedar Point. In anticipation of the success we expect achieve next year with this state-of-the-art Sports Center, we have already identified other markets where we believe similar demand exists and are actively pursuing growth in this area.
This is just one initiative that the company is pursuing with its undeveloped land adjacent to its parks. Another took place at its park in Charlotte, NC. Following a record year at Carowinds, the company has expanded its Carolina Harbor water park. Cedar Fair expects to use this expanded facility to sell more season passes, as well as encourage extended stays that result in guests spending more money on food and other park activities. It also took the opportunity to upsell the use of higher end cabanas compared to the traditional lockers.
Another initiative is its use of in-season festivals at Carowinds or the Boysenberry Festival at Knotts Berry Farm in Southern California. There are also out of season events being tried at Great America in Northern California.
Aside from the company's thrill rides and its famous roller coasters, it has also embraced "newer" technologies. Laser light shows are an incentive for guests to extend visits and its new
...partnership with Electronic Arts allows [Cedar Fair] to expand our amusement park portfolio with the introduction of great IP-based attractions.
These technologies allow the company to refresh a ride by more easily altering the visual effects. It has also introduced RFID bracelets that can eliminate the need to carry cash or a wallet around the park. Cedar Fair is also introducing wi-fi in its parks for those guests that have a need to keep in touch with the more mundane outside world.
There are signs that these types of programs are working, evidenced by some of the results discussed by CFO Brian Witherow in his prepared remarks on the recent conference call.
Looking at longer lead indicators for a moment, season pass and all season dining sales, as well as bookings for group events are all trending up compared with last year. This positive momentum is reflected in our deferred revenues which were up $13 million or 14% to $105 million when compared with the first quarter last year. Also reflected in these numbers are two new advance purchase initiatives for 2016. All season beverage and FunPix, our new digital imaging platform which is being rolled out at our five largest properties. The early response to these initiatives has been very positive and we expect their sales to increase as awareness builds with our guests throughout the year.

These early-season trends combined with the increases in advance purchase commitments that I just mentioned put us on pace to deliver our seventh straight record year. Based on these strong trends we expect our parks to generate a significant amount of free cash flow in 2016 and beyond.
And it wasn't just Witherow that was making positive comments. Ouimet discussed the revenue gains being made outside the parks, including hotels, campground facilities, restaurants and merchandise sales. Its "out of park" revenues gained 8% in 2015, and now makes up more than 10% of revenue. Ouimet noted that
We believe there are opportunities to expand this attractive revenue channel more aggressively over the next few years. ...For example, at Great America, our park in Northern California, we have filed a rezoning application. When approved, it will allow us to add more innovative new rides and attractions, expand the waterpark and continue to broaden our offerings that play off the energy with the neighboring Levi Stadium, home of the 49ers. There are 8 million people living and working in the Bay Area alone and today this park's penetration of qualified guests is the lowest in our system. At a minimum, we expect opportunity here matches what we anticipate from Carowinds.
And, if all this wasn't enough of a positive outlook for the company, the first question by Tim Conder from Wells Fargo Securities during the Q&A section of the conference call went right to the matter of guidance:
Condor:...But the question related to just annual guidance, revenue and EBITDA, did you outline that?...

Ouimet:... we went away from annual guidance at about this time last year and decided that for us, it was more productive to give the long term goal which was the $500 million of adjusted EBITDA or more by at least 2018. ...it allows us to be able to be a little less rigid in terms of how we think about the investments we're making. So we don't provide annual guidance anymore.

Condor:... You guys have said for several quarters here now that you anticipate achieving that goal earlier than anticipated of $500 million. ...should we anticipate that that is reachable by the end of next year of 2017?

Ouimet: ... I think the implication is that it would be our expectation, at least a year earlier than we had anticipated, Tim.
In the past when analysts asked questions that Ouimet preferred to avoid, he simple wouldn't answer, stating something similar to "we don't give out that information." Here we have Ouimet stating that the company is exceeding its internal expectations. The larger than anticipated increase in the Q4 distribution was a sign that the company would be exceeding its ~4% growth rate in Adjusted EBITDA and the above statements by Ouimet would confirm that.
Seven months ago I had turned positive towards the company and recommended accumulating units (vs. a prior recommendation of "hold"). With the price showing minimal movement since then, and management making even stronger positive comments, I believe the company is now a buy. While I still believe the Goldman Sachs price target of $69 by January is out of reach, I am expecting at least 10% appreciation by the end of 2016 in addition to another significant increase in the distribution.
Disclosure: I am/we are long FUN, DIS, CMCSA.
I wrote this article myself, and it expresses my own opinions. I am not receiving compensation for it (other than from Seeking Alpha). I have no business relationship with any company whose stock is mentioned in this article.
Additional disclosure: I may be increasing my position in FUN at any time and may simultaneously sell a December out-of-the-money covered call.