Executive Summary
Stars are lining up for homebuilders and the valuations are at surprising levels. I will discuss the investment opportunity in a series of articles; starting with this article that lays out the macroeconomic backdrop as a prelim to subsequent articles that will discuss specific companies with various market cap sizes, such as Toll Brothers (NYSE:TOL), Lennar Corporation (NYSE:LEN), D.R. Horton (NYSE:DHI), Beazer Homes (NYSE:BZH), KB Home (NYSE:KBH), and Hovnanian Enterprises (NYSE:HOV).
Supply is low and stable
The National Association of Realtors recently reported that the total housing inventory at the end of April 2016 was 2.14 million units. This represents the lowest level for April since 2001, and almost 50% below the peak inventory levels of 2006 and 2007. Furthermore, the latest reading represents a year-over-year ("YoY") decline of 3.9%. The inventory level is low and not increasing.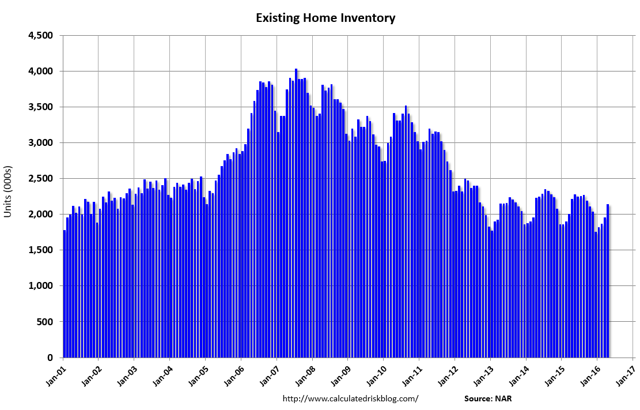 Demand is solid and increasing
The same report also showed that the existing home sales rose 6.0% YoY to a seasonally adjusted annual rate ("SAAR") of 5.45 million. This is significantly above the depressed range of 3.5 million to 4.5 million SAAR registered from 2008 to 2011 (excluding the volatility around first-time homebuyer credit). More importantly, existing home sales rate is on an uptrend.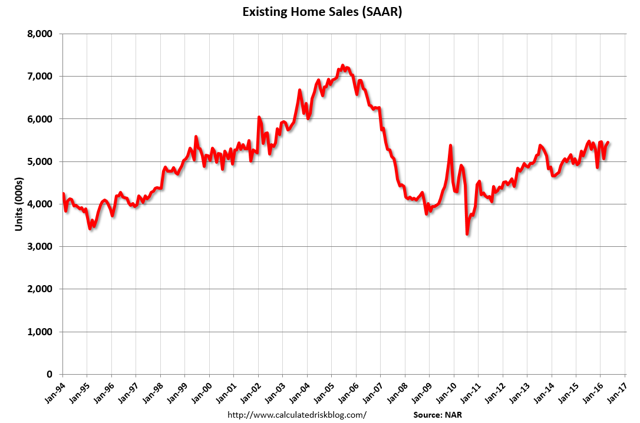 Add the 2 and 2 together
The unsold housing stock is at a 4.7-month supply at the current sales pace. This is the lowest months of supply level for April since the 2002-2005 period when home prices were increasing more than 10% per year.
I believe home prices are again headed in that direction for the following reasons.
Supply cannot increase rapidly
After land is purchased, it can take more than a year or even two years for a builder to obtain the necessary licenses and permits, do site planning and engineering, as well as construct the roads, sewer, water, utilities, drainage, and recreational facilities and other amenities, build the unit and finally bring it to market for sale. In addition, during the F2Q'16 earnings conference call, Hovnanian Enterprises management said:
We've also seen some elongated cycle times. There has been a lot of pressure as the market is recovering and the contractor base is not quite there to deliver.
Finally, some of the national homebuilders have highly levered balance sheets, preventing them from aggressively buying more inventory. Both Hovnanian Enterprises and Beazer Homes, for instance, have recently signaled that they will use some of the cash generated for debt principal repayments instead of land purchases. This will further restrict a rapid increase in supply in the coming years.
Demographics are supportive of further increases in demand
According to a recent WSJ article, the homeownership rate was near a 48-year low. As millennials, so far deemed a generation of renters, graduate into their 30s, they are expected to switch from renting to owning. This is in line with recent commentary from Bob Toll, the executive chairman of Toll Brothers:
As millennials mature, studies indicate that their appetite for home ownership is consistent with past generations, which is of course encouraging for our industry.
Mortgage rates are low and financing is easing
With declining treasury bond yields, mortgage rates are once again near record lows, which is a very favorable development for home affordability. In addition, Wells Fargo (NYSE:WFC) recently announced that it would start offering low down-payment mortgages without FHA backing, and I expect other lenders to follow suit. When combined, these two developments boost home affordability levels back to the levels of 2013 with a better and improving employment backdrop.
Bottom Line: The perfect storm is brewing for homebuilders. Low and stable supply coupled with strong and increasing demand will continue to push home prices higher, maybe even at an accelerating rate. This will inevitably boost the revenue growth of national homebuilders. Follow me for an in-depth investigation of which homebuilder stocks stand to benefit most from this strong macroeconomic trend.
Disclosure: I/we have no positions in any stocks mentioned, but may initiate a long position in BZH, TOL over the next 72 hours.
I wrote this article myself, and it expresses my own opinions. I am not receiving compensation for it (other than from Seeking Alpha). I have no business relationship with any company whose stock is mentioned in this article.