Introduction
In a search for fairly and underpriced stocks in an highly valued market because of the lack of attractive returns virtually anywhere else on the globe, I have been looking at a lot of industrials lately. This group suffered both back in August and in February as many are linked directly or indirectly to China, India, Brazil, and other emerging markets.
Today we take a look at Cummins Inc. (NYSE:CMI), a worldwide maker of diesel engines ranging from tiny ones for pickup trucks to giant ones for mining and construction machinery.
We cover a possible cash drain, a stellar performance for the company's India unit, look at valuation, and examine the reliance of the company on its North American segment even as it appears to have a very diverse revenue pie.
Cash Drain?
Cash for the company decreased by around $800 million in the last quarter. This was due primarily to share repurchases, dividends, and other charges associated with their costs cuts.
During 2015 the company repurchased $900 million of their stock and in November of 2015, the board authorized another 1 billion to be purchased.

As you can see from the chart below, these purchases may have been very well timed. There is some research out in the wild that suggests that companies are terrible are repurchasing their own shares, often doing what retail investors try to avoid in buying high and selling low.
For a company buying high is fairly straightforward but for selling the equivalent would be issuing new stock to fund an acquisition or pay down debt.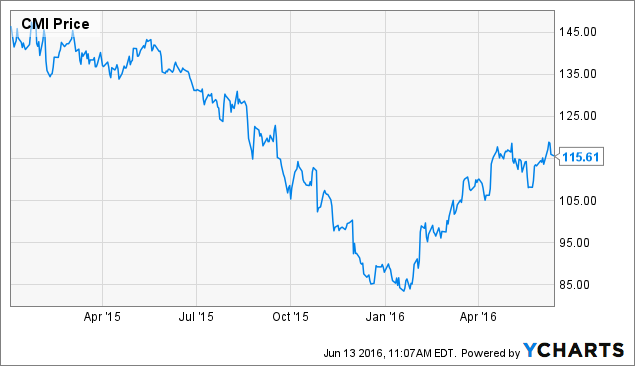 CMI data by YCharts
CMI fell from $145 to the low of $79 throughout the course of 2015 and the company was buying their stock along the way. Stock buybacks can help to add value for shareholders, be a waste of money, or be neutral depending on the price paid relative to where the stock trades 1-5 years after the purchases are made.
Dollar cost averaging can work for companies in the same way that it can work for the diligent saver in a 401k plan.
Companies, Cummins included, need to have the rigor to maintain a consistent and not overly ambitious program regardless of results so that their purchases average out to a more favorable price and they are not just buying after announcing a great quarter and watching the stock jump 10%.
India
Cummins operates in India through their 51 percent owned subsidiary, Cummins India LTD. This company was established in the 1962 and is now the leader in all things diesel engines big and small in India.
This company has its own website and earnings releases. Let's take a quick look at their latest quarterly release and see what we can learn about Cummins' overall business.
Overall results for the full fiscal year were record breaking in terms of sales with domestic sales up 13 percent and exports declining 3 percent YOY. This despite a weak Q4 where exports tumbled 30% YOY.
The company cited Government actions to increase investment in India and further build out the country's infrastructure as a main driver of the strong domestic results.
The company repeatedly cited sluggish global demand that would further counter-balance the strong domestic results.
Cummins Going Forward
The company had a pretty dour forecast for 2016 with sales expected to fall 5% to 9%.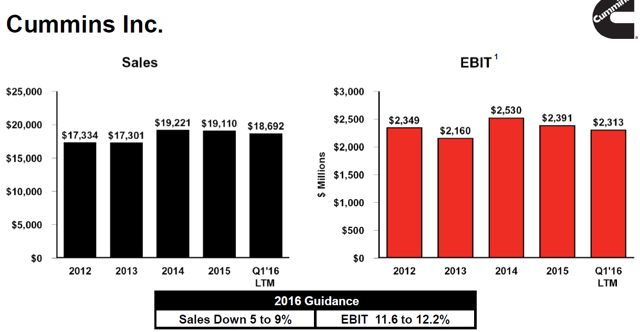 North America is a key part of the company's business, especially in engines.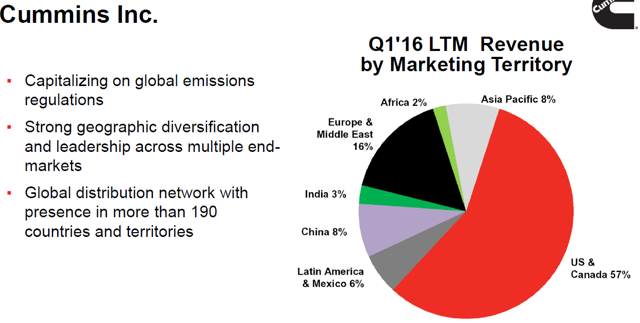 Again, as we hinted at above, for many of their segments India continues to be the one bright spot with mixed to lower demand in NA across most segments and Brazil continues to struggle as it has for most companies.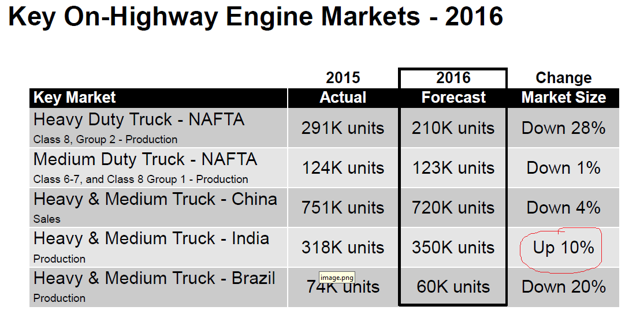 Despite how diverse Cummins is, North America still drives the company's results to a large extent. Without a turnaround here, the company may continue to slide.
How does the company fare in recessions?
Whenever I research and invest in companies, especially cyclical industrials or other companies that are sensitive to the global economy, it helps me to look at their results during the last recession during 2008-2009.
This can be a good, but not perfect, indicator of how the company operates and makes decisions through the cycle and how high their exposure really is to the overall economy and not just their specific industries supply and demand.
Cummins fare pretty well during the last downturn. Sales fell 24.7% in 2009 when compared to 2008. 2010 sales jumped up, however, and were just short of 2008 numbers. The run since then has been consistently upwards with a big jump in EPS from the lows of $2-$3 a share to the now $8-$9 a share.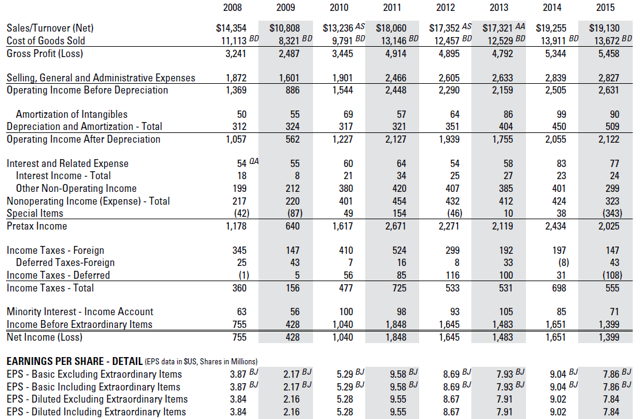 In isolation these may seem like horrible numbers. No one wants to see a 20+% drop in sales.
But with some context I can assure you these are quite strong all things considered. In a article a few days ago I looked at a company called Wabash National who makes those truck cubes/containers that you see every truck using on the highway and around town.
During 2009 that company teetered on the edge of bankruptcy and had to be saved by an equity infusion. The company failed to even make a gross profit in that year.
Few noticed though as the times were focused on bank bailouts and the near implosion of the giant that is GE (NYSE:GE).
Cummins remained profitable in 2009, cut costs, and kept their dividend flat and did not cut it. In 2010 after the smoke had cleared, the company boosted the dividend by a monster 50% from $.175 to $.2625.
A commendable performance all around I would say.
Valuation
CMI trades at 15.1 time TTM earnings, which are expected to be a buck higher than forward earnings. The company trades at 14.2 times forward earnings.
The company is above some of its peers like Komatsu (OTCPK:KMTUY) and below others like its main customer Paccar (NASDAQ:PCAR) and Wabco (NYSE:WBC).
It is difficult to figure out the right time to buy Cummins. Obviously a stock like this you want to buy as low as possible, at the low point in the cycle. 2009 was a great time to buy everything so that is doesn't really count and from the short-term chart the other great time to buy Cummins was in late 2015, early 2016 when it hit around 11 times earnings.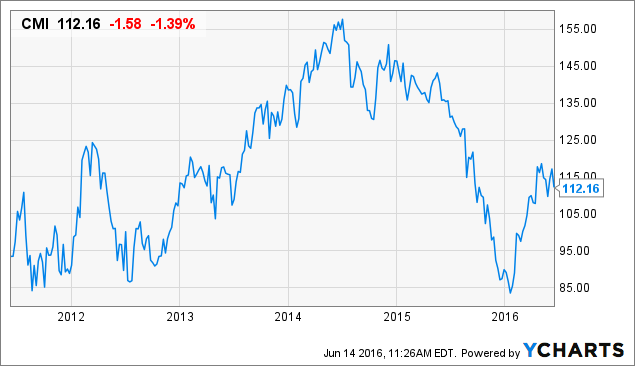 CMI data by YCharts
Since then the dollar has weakened and despite there not being much more clarity on how strong or weak the global economy really is, the stock has rallied hard.
At this point the valuation looks appealing given where the overall stock market is up at 18-20 times earnings. With transparency about falling sales for 2016 though and upcoming volatility possible with the fed rate hikes and Brexit, I can't help but wonder if we will get a lower price very soon for Cummins Inc.
The company yields an attractive 3.43% with a payout ratio of ~50%.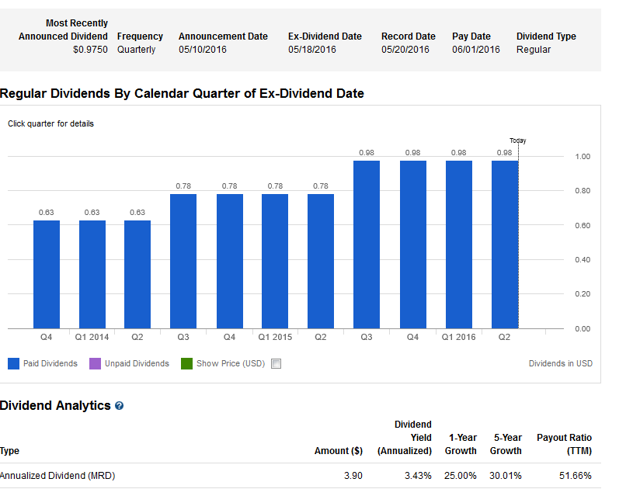 Conclusion
Cummins is an excellent, diverse business that has seen its end market weaken and will continue to be soft in 2016. India is the one bright spot but can't make up for the weakness in NA considering it is almost 50% of sales.
I also like CMI's valuation but can foresee a lower entry point in the near future so will consider buying some now with money set aside to average down later and then hold on for the ride.
Disclosure: I/we have no positions in any stocks mentioned, but may initiate a long position in CMI over the next 72 hours.
I wrote this article myself, and it expresses my own opinions. I am not receiving compensation for it (other than from Seeking Alpha). I have no business relationship with any company whose stock is mentioned in this article.
Editor's Note: This article discusses one or more securities that do not trade on a major U.S. exchange. Please be aware of the risks associated with these stocks.