2016-06-09: Sold to Open 1 Contract of Option TGT JAN 20 2017 65.00 P
Last week I wrote about my first options trade for DivGro. As mentioned in that article, one of my goals this year is to find opportunities to boost dividend income. I don't want to do this by chasing yield. Rather, I'd like to use options to generate a little extra income in addition to the dividend income I already receive.
One way to boost income is to sell covered calls against stocks I own in my DivGro portfolio. I can sell one call for every 100 shares I own and collect the option premium in return.
Another way to boost my income is to sell a cash-secured put on a stock I would like to own at a strike price I'm willing to pay. The put buyer will have the right to sell me 100 shares of the stock at the strike price before the option's expiration date.
If the stock price drops to below the option's strike price before the expiration date, the put buyer will likely exercise the option and put the shares to me. That means I'll have to buy the shares at the agreed-upon strike price. On the other hand, if the stock price remains above the strike price until the expiration date, the option will expire worthless. In either case, the option premium is mine to keep.
In order to sell a put option, my online broker requires that I put aside a certain amount of cash to secure the put. In a margin account, the amount is typically 20% of the purchase obligation. In a regular account, you'd have to set aside 100% of the purchase obligation.
Trade Details
I already own 40 shares of Target Corporation (NYSE:TGT), which I bought in December 2013 at $62.90 per share. Initial yield on cost (YoC) was 2.73%.
TGT is a Dividend Champion with an impressive 48-year streak of dividend increases. The company pays quarterly dividends in months of March, June, September and December, currently 60¢ per share. Projected annual dividend income (PADI) on 40 TGT shares is $96.
I wouldn't mind owning more shares of TGT, but I would prefer to buy those shares for less than the current asking price. In fact, it would be great if I could buy TGT for less than $62.90 per share, because that would decrease my average cost basis!
On 9 June I sold one put option on TGT at a strike price of $65.00 with an expiration date of 20 January 2017, collecting an option premium of $3.70 per share. The commission of $8.25 drops the effective option income down to $361.75.


When I executed this options trade, TGT was priced at $68 per share and yielded 3.53%.
Here are 2 possible scenarios:
1. Shares trade above strike price on expiration date
The option expires and I don't have to buy the 100 TGT shares. I keep the option premium and the margin requirement is released. Yield on margin is 27.83% over the trade period, or 45.18% annualized. I can sell another put and earn more option income.
2. Shares trade below strike price on expiration date
The option is exercised and I have to buy 100 TGT shares at $65 per share. I keep the option premium, so the effective per share cost is $61.38, about 10% less than TGT's price when I executed the options trade. YoC is 3.91% and DivGro's PADI increases by $240.
Either of these scenarios would be acceptable. As a dividend growth investor focused on generating a growing dividend stream, I would prefer Scenario 2. Adding 100 shares of TGT at less than $62 per share would lower the average cost basis of my TGT shares and increase average YoC. On the other hand, Scenario 1 would be fine, too. Generating an annualized yield of 45% while committing $1,300 on margin would provide ample compensation while I wait for a better entry price.
Variations on scenario 2 are possible if TGT's share price drops below the strike price before the expiration date:
If the option buyer decides to exercise the option early and before an ex-dividend date, I'll receive the corresponding dividend payment. Depending on the date of exercise, this could deliver one or two extra dividend payments.
I could roll the option down before it is exercised, replacing the option with one trading at a lower strike price. Buying back the option and selling another at a lower strike price would likely cost me some of the option premium I collected. To compensate, I could simultaneously roll the option forward.
I don't anticipate needing to roll the option before it expires. Therefore, if the share price drops well below the strike price before expiration, I'd likely end up buying the shares.
The risk I'm taking here is that TGT's price drops well below the strike price before the option expires. That would mean I'll be buying TGT at a higher price than shares are trading in the open market, resulting in an immediate (unrealized) loss.
I think this risk is worth taking because TGT is a solid dividend growth stock with a long track record of paying and raising dividends.
Analysis of TGT
In estimating fair value, I perform a dividend discount model analysis and compare the result with estimates from other sites. My fair value estimate for TGT is $79.18.
For comparison, Morningstar's fair value estimate is $74, while S&P Capital IQ has a fair value calculation of $75.90 and a 12-month target price of $76. According to TipRanks, based on 15 ranked analysts offering 12-month price targets for TGT in the last 3 months, the average price target is $77.50.
The site finbox.io provides a comprehensive set of fundamental analysis tools and a quick way to view the average fair value estimate of several stock valuation models with default settings. According to finbox.io, the average fair value for TGT is $73.84: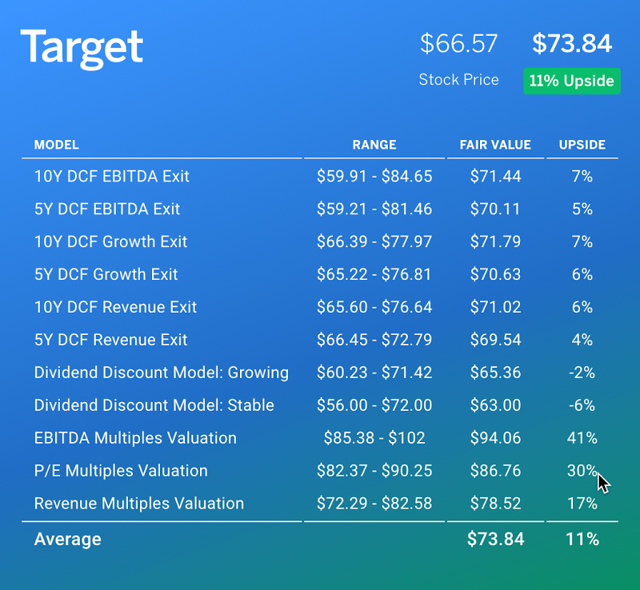 The following earnings and price correlated F.A.S.T.graphs chart for a 10-year period indicates an estimated price of $84.14 on 1/31/2018.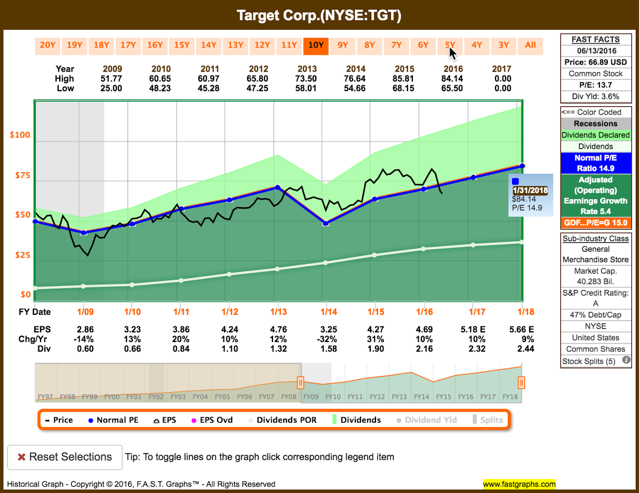 Excluding the highest and lowest of all these fair value estimates and using the average of the remaining estimates, I get a fair value estimate of $76.52.
Buying TGT at $61.38 per share implies a discount to fair value of 20%.
The current asking price of $66.57 represents a discount of 13%.
Ratings of TGT
TGT passes the following of my selection criteria:
Dividend streak: at least 5 consecutive years of dividend increases (48 years)
Dividend yield: at least 2% but less than 8% (3.91% at $61.38)
Dividend growth rate: median of 1-yr, 3-yr, and 5-yr DGR is at least 6% (17.8%)
Equity valuation multiple: price to earnings ratio is less than 16 (12.56x)
Dividend payout ratio: ratio of dividend to EPS is less than 60% (42%)
Fair value: price discount is at least 5% of fair value estimate (20% at $61.38)
TGT fails the following of my selection criteria:
Debt ratio: debt to equity ratio is below 60% (113%)
Based on these statistics, TGT earns 5 out of a possible 7 stars: (★★★★★☆☆)
The following table presents ratings of TGT from other sources, for comparison to my rating:
†VGM: (Value • Growth • Momentum) and combined VGM score
Conclusion
I'll be recording option income as a cash deposit transaction and keep a running tally of option income so generated. If this put option is exercised and I end up buying shares, I'll record the transaction as a regular stock purchase on the date of the exercise.
My focus with DivGro will continue to be generating a reliable and growing dividend income stream. I see option income as a way of boosting available cash so I can buy more dividend growth stocks.
Option income generated: $361.75 (running tally: $677.24)
Please let me know what you think of this strategy in the comments below. Do you use options to boost dividend income? What are the pros and cons of this strategy?
If you like this article or would like to read future articles about my dividend growth portfolio, DivGro, please click on the Follow button at the top of this article. Thanks!
Disclosure: I am/we are long TGT.
I wrote this article myself, and it expresses my own opinions. I am not receiving compensation for it (other than from Seeking Alpha). I have no business relationship with any company whose stock is mentioned in this article.