A good defense can be the best offense for investors. At times, the less risky portion of the capital structure can offer attractive returns with less risk. The convertible bonds of Herbalife (NYSE: HLF) are one example. The bonds have not generated the return of the common stock but have produced a nice return since March 13, 2015, article - Herbalife Convertible Bond Is A Modest Value.
The bond on March 12, 2015, was at $76.38, as of June 14, 2016, it is at $98.62, for a gain of 29%.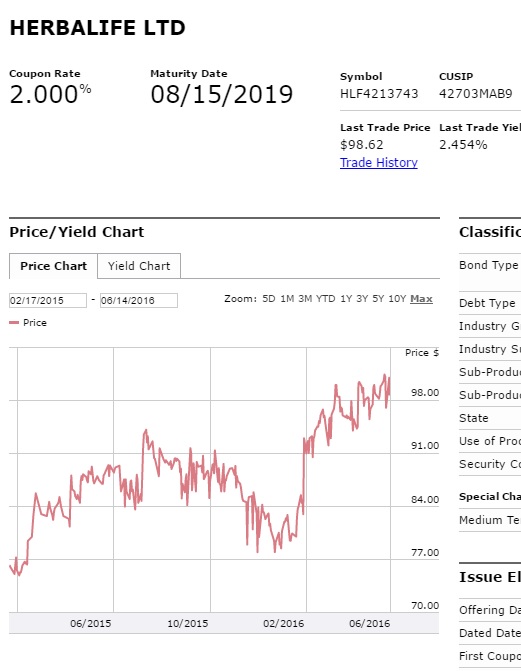 The conversion price for the bond is $86.28 for the stock. Therefore, there is little upside for the bond unless the common stock roars higher, and given the 2.00% coupon rate, there is little income to be gained. By comparison, the average cost of the firm's borrowings under its Credit Facility and Term Loans was 3.32% for the March 2016 quarter.
The common stock has increased from $33.25 to $59.04, for a gain of 77.5%.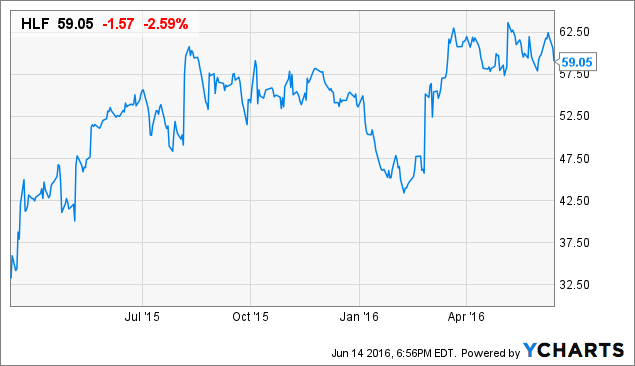 Given the regulatory and headline risk, the bonds do not appear to offer an attractive risk-reward opportunity at this time. Therefore, the suggestion to exit the position. The common stock if everything falls into place might move higher, but interest expense has moved higher the past years from $21.5 million to $24.9 million. Net sales have flattened, increasing from $1,105.4 million to $1,119.6 million over the past year.
The way I view the stock chart. The common stock price looks toppy, a break of $57.50 could see the price sharply lower. Of course I could be wrong. What do you think?
Disclosure: I/we have no positions in any stocks mentioned, and no plans to initiate any positions within the next 72 hours.
I wrote this article myself, and it expresses my own opinions. I am not receiving compensation for it (other than from Seeking Alpha). I have no business relationship with any company whose stock is mentioned in this article.