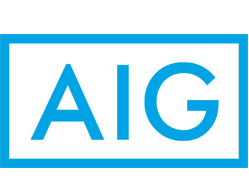 Stocks have not been doing well over the last couple of days, and growing concerns over a Brexit referendum in Great Britain at the end of the month, as well as lower energy prices are too blame for the rather quick shift in investor sentiment. In case you are not an avid news reader: Brits will vote in a referendum on June 23, 2016 whether they want their country to stay in the European Union. A Brexit vote has the potential to throw global financial markets into turmoil, at least over the short haul, and investors have already started to sell (financial) companies.
That being said, though, there is a good chance that investors have become too fearful in light of the looming Brexit referendum, and the poor jobs report in the U.S. at the beginning of the month.
Financial stocks, in particular, still look like good deals at their current price points. One company I think investors should keep a close eye on is American International Group, Inc. (NYSE:AIG), America's largest insurance company.
Why keep an eye on American International Group?
As a matter of fact, I will give you four reasons why you should keep a close eye on American International Group:
1. Valuation. The insurance company has become much cheaper in the last week thanks to growing concerns over the future of the European Union. American International Group's shares are selling for just 69 cents on the dollar at the time of writing.
2. AIG is close to being oversold. AIG has had a good run from March to May, but deteriorating investor sentiment has without a doubt hurt the insurance company. The Relative Strength Index flashes a value of 32.81, suggesting that another slide would make American International Group's shares oversold.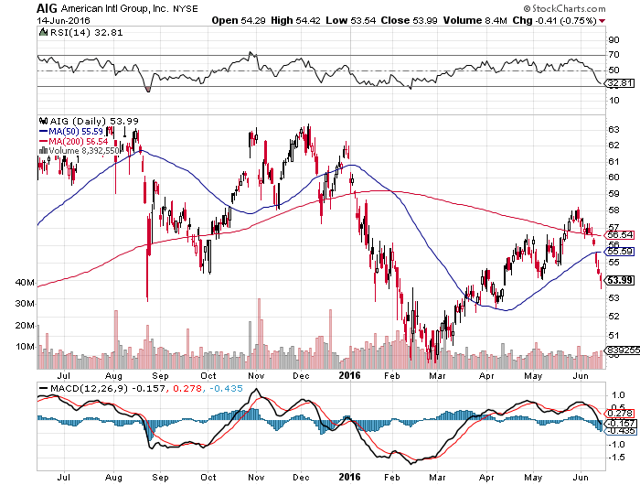 3. One of the most solid reasons to buy American International Group relates to the company's capital return plan. AIG has said that it will return ~$25 billion in capital to shareholders in 2016/7. That's great news, but the kicker is this: AIG will buy back a boatload of shares anyway, so if shares decline in price, the company will be able to buy back more shares, and shareholders are getting an even better deal.
4. Call me old fashioned, but I believe in the corrective power of activists. With all attention being centered on the Brexit vote at the end of the month, it is easy to forget that AIG shareholders have a strong ally fighting for them: Carl Icahn. Icahn's activist record is unblemished, and his presence in the AIG investment alone is worth staying the course.
Your Takeaway
As far as I am concerned, the Brexit vote is a political distraction. Yes, Brits could vote 'Yes' and leave the European Union, and it could negatively affect global stocks over the short haul. However, this does not change the reality that American International Group sells for a wide margin of safety. Further, American International Group's management is throwing a LOT of cash at shareholders until the end of next year, with most of it being returned as stock buybacks. A falling share price, therefore, is actually not the worst thing that could happen to shareholders because it will enable management to potentially buy back more shares. Buy for capital appreciation.
Disclosure: I am/we are long AIG.
I wrote this article myself, and it expresses my own opinions. I am not receiving compensation for it (other than from Seeking Alpha). I have no business relationship with any company whose stock is mentioned in this article.