After the recent announcement of rig additions, oil (NYSEARCA:USO) crashed below $50/bbl and is now inching towards $45/bbl. I've talked about the flattening of the futures curve in the past (read The Worst Sector In The S&P 500), and the recent slide in oil confirms my belief that the futures curve will stay flat as producers come to grip with the notion of "lower for longer." A snap shot below shows that the futures curve is experiencing a parallel shift (note the "Change" column), maintaining its flat shape.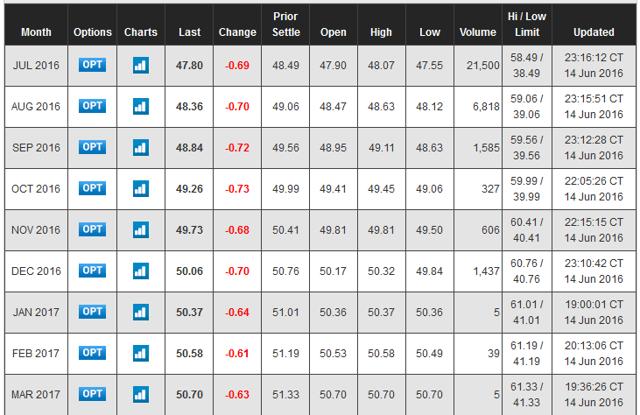 Source: CME
While some producers have been defiant (e.g. ConocoPhillips (NYSE:COP)), many others have built up significant hedging positions to secure cash flow (e.g. Chesapeake (NYSE:CHK)), creating downward pressure on longer-dated contracts as well as shorter ones.
One could make the argument that the same thing could've happened at $30/bbl - so why didn't producers hedge then? The reason is quite simple: producers simply cannot survive at $30/bbl. Many are barely achieving cash break-even at $50/bbl, so hedging at $30/bbl would have been a death sentence. Of course, consumers of crude saw the opportunity to lock in cheap raw material costs, which explains the steep futures curve that we saw back when oil was at $30/bbl.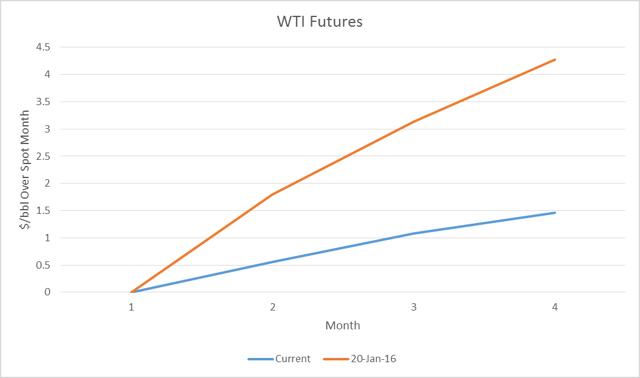 Source: data from CME
The above graph normalizes the steepness of today's futures curve and the futures curve in January when oil hit $27/bbl. As you can see, the futures curve is significantly flatter today.
With the addition of more rigs, the race to the bottom has begun once again. As wells deplete, production decline will set in, decreasing efficiency (overhead stays the same) and cash flow. At that point in time, new wells must be drilled to keep the lights on.
This begets another question. At what point will price rise again? I believe that supply plays a much bigger role than demand at this point. While world economic growth will have an impact, supply has a far bigger chance of creating volatility. As much as we would like to think that the shale revolution has made us energy independent, the truth is that we are still at the whim of international players. In any commodity business, the low cost player always wins while other players are just along for the ride.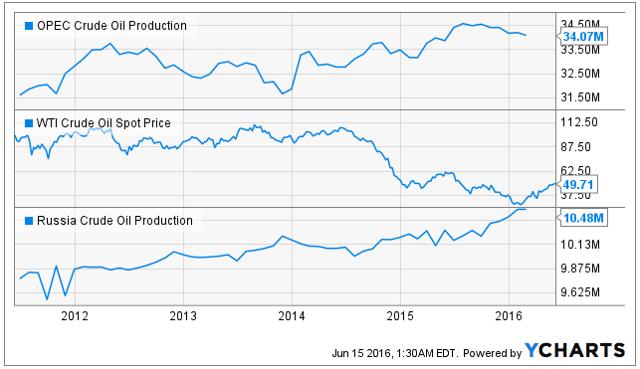 The above illustrates the impact of international producers on oil. As you can see, there is a negative relationship between OPEC production and the oil price. As long as international producers keep pumping, I don't think we'll see significantly higher oil prices any time soon.
When will we see a decrease in international supply? It's really anybody's say at this point, since it's more about policy setting rather than the interaction between market forces, but I do have my opinion. Since fracking opened up a whole new world, we have been relying less and less on imports.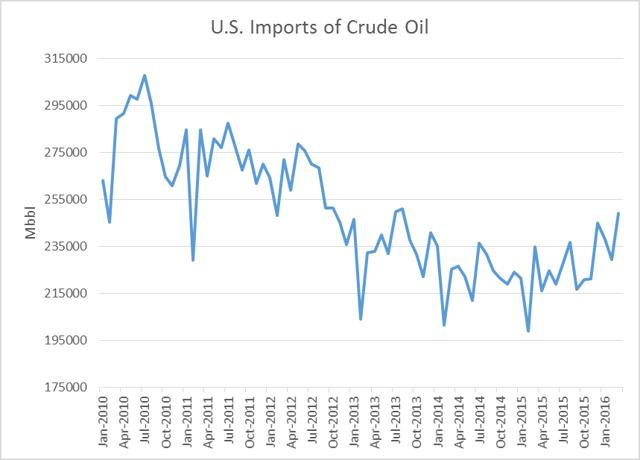 Source: data from EIA
As you can see, prior to the drop in oil, imports have dropped by 75 MMbbl/month or 900 MMbbl per year. Now that domestic production is falling, imports have rebounded to fill the gap, though they still haven't recovered fully. What does this mean? International players aren't likely going to quit until they get their market share back. When will that happen? Only when U.S. producers significantly reduce production. Since the rig count suggests that producers are doing the completely opposite, I don't think that international producers will back off anytime soon, leading to a sustained supply glut.
Conclusion
A flat futures curve and a higher rig count suggest that producers are embracing lower prices. As production declines, efficiency falls and producers must drill more wells to increase production. This flies in the face of what needs to happen for international producers to cut supply. I believe that higher oil prices will return only when OPEC has gained sufficient market share. While imports have climbed recently, I believe that it will just be a matter of time before production rises once again. This will lead to lower imports, incentivizing OPEC to fight harder, leading to lower oil prices for everyone.
Click the "Follow" button beside my name on the top of the page to be updated with my latest insights. To learn more about the V20 Portfolio (+40% in 2015), whose goal is to compound capital at 20% over the long term, I encourage you to read the introduction to my investment process. Premium subscribers get full access to the V20 Portfolio. Track the portfolio through the latest update, here.
Disclosure: I/we have no positions in any stocks mentioned, and no plans to initiate any positions within the next 72 hours.
I wrote this article myself, and it expresses my own opinions. I am not receiving compensation for it (other than from Seeking Alpha). I have no business relationship with any company whose stock is mentioned in this article.