As the June 23 referendum nears, markets are getting increasingly choppy. Markets and the Pound (NYSE:FXB) continue to sink. If Britain leaves the EU, it's also possible things could get worse - or so the argument goes. Polls are indicating a "leave" vote, while betting odds indicate a "stay". I'm not sure if anyone really knows what's going to happen for sure, though. While I'm not in a rush to start buying British stocks hand-over-fist, there's three premium franchises I'm watching very closely ahead of a potential "Brexit".
Everyone likes discounted liquor
UK-based Diageo (NYSE:DEO) is taking a beating, and even dropped below $100 a share briefly on Tuesday, making new 52 week lows. This is the only company on the list I currently own, and if it wasn't already my largest position, I'd be adding aggressively here. Now I'm stuck on the fence between two classic lines of thought:
1.) There's no such thing as too much of a good thing
and
2.) Don't put all (or in my case, a significantly large percentage of) your eggs in one basket.
The last time I covered Diageo was in September of last year, calling it a "deal", but so far I have eaten crow on that call.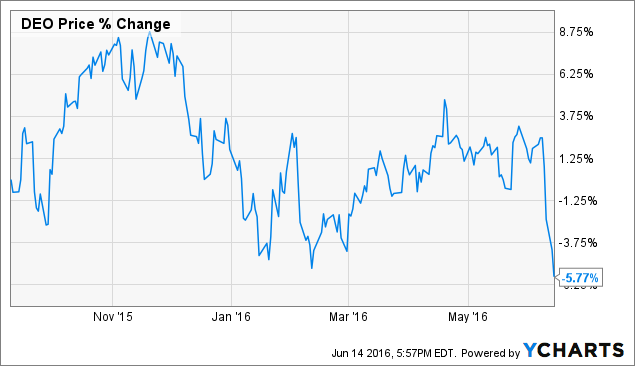 One thing's for certain, though - Diageo remains a premium franchise that consistently achieves returns in excess of its cost of capital. It's also a cash cow, and I still think it's much cheaper than it should be. I can't seem to find another liquor company trading for less than 20 times earnings with a dividend yield north of 3%. I can't even find one that's close, let alone a company with elite brands that are comparable to the likes of Guiness, Johnnie Walker, Ketel One, Don Julio, etc.
I also have a hard time believing it won't remain a superior business even if the UK does decide to leave. Playing devil's advocate, a "stay" vote could bump up the value of the pound, which would in theory also boost the undervalued alcohol company's value in US Dollar terms. It's hard for me not to add more at these levels.
Everything from ice cream to soap
Another premium company that's taken a beating recently is Unilever (NYSE:UL). It sells everything from Ben & Jerry's Ice Cream to Axe body spray to Dove soap.
Shares are down almost 7% over the last 5 days, probably because of Brexit fears for the most part. Its return on invested capital consistently hits or exceeds the 20% mark looking back over the past decade, indicating evidence of a strong moat. It also pays a dividend north of 3%.
While it's clearly another superior UK-based operation, Unilever's valuations aren't quite as attractive in absolute terms compared to Diageo. UL shares currently trade hands at roughly 18 times forward earnings, which actually looks like a decent deal in relative terms, however.
I think this is especially true when compared to its US-based rival Procter & Gamble (NYSE:PG), which trades at over 20 times forward earnings and doesn't generate nearly the same enviable level of ROIC as Unilever does. P&G's return on invested capital usually comes in at the 12% to 14% range. Unilever also sustains more growth and probably has better growth prospects than P&G overall, mostly due to its exposure in faster growing emerging markets.
One of the best consumer goods franchises money can buy
Reckitt Benckiser (OTCPK:RBGLY) is the most expensive stock on this list. After looking at data over the last ten years on Morningstar, however, I think a premium should exist at least to some extent. This is because RB has generated ROIC of around 20% at a bare minimum - but usually sees numbers that exceed the 30% threshold. Quite impressive I'd say.
Reckitt sells consumer goods products like Durex condoms, Lysol, and Clearisil face wash, just to name a few. It actually owns 18 "power brands" spread out among health, home, and hygiene and operates in over 200 countries.
Its margins are the envy of the industry, with net margins more than double that of Unilever's and much higher than P&G's as well. Despite less spending on advertising than many of its peers, it's also still able to grow revenues at a solid clip (in constant currencies), too. Roughly 15% to 20% of these sales tend to be converted right into free cash flow, historically speaking.
Shares trade north of 25 times earnings, so it remains pricey - even after a 7.66% haircut over the last 5 days. Continued weakness could change this, however, dragging down valuations to more attractive levels. This is what I'm waiting (or hoping?) for. If the right price comes along before now and the 23rd, I'll jump in and worry about Brexit consequences later.
Conclusion
While I'm not 100% certain whether the UK will leave the EU or not, I do know that Britain is home to some of the planet's best businesses. It seems like a lot of bad news is being priced into shares of UK-based ADRs in the States already, and I intend to take advantage of this situation - especially if even more bad news becomes priced in over the next week or so.
If the pound continues to sink lower, shares of all three of the above companies could also continue to trade lower, but as of now Diageo looks like a steal. Unilever looks like a decent deal too, but RB still needs to come down a little for me to consider it.
All three companies are elite franchises that constantly out-earn their cost of capital and gush free cash flow. I guess for now it's the "wait and see" game for me, or maybe even the "how low can they go" approach if shares of DEO, UL, and RBGLY continue to fall 1% to 2% a day like they have recently. The lower the price, the better the deal as far as I'm concerned, assuming the underlying businesses remain strong. Things could get even choppier as the vote nears, however, especially within the context of an overall darkening global economic picture.
If you enjoyed this article and would like to receive further updates and articles in the future, please feel free to hit the "Follow" button at the top of the page by the author's name.
Disclosure: I am/we are long DEO, PG.
I wrote this article myself, and it expresses my own opinions. I am not receiving compensation for it (other than from Seeking Alpha). I have no business relationship with any company whose stock is mentioned in this article.
Additional disclosure: I may also initiate a long position in UL and/or RBGLY in the next 72 hours. Articles I write for Seeking Alpha represent my own personal opinion and should not be taken as professional investment advice. I am not a registered financial adviser. Due diligence and/or consultation with your investment adviser should be undertaken before making any financial decisions, as these decisions are an individual's personal responsibility.