Nutraceutical International Corp (NUTR) is little known company in the nutritional supplements and natural food industry that investors need on their radar. The company has a long term growth history with solid profit margins, combined with a low debt ratio over past two decades.
The current result of FY Q2 2016 earnings release was that NUTR beat Wall Street expectations. Revenue grew by 7.4% to $54M , and net income increased by 12% to $4.6M year-over-year. The stock price rose from $17 per share in Mar 2016, to current levels of $24.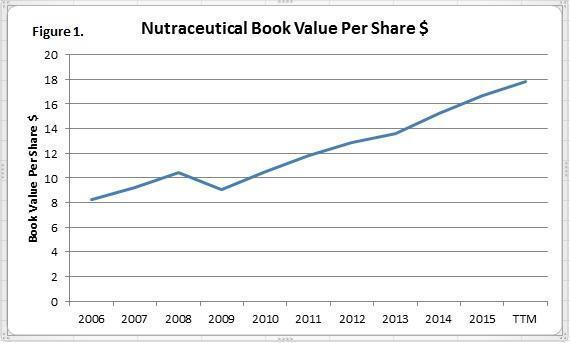 NUTR has maintained a high quality product line while building a loyal customer base to ensure steady revenue growth with solid profit margins. In the last five years, company revenue grew at 3%-6% clip, with a net profit margin of 10%-13%. Nutraceutical has a debt-to-equity ratio of 0.29.
Expansion Strategy

Nutraceutical's expansion pace has been steady. The company did acquire small competitors to expand its footprint. In FY 2014, the company acquired seven small competitors for $16M. In FY 2015, it acquired two companies for $1.26M. For the first two quarters of 2016, NUTR acquired Dynamic Health Laboratories and Aubrey Organics for an aggregate price of $26M.
Dynamic Health is a liquid manufacturer located in Brooklyn, New York. Its annual sales range from $10-$15 million. Nutraceutical will integrate the Dynamic Health with its Tulsa Oklahoma manufacturing facility over next one to two years. It expects the positive contribution to adjusted EBITA to occur in 2017.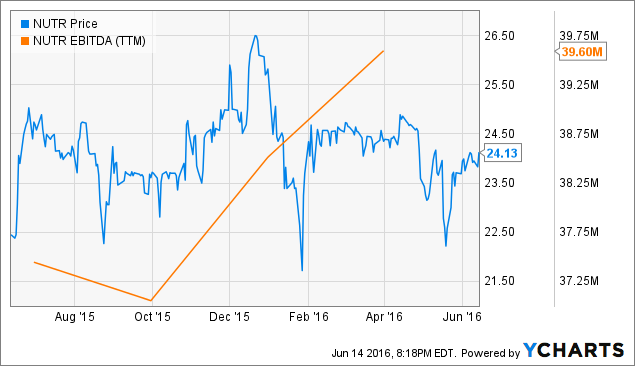 Aubrey Organics offers more than 200 natural-ingredient hair and skin-care products with annual sales around $10-$20 million. Increasing demands for natural and organic facial care products is expected to reach $13.6B in 2016 from $9.25B in 2012. This trend would continue to grow with the increasing aging population and savvy consumers including skin-conscious people. Aubrey Organics is one of prominent vendors in this industry. Nutraceutical will consolidate Aubrey Organics with its offices and manufacturing operations for the personal care business plan.
It is expected these two acquisitions will boost Nutraceutical sales around $25-$30 million per year going forward. Given its acquisition price tag of $26 million, this deal appears to strengthen the company's long term growth potential.
To fund the recent acquisition of $26M, the company borrowed $16M, and its long-term debt reached to $48M. However comparing to its equity of $166M, the company has managed its debt-to-equity ratio successfully, not exceeding 0.29%. It also invested $4M for Property Plan and Equipment and repurchased stock for $3.6M in the latest quarter. In recent years, several companies have taken advantage of low interest rates to borrow large amount of money and then buy back the stocks to lift the price. The average of debt-to-equity ratio is above 0.5, meaning NUTR has modest leverage.
Accord to CEO Frank Gay "Our operating cash flow and banking relationships provide a strong foundation for future acquisitions, investments in property and equipment as well as stock repurchases."
While the company's revenue and net income growth were positive, investors should pay close attention to its increasing accounts receivable (11%) and inventory (7%) to gauge if sales revenue can monetize into cash and not bad debt in the near future. It held $4M cash reserves, meaning limited capital capacity for the company to acquire other appealing candidates during the next downturn unless its operating cash flow can generate enough cash reserves. Otherwise, it either has to borrow money or raise capital for expansion. Moving forward, investors should monitor its free cash flow closely to assess the company's expansion capabilities.
Far from its steady revenue and book value growth trend, NUTR stock price has displayed irrational roller coaster style fluctuations over its history. If the stock's price offers another distressed pattern, it would be a precious time for the prudent investor to initiate a purchase position.
Disclosure: I/we have no positions in any stocks mentioned, but may initiate a long position in NUTR over the next 72 hours.
I wrote this article myself, and it expresses my own opinions. I am not receiving compensation for it (other than from Seeking Alpha). I have no business relationship with any company whose stock is mentioned in this article.