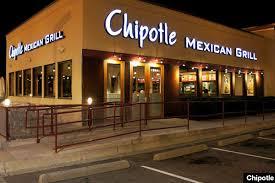 Chipotle's (NYSE:CMG) stock price has dropped by almost 50% in the last year due to food health safety concerns regarding the highly publicized E. coli outbreak from their restaurants. There seems to be two distinct opinions with no middle ground on the future of Chipotle. On one side, the bears, including many seeking alpha authors, claim paying over 38 times earnings for a company that had decelerating growth concerns before the E. Coli outbreak is way too expensive. On the other side, the bulls have claimed that these food safety concerns are only a temporary setback for a company with a strong brand. The only problem is that the bulls have been saying this since the price dropped under $500 and now the price is under $400. Who is right?
Buy Chipotle Now
At what price does Chipotle's stock price offer an attractive entry point? Honestly, I thought it wouldn't drop much below $500, but I have learned it is very hard to predict a bottom with Chipotle. With the recent Harris Poll ranking and Deutsch Bank downgrade, pessimism is at an all-time low. There is no doubt that investing in Chipotle carries a lot of risk, but the potential reward far outweighs the risk at under $400 or 50% off the 52 week high. It takes time to rebuild a damaged image. The decline in same-store sales should have been expected already, but eventually people will forget about their past health concerns like they have with other restaurants. Because expectations are so low, Chipotle has a lot of room for surprise with second quarter earnings.
Chipotle Isn't Done Falling
Looking at the charts below, Chipotle has traded in the range of 26.8 to 62.8 times trailing 12 months earnings over the past 5 years and 27.5-102.5 times forward earnings. Further, CMG hasn't traded above 55 times forward earnings in the past 5 years besides in 2016. Currently, CMG is trading at 38 times trailing and an astonishing 76 time forward earnings. This seems abnormally high for a company who has yet to prove it can win customers trust back. Should investors feel comfortable paying 76 times forward earnings for a company who just reported same store sales decline of 30% year over year? Investors should wait until the stock dips close to $300.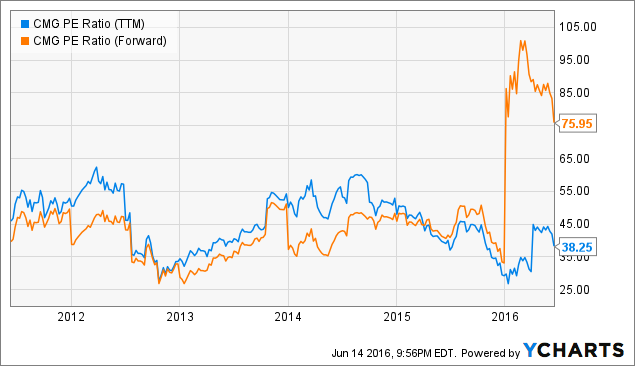 CMG PE Ratio (NYSE:TTM) data by YCharts
Conclusion
Both of these opinions are viable, but I think there's more upside than downside at the current price of under $400. Paying 76 times forward earnings can be justified because of overly conservative estimates based on extreme pessimism.
Management claims same store sales are improving marginally, but investors really won't have any proof until the second quarter earnings are released. Because it's so difficult to predict a bottom, I think the best strategy is to initiate a small position here before earnings and buy more if it goes down. Just a year ago, investors and consumers both loved Chipotle when it was trading at over 60 times earnings. History tends to repeat itself and Chipotle will be just like other restaurants that have recovered from food health concerns. Maybe not next year, but I think Chipotle will outperform the market as a long-term investment over the next 5 years.
Disclosure: I am/we are long CMG.
I wrote this article myself, and it expresses my own opinions. I am not receiving compensation for it (other than from Seeking Alpha). I have no business relationship with any company whose stock is mentioned in this article.