BP (NYSE:BP) has put in a scratchy performance on the stock market so far this year with volatility getting better of the company. Just when it seems like BP will put in a sustained rally, it loses momentum. In fact, since the beginning of May, BP shares are down almost 8%, but I believe that this presents another opportunity for investors to buy more BP shares. Let's see why.
A recovering gasoline market will lead to downstream growth
One of the key factors that will allow BP to improve its financial performance going forward is the recovery in gasoline demand, which is leading to an improvement in the refining margins. For much of last year, BP had enjoyed strong refining margins on account of stronger gasoline prices, but toward the end of the year and the beginning of 2016, BP's refining margins started declining. This is shown in the chart below: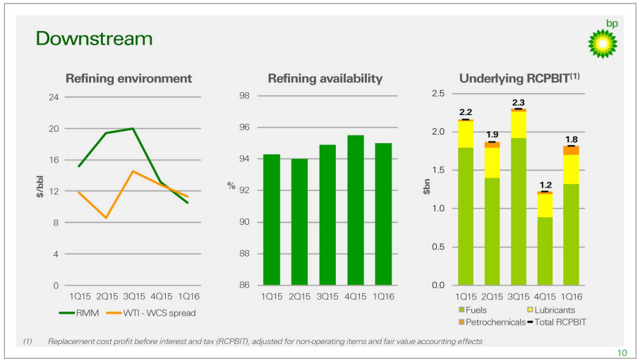 Source: BP
As seen above, BP's underlying replacement cost of profit before interest and taxes in the downstream business tailed off toward the end of 2015 due to weak gasoline demand, owing to the downturn in consumption that led to oversupply. However, in the first quarter of 2016, this business started showing strength once again.
Now, BP is highly-sensitive to refining margins. As Bloomberg points out, a $1 drop in refining margins negatively impacts BP's adjusted pre-tax earnings by $500 million annually. BP investors can consider this to be good news, as the strength in gasoline consumption is back. In fact, this year, it is estimated that gasoline consumption will rise to record highs, according to the EIA.
The EIA has upped its gasoline consumption forecast for the current and the next quarter to 9.5 million barrels per day as against the prior forecast of 9.48 million bpd that was issued last month. What's more, the EIA has also increased its gasoline price forecast for the two quarters to $2.27 a gallon from its earlier forecast of $2.21 per gallon.
More importantly, the growth in gasoline consumption is being witnessed across the globe, especially India and China. For instance, gasoline consumption in India is anticipated to rise 8% in 2016 from last year's levels on the back of growing auto sales and an increasing preference for petrol cars.
Similarly, in China as well, gasoline consumption is on the rise with usage increasing 7% in 2015. The important thing to note here is that China will continue to consume more gasoline over the next 10 years with demand rising at an annual compounded rate of 6.2%. In fact, as China's automotive sales increase at a CAGR of 10% until 2021, the demand for gasoline will increase at 6.8% over the same period.
Driven by this increase in gasoline consumption across the globe, refining margins have started picking up pace. According to the last update by Reuters in April:
"The 3-2-1 crack has improved from a low of around $12 per barrel in early February to around $18 so far in April, based on futures prices for U.S. light sweet crude, gasoline and diesel.

Valero's indicator for refineries along the U.S. Gulf Coast has improved from just $11.50 in February to over $17 so far in April. Valero's Midcontinent indicator is up from less than $8 in February to more than $11 in March and April ("Key Market Prices", Valero Corp, weekly update). The indicator for Atlantic Coast refineries is up from $9 to $14 while the indicator for the West Coast has risen from $11 to almost $20."
In fact, according to BP's own global refining margin benchmark, the company forecasts an impressive increase in the refining marker margins. This is shown in the chart given below, which shows that the strength seen in refining margins back in April has continued: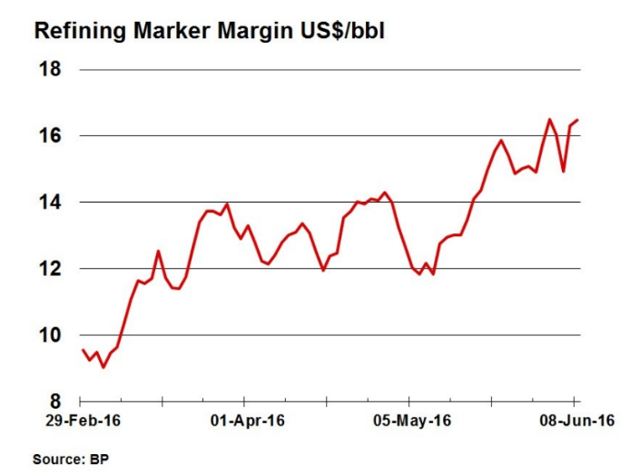 Source: BP
Therefore, it won't be surprising to see if BP now sees an improvement in its refining margins when it reports its next set of results for the ongoing quarter, which will allow it to record further improvements in the downstream business.
BP's downstream efficiencies will be another tailwind
BP has been making improvements in the downstream business in order to achieve higher efficiencies. For instance, the company is increasing the refinery utilization rates, which is allowing it to process more refined products due to better feedstock. Last quarter, the company saw a 4% jump in the utilization rate, leading to a 20% jump in the processing of advantaged feedstock of heavy crude oil.
More specifically, BP has been investing in its refineries in such a manner that they get advantaged feedstock and reduce logistics-related costs. As a part of this strategy, BP has upgraded its Whiting refinery in Indiana so that it can process 430,000 barrels of crude oil per day, including higher amounts of heavy crude. After this upgrade, the Whiting refinery is capable of producing 19 million gallons of refined fuel on a daily basis.
Moreover, due to its focus on efficiency measures, BP believes that it will be able to achieve $2.5 billion in cost synergies by next year.
Conclusion
Therefore, a combination of strength in refining margins, along with improved refining infrastructure, will allow BP to improve its downstream performance going forward. So, in my opinion, despite BP's mixed performance on the market so far this year, the stock looks like a good long-term prospect given the strength of gasoline consumption and robust downstream prospects.
Disclosure: I/we have no positions in any stocks mentioned, and no plans to initiate any positions within the next 72 hours.
I wrote this article myself, and it expresses my own opinions. I am not receiving compensation for it (other than from Seeking Alpha). I have no business relationship with any company whose stock is mentioned in this article.