In a recent article on FuelCell Energy (NASDAQ:FCEL), I had described how the company's focus on carbon capture and storage will allow it to increase its addressable market in the long run and lead to growth in its financial performance. But, in my opinion, investors should not miss the other positive points regarding FuelCell Energy since the company is building a strong backlog in other areas of fuel cell application.
In this article, we will take a closer look at some more reasons why investors should consider holding FuelCell Energy for the long run.
A strong backlog will lead to revenue growth in the long run
FuelCell Energy has been continuously increasing its backlog. In fact, the company has seen a bump in its backlog for the past four consecutive quarters. At present, its backlog stands at a strong $411 million, out of which $295 million is the service backlog. In comparison to its backlog, FuelCell has generated revenue of $155 million in the trailing twelve months, which means that its current backlog is more than twice the revenue generated in the past year.
More importantly, the fact that over 70% of FuelCell's backlog is related to the higher margin services business indicates that the company will be able to improve its margin performance in the future. This is because in the services business, FuelCell only needs to operate and maintain power plants as opposed to building them from the scratch, so it does not need to incur related expenses.
In all, FuelCell has more than 100 direct fuel cell plants at more than 50 sites across the world, with an installed backlog of more than 300 MW. More importantly, FuelCell is witnessing strong growth in both service sales and backlog. Last quarter, the company's service agreements and license revenues doubled on a year-over-year basis, while the backlog increased almost 45%.
Thus, on the back of a strong installed base, FuelCell Energy has managed to record impressive backlog growth. More importantly, it is quite likely that FuelCell Energy will continue to see strong growth in the backlog going forward on account of the benefits of generating power using fuel cells.
Why the backlog will continue growing
Fuel cells have an inherent advantage over other alternative sources of energy such as solar power. This is because the levelized cost of electricity, or LCOE, related to fuel cell projects is much lower than solar. This can be understood clearly from the following chart: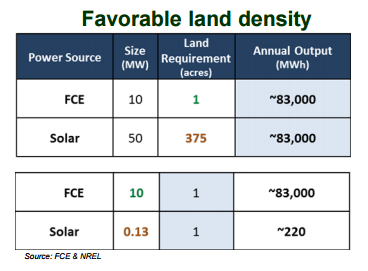 Source: FuelCell Energy
As seen above, the size of a fuel cell plant is much lower than that of a solar plant, but the equivalent output is much higher. A 10 MW fuel cell plant requires just 1 acre of land and produces 83,000 MWh of electricity annually. However, to generate an equivalent amount of energy, a solar plant will need 375 acres of land, which makes it more expensive.
As a result of the low land requirements, the availability of fuel cell projects across the U.S. is over 90% as compared to around 20% for solar energy. This is shown in the chart below: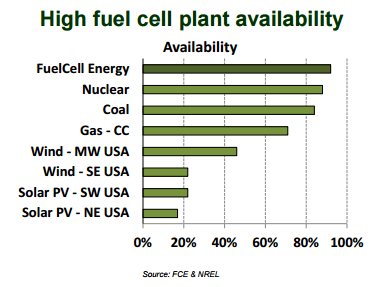 Source: FuelCell Energy
Due to its small size and robust energy generation, utilities opting for FuelCell Energy's projects are capable of generating a higher return on investment. For instance, under the project developer model that works through a power purchase agreement, FuelCell's customer can generate an unlevered internal rate of return of 9%-11% annually in a behind-the-meter setting. A similar model in a utility-scale project can generate 8%-10% IRR for the project owner.
In both cases, FuelCell Energy can generate a robust amount of revenue for itself through engineering, procurement, and construction services, apart from recurring service revenue. This is shown below:

Source: FuelCell Energy
As seen above, the behind-the-meter model allows FuelCell Energy to generate $8 million in EPC revenue, apart from $12 million in recurring services revenue. On the other hand, a utility-scale project enables FuelCell to earn EPC revenue of $80 million, along with services revenue of $120 million.
Thus, given the benefits of FuelCell Energy's models, the company expects to gain more contracts going forward. For instance, FuelCell is currently engaged in negotiations for a 63 MW fuel cell park with Beacon Falls Energy, which will be the biggest in the world. Once approved, the project will help FuelCell Energy add equipment sales of around $165 million at the mid-point, apart from service revenue of around $200 million at the mid-point of its guidance.
Conclusion
Thus, apart from the prospects in carbon capture and storage, FuelCell Energy also enjoys strong prospects in the power generation market. The company has already built a strong backlog for itself and it is likely that it will be able to continue increasing the backlog in the future as the above discussion suggests. So, in my opinion, staying long FuelCell Energy is a smart thing to do considering its long-term prospects.
Disclosure: I/we have no positions in any stocks mentioned, and no plans to initiate any positions within the next 72 hours.
I wrote this article myself, and it expresses my own opinions. I am not receiving compensation for it (other than from Seeking Alpha). I have no business relationship with any company whose stock is mentioned in this article.