The Yahoo(YHOO) core business at this point is extremely small. But it's only small compared to the value of the rest of Yahoo's businesses. Core Yahoo consists of essentially of its search business, and its web portals. We can then further split apart the valuation of the company even further by analyzing these separate parts.
Search: This is essentially just the partnership with Microsoft at this point. In 2010, Yahoo began letting Microsoft run its search business for it, as Bing technology was superior by far to Yahoo's existing search technology. As such, Yahoo's search is essentially a reskin of Bing's engine, but surprisingly, manages to attract a decent amount of search, at Google's(NASDAQ:GOOG) expense, no less.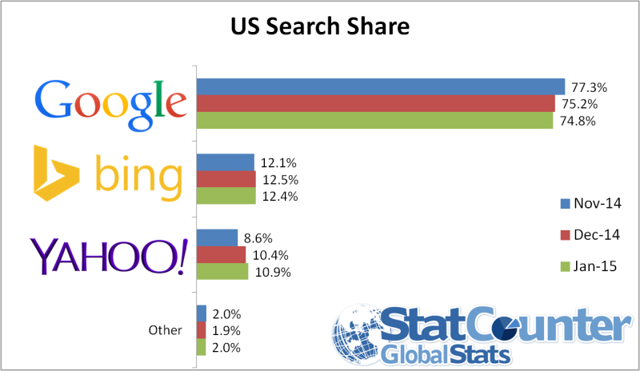 This is however, mostly due to the Firefox partnership that Yahoo forged. Excluding Firefox users, the picture is a bit less flattering: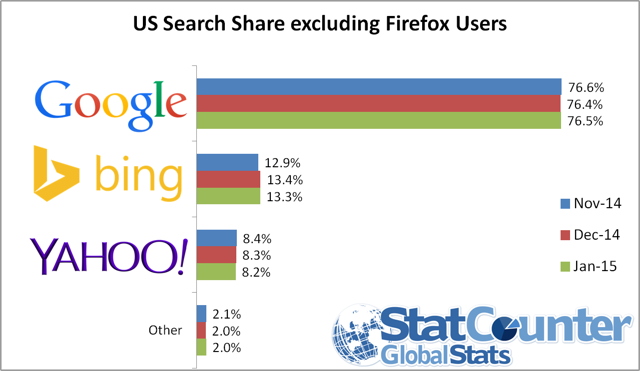 However, essentially, Yahoo is nominally stable in terms of search share. Search revenue was $820 million, down 15% from last quarter. While this may seem bad, that is only gross search revenue; GAAP search revenue was down only 9% due to different recognition of revenue.
Yahoo's web portals are also valuable properties. Yahoo.com is rank 5 on Alexa, and Yahoo still owns many other valuable properties, like yahoo mail, yahoo finance, and yahoo fantasy sports etc. Surprisingly, Yahoo draws more than a billion users a month on its various sites. Yahoo earns money from this massive amount of traffic with display ads, and earned $463 million this quarter. This is down 1% due to the price of ads dropping as more ad space comes online and ad networks putting pressure on the price of display ads. Price per Ad dropped 6%, but total ads sold rose 8%.
Taken in totality, the picture does not look good for Yahoo. However, they've both generated about $800 million in EBITDA in the trailing twelve months. 6x-7x EBITDA does not seem like a demanding valuation to put on essentially stable to slowly declining businesses that are capital light, leading to a valuation of $5 to 6 billion. I expect when the results of the auction come out, Yahoo will be sold for around this much.
Next, the tax implications of Yahoo's spinoff. Stay tuned for more!
Disclosure: I/we have no positions in any stocks mentioned, and no plans to initiate any positions within the next 72 hours.
I wrote this article myself, and it expresses my own opinions. I am not receiving compensation for it (other than from Seeking Alpha). I have no business relationship with any company whose stock is mentioned in this article.