CYS Investments (NYSE:CYS) investments trades at a larger discount to book value than most investors would expect. While the mortgage REIT sector was doing fairly well for book values heading into June, the last couple weeks have been pretty tough on many of them. While MBS values didn't gain rapidly, the dramatic fall in LIBOR rates is hammering away at many mortgage REITs. The nice thing for CYS Investments is that their strategy of angling the portfolio towards longer for longer rates appears to be paying off again.
Working on Book Value
Over the last several months I've built a few models for estimating book value and it is an area where I'm always trying to refine my estimates. My estimates have usually been pretty accurate and were allowing me to come in within 2% most of the time and often within a single percentage point. Since mREITs run significantly different portfolios it is critical to understand when one mREIT is doing materially better or worse than the rest of the sector.
The following chart demonstrates my estimated gains and losses across the different positions to establish book value as of 06/12/2016. I should point out that the day was a Sunday, so the last trading day would've been 06/10/2016.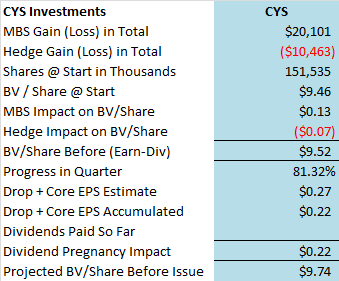 Most mortgage REITs saw their hedge loss increase dramatically over the last few weeks and easily wipe out any gains on agency MBS during the quarter. CYS Investments wasn't in that boat though. They kept hedges limited and it paid off as rates declined. They saw a small gain in MBS values and an even smaller loss on hedges. Relative to book value of $9.52 per share, the projected gain of $.13 per share on MBS and loss of $.07 per share on fair values for hedges sounds reasonably tame. The majority of the gain in net book value per share though is simply the accumulation of interest income since shares of CYS Investments had not paid out yet for the quarter.
Resulting Discount
Based on the estimated book value per share I see a discount running about 12.5% to book value. I like CYS Investments a great deal as a mortgage REIT and I think they are a strong contender for classifications such as "best of breed". They have internal management and their management team did a great job reading the global macroeconomic environment and assessing that rates were likely to stay low. They hedged enough to reduce losses if they were wrong but kept the hedges light enough to enjoy the victory if they were right.
Remember that volatility is the bane of mortgage REITs investing in RMBS because the option to prepay the mortgage limits the mREITs ability to create gains when interest rates move lower.
A 12.5% discount to book value is still too small for me when I'm investing in mortgage REITs. I like CYS Investments, but I've learned to be very cautious about entry prices.
The preferred shares remain an interesting area for me, though I would like to see a little more yield to entice me into that position.
Conclusion
CYS Investments is an agency mREIT and most mREITs are suddenly seeing red due to the drop in rates on LIBOR swaps. The yield on LIBOR swaps (at market rate) were down around 15 to 20 basis points across most durations. That implies a loss of .15% to .2% per year on the swap. Meanwhile the pricing on MBS was fairly tame. The result is a very solid spread between yields on MBS assets and the rates on LIBOR swaps, but most mREITs should be seeing book value suffer more than CYS has seen this quarter.
I'm seeing a very similar discount to current estimated book value for American Capital Agency Corp. (NASDAQ:AGNC). While AGNC sustained their dividend, the new estimated book value slipped. I estimate that AGNC is also running at a 12% to 13% discount to current book value.
Disclosure: I/we have no positions in any stocks mentioned, but may initiate a long position in PREFERRED SHARES OF EITHER COMPANY over the next 72 hours.
I wrote this article myself, and it expresses my own opinions. I am not receiving compensation for it (other than from Seeking Alpha). I have no business relationship with any company whose stock is mentioned in this article.
Additional disclosure: Information in this article represents the opinion of the analyst. All statements are represented as opinions, rather than facts, and should not be construed as advice to buy or sell a security. This article is prepared solely for publication on Seeking Alpha and any reproduction of it on other sites is unauthorized. Ratings of "outperform" and "underperform" reflect the analyst's estimation of a divergence between the market value for a security and the price that would be appropriate given the potential for risks and returns relative to other securities. The analyst does not know your particular objectives for returns or constraints upon investing. All investors are encouraged to do their own research before making any investment decision. Information is regularly obtained from Yahoo Finance, Google Finance, and SEC Database. If Yahoo, Google, or the SEC database contained faulty or old information it could be incorporated into my analysis.