We have finally seen some volatility in markets after a large rally in US stocks. A lot of contributors have written about the recent market sell-off and questioned where things might head next. I have been rather disappointed by the absence of specific market strategizing advice amid the many specific forecasts. This market has been challenging, with disconnected fundamentals, and overvaluations in many sectors. It is a challenge to be bullish, even as a buy and hold investor. We see the risks greatly outweighing the potential rewards of being long this market. We are bearish at these levels and have initiated several large bearish bets against US stocks paired with a bullish stance on several laggard sectors. We have a plan to play this current market and will offer some more color to that.
What can we infer about the market?
I am not a market technician; however, some trends in supply and demand have become evident in the current market environment. We saw a rather strong push up in the SPX index to test all time highs. Yet again we have failed to push past the critical 2120 level as it was rejected multiple times.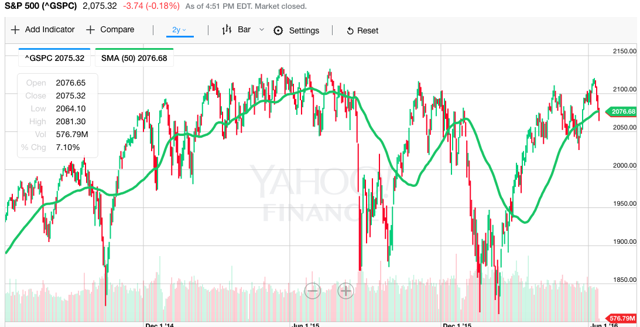 What we can infer from this is that the S&P 500 has long-term resistance at the 2120 level and long-term support at the 1800 range. We have initiated bearish positions at the 2100 level in the S&P 500 and QQQ, as well as long positions in Gold. We are expecting the S&P 500 to retest the support level as it did in February, albeit to a lesser extent at around the 1950 level.
Bearish Catalysts:
We think that the global equity markets will be subdued for the remainder of June and will grind lower due to a number of different factors:
Brexit:
The Brexit has not been fully priced into markets, and we think that there is much greater downside than many expect. US equity markets have declined far less than global markets as of late. While it is true that the US will have little fallout in response to a Brexit, we believe that there is a great deal of uncertainty regarding the status of the EU should the Brexit fall through. As most observers do, we see the Brexit as a real possibility, as nationalistic tension in England continues to rise and the European Union's credibility wanes. European stocks will fall accordingly and have begun pricing in Brexit with the FTSE 100 down nearly 6% since last Wednesday. We anticipate the Brexit being the fear catalyst that will help usher in a bearish movement in stocks in the near term.
China:
Much has been discussed about China being the ultimate black cloud over the global markets, and is a risk that should not be avoided. Debt levels continue to be elevated, economic growth continues to slow, and a currency devaluation will ultimately be the end result. We are short the Yuan and are anticipating further downside as a currency devaluation is imminent; however, we don't expect China to weigh on global markets in the short term.
The Fed:
The Fed meeting began today and we are expecting dovishness out of the Fed ahead of the Brexit referendum. The Fed has seemed to neglect its actual responsibility and has instead paid lip service to equity markets. We see economic fundamentals as being mixed at best, and a slowdown in the labor market as a potential factor in limiting the ability for the Fed to hike (unless the Fed knows something we don't. We believe the Fed should have made additional hikes in 2015 when jobs added were 200,000 plus rather than the sub 200 level that we are seeing now. Another weak job report and we could see real problems coming for Janet Yellen as a rate hike would be unjustifiable and will end up causing pain for the markets, something the Fed has been attempting to avoid for 2 years now. We are expecting the Fed to have a mixed statement that won't be enough to catalyze a market rally. We believe that the Fed can't act too dovish, since that would destroy their credibility as many speakers have became increasingly more hawkish. The issue for the Fed remains that they were too late to hike rates and now they must hike in order to have some bullets in the chamber should a slow down ensue in the next year. This could create volatility as the Fed's credibility will be tested and hawkishness in the face of global uncertainty will spook investors.
Global Growth Concerns:
We believe that global growth will continue to be muted, perhaps to a greater extent due to an Asian slowdown and Brexit uncertainty. This will keep the US economy from delivering strong GDP prints for the remainder of the year and continue to weigh on corporate profits. The rebound in commodities has been a bright spot of the year and has provided some strong support, since any pickup in demand will revitalize beliefs that the global economy is doing okay. We are expecting this to continue, absent of any global recession.
Corporate Debt Loads:
Corporate debt loads are troubling as companies have over extended their debt levels.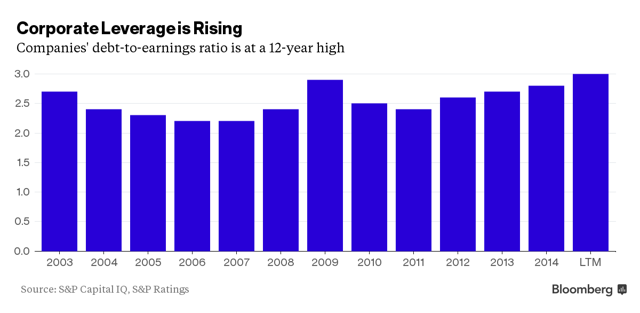 Corporate debt loads have been a consequence of low interest rates. Economic principles say that low interest rates will ultimately create further prosperity as companies can spend more on projects that will result in a greater ROIC. Unfortunately, this has not been the case as corporate executives have instead used the leverage to fund their stock options through financial engineering amidst a four quarter earnings recession. There's no telling when this debt hangover will ultimately create a recessionary environment; however, it will keep growth options muted as any current borrowing will ultimately result in future paydowns. Any rate hike will add fuel to this growing fire and could be a downside risk to stocks in the long-term and is a primary reason we are avoiding equities.
How to play the market:
We are expecting a near term pull back in stocks to roughly the 1900-1950 level as global concerns will weigh on markets and limit the ability to push past resistance of 2120. For this reason, we have instituted several bearish bets on a number of different indexes and asset classes. We are short SPY and QQQ through puts as well as long gold. We have instituted a hedge for any upside swings. We have also limited downside by overweighting miners and energy stocks and bonds. We believe that a catalyst for the market upside will come from the markets greatest laggards. Despite the recent run-up in mining and energy stocks, these sectors have the greatest risk/ reward potential as they remain well off the highs experienced last year. We continue to avoid financials as we see the rate hike picture being muted at best creating an uncertain risk/ reward.
What happens after the correction?
We are expecting a sharp rebound in stocks following a global sell-off, much to the extent we have seen in the past as markets will claim that the sell-off was overdone and monetary policy will continue to be a buffer for stocks. We are looking to aggressively buy the dip after global concerns dissipate and continue to play the range bound S&P 500. It would not be surprising to see the S&P 500 making new highs before we see a bear market in stocks as monetary policy will continue to spur asset buying and the bubble continues to be inflated.
Summary:
The market will continue its down trend and retest the support levels before aggressively shooting upwards. We believe that the name of the game is to be bearish at 2120 and bullish at 1800. Happy investing. Good luck to all.
Disclosure: I am/we are short SPY, QQQ.
I wrote this article myself, and it expresses my own opinions. I am not receiving compensation for it (other than from Seeking Alpha). I have no business relationship with any company whose stock is mentioned in this article.
Additional disclosure: This does not constitute as an offering of investment advice nor does it constitute as an offering of securities. All views are expressed through the opinions of BlackVault Investment. I am receiving contribution from BlackVault Investments and Seeking Alpha.