At the end of March, I had advised investors to remain invested in Whiting Petroleum (NYSE:WLL) as the stock looked well-positioned to sustain its momentum. Since then, Whiting Petroleum shares have continued to soar, gaining more than 50% since my last article. Now, as the oil pricing environment in the U.S. has improved in the past three months, I believe that Whiting Petroleum is now on track to deliver more upside. Let's see why.
The average price of oil has improved this quarter
When I had last written on Whiting Petroleum, the price of oil was slightly less than $40 a barrel. In the current quarter, the WTI oil price now trades in touching distance of $50 per barrel, and had even breached that mark once. This is good news for Whiting Petroleum investors as it is quite likely that the company will now be able to improve its margin and cash flow profile.
I'm saying this because crude oil prices have averaged higher in the ongoing quarter as compared to the first quarter of 2016. In the January to April period, the average price of crude oil was around $32.70 per barrel. In comparison, in the ongoing quarter, the average pricing has been higher. For instance, in the month of April, WTI prices averaged $40.75 a barrel, while in May the average was $45.94 per barrel. In the current month, WTI oil reached the highest price of $51.23 per barrel, while the lowest price has been $47.80 per barrel.
From the above trends, it is evident that crude oil prices have picked up pace in the second quarter of 2016, and this will allow Whiting Petroleum to improve its margin and cash flow profile. This is because Whiting has already been able to control the decline in its gross profit margin and cash flow in the first quarter of 2016, as shown in the chart below, and as the company witnesses higher realization in the ongoing quarter, its metrics should get even better.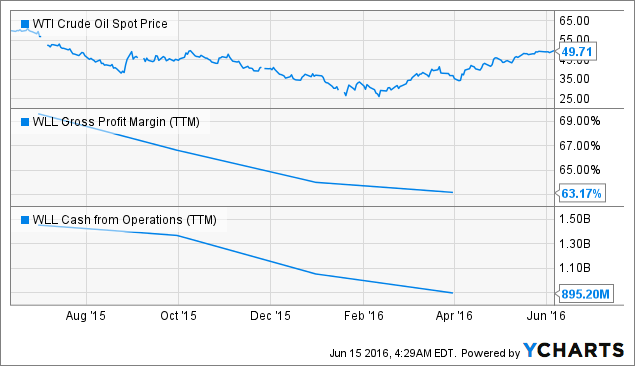 WTI Crude Oil Spot Price data by YCharts
The chart above clearly indicates that oil prices have increased from April onward, which will allow Whiting to see an improvement in cash flow and margins.
More factors that will positively impact Whiting's margin and cash flow
Apart from the improvement in oil prices, another factor that will positively impact Whiting's cost profile is the reduction in its cost profile. In the first quarter of the year, Whiting had reduced its lease operating expense to $8.56 per barrel from $11.07 per barrel in the prior-year period, which was a drop of 22.6%. Additionally, the company also controlled its exploration expense, which fell to $1.54/barrel from $3.63/barrel last year, which was indicates a drop of more than 50%.
The probability that Whiting will be able to reduce these costs further remains likely going forward. This is because the company is focusing on advanced well completion methods to lower its drilling cost and time.
For instance, Whiting's completed well cost in its core acreage of Williston Basin remains low at $6.8 million, while in the Niobrara shale play of Colorado, it is even lower at $4 million. Whiting has been able to reduce its well completion costs in these areas on the back of high-volume frac sand completion techniques.
Since the beginning of last year, Whiting has been following an enhanced completion method by deploying 5 million pounds of frac sand in the Williston Basin, leading to an improvement in the type curve to 900 Mboe EUR from the earlier 700 Mboe EUR. Meanwhile, in the Williams County area, where Whiting is using diverter agents and 7 million pounds of frac sand, its production rate has more than doubled.
Due to these low costs on the back of a decline in costs, Whiting expects its returns in the Niobrara and Bakken plays to remain strong at current price levels. For instance, last year, Whiting had pointed out that it can generate internal rates of returns of 30% at Redtail at an oil price of $55 per barrel and IRR of 42% at $55 oil in the Williston. Since then, as Whiting has managed to lower its costs further and the oil prices have improved, its return profile has also been enhanced.
Conclusion
Thus, a combination of higher oil prices and lower costs will continue to drive Whiting Petroleum higher going forward. Thus, it will be a good idea for investors to continue holding the shares of this shale oil producer in their portfolio as it will continue to run higher going forward.
Disclosure: I/we have no positions in any stocks mentioned, and no plans to initiate any positions within the next 72 hours.
I wrote this article myself, and it expresses my own opinions. I am not receiving compensation for it (other than from Seeking Alpha). I have no business relationship with any company whose stock is mentioned in this article.