The moment you decide to invest in the market, you expose yourself to risk. Of course, there are levels of risk you should be aware of. How much risk you are prepared to accept has to be a personal decision, but one you should take with care. Before investing, each investor must decide just how much he can afford to lose. The individual who invests more than he can afford to lose takes greater risk than the individual who can afford to lose everything he places at risk, regardless of the risk he is willing to take.
A number of my followers consider me brave and/or foolhardy considering the amount of risk I am willing to take, yet fail to consider my circumstance and the amount I am willing to risk. Rest easy, I never wage more than I can afford to lose, meaning the amount wagered and lost that would actually affect my lifestyle. Consequently, I am less brave than many who wager what they cannot afford to lose in spite of the fact their investments might be considered less risky than mine.
Consequently, the first rule of risk avoidance should be to know and understand one's risk tolerance, not from an emotional standpoint, but from a purely dollars and cents, logically centered, economic standpoint. You must determine what you can afford to lose before making your first investment. Once you've established that, you will be more capable of logically assessing the risk/reward makeup of your portfolio.
Obviously, nobody wants or expects to lose, and thus, all sane investors place bets they expect to win, no matter how risky that bet might be. This article is designed to acknowledge preferred investment risk and how to minimize it while making an individual investment or when populating of your entire portfolio.
Let's begin by analyzing the preferred risk when investing in an individual company. Obviously, the best way to minimize that risk is to invest in the preferreds issued by those companies considered most safe and that consequently offer investment-grade preferred investments. For those interested, I have provided this link to a broad list of Investment Grade Preferreds.
From Investopedia:
An investment grade is a rating that indicates that a municipal or corporate bond has a relatively low risk of default. Bond rating firms, such as Standard & Poor's, use different designations consisting of upper- and lower-case letters 'A' and 'B' to identify a bond's credit quality rating. 'AAA' and 'AA' (high credit quality) and 'A' and 'BBB' (medium credit quality) are considered investment grade. Credit ratings for bonds below these designations ('BB', 'B', 'CCC', etc.) are considered low credit quality, and are commonly referred to as "junk bonds".
However, for those investors seeking a higher yielding dividend-paying company and are willing to accept additional risk, there are ways to minimize that risk within that risk/reward paradigm:
Opportunistic buying opportunities occur, on average, several times each year. The best become available when the general market or an individual market sector experiences a correction, which negatively affects the share prices of a majority of the of companies involved, yet in no way is indicative of the level of safety and viability of those companies. Concomitant with their preferred share price drop, their yield increases, and the diligent investor is often able to take advantage of this increased yield at the risk he is willing to tolerate.
Understanding a company's business model and the amount of leverage it employs allows the investor to better assess the viability of a company, and therefore, better positions himself to invest in those companies that have less of a chance of failing.
Past is prologue: Conducting a five-year study of the common share performance of a company in relation to its peer group and the S&P 500, I find most helpful in determining the potential viability of the company. Consistent losses and dividend reductions are obvious warning signs, especially if the company in question performs below others in its peer group.
Recent conference calls and their attendant financial statements are not to be disregarded. They bear witness to the current financial state of the enterprise; however, they should be viewed as a snapshot in time, not the whole roll of film.
The savvy investor should be cognizant of any external events that might affect the company directly or indirectly, especially when it might foretell of a potential existential threat.
A prime example of opportunistic buying is illustrated by the following chart as shown in one of my recent articles concerning Ashford Hospitality (NYSE:AHT).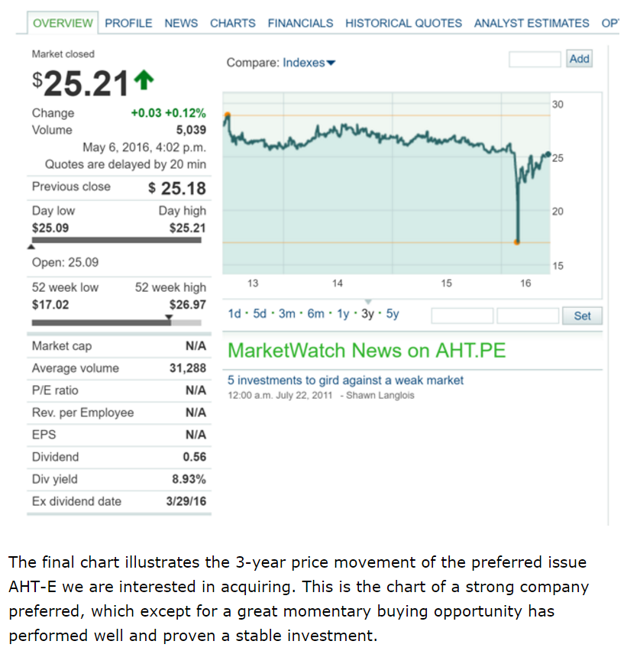 Prior to making investments in Costamare, Inc. (NYSE:CMRE) and Seaspan Corp. (NYSE:SSW), I researched their company models and how they were positioned in the shipping sector, which was facing stiff headwinds at the time, as it is now. However, as a result of my research, I felt I could make opportunistic buys, which I was able to accomplish. As illustrated by my records, I was able to make the following buys, which, I am certain, have reduced my risk of loss. SSW has already proven that, because it was recently called at its par value of $25.00.


The following is one of those five-year studies mentioned above concerning CBL & Associates (NYSE:CBL), which was not encouraging.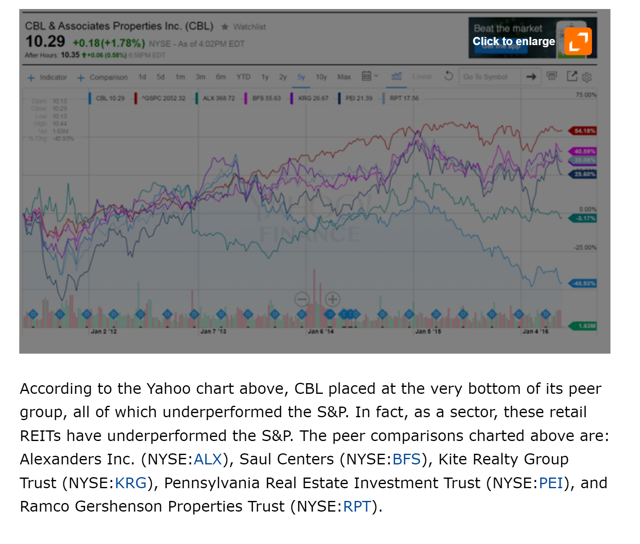 A prime example of an external event occurred during the September 2014 OPEC meeting that foreshadowed the radical fall of the price of oil and its aftermath. Although highly leveraged, standard for a majority oil E&Ps, they still promised to be profitable during a time when oil was priced above $100/barrel. Wildcatters of the past had been replaced by tech-heavy exploration enterprises that employed horizontal drilling and fracking to extract oil and natural gas from shale rock deposits. Utilizing sophisticated technology these companies could accurately determine the amount of barrels of energy their leased land contained, and were able to borrow against it as one would with any collateral he held. Unfortunately, oil at $25.00/barrel changed their fortunes and drove many into bankruptcy, and this cost investors like myself tremendous losses. Had they and I paid closer attention and reacted to that OPEC meeting, we'd have all been better served. I like to think the losses I sustained weren't my fault, but actually, they were. I knew about the meeting and followed it closely - my mistake was my failure to act. I failed because I believed the price of oil would not drop as fast and as low as it eventually did. Now that its price appears to have bottomed and is on an upward trajectory, it might bode well for the E&P survivors. However, as far as I'm concerned, it's just too early to rely on it as a signal to re-enter the sector. Once badly bitten, I remain hesitant, fearing being bitten again.
MY sad experience with oil taught me the best way to manage risk across my entire portfolio was to diversify. Depending upon the amount of money you have to invest should determine how you diversify and the number of shares you hold of each company. Admittedly, because I leverage, I have greater access to a larger amount of capital to invest, and because I seek high yield preferreds, I often find it difficult to sufficiently diversify, consequently committing the cardinal sin of over-concentration, which has cost me dearly, especially because I was overly concentrated in the oil sector when it imploded. I'm certain most of you are familiar with some of the following: Greenhunter (NYSEMKT:GRH), Magnum Hunter (MHRCG), Miller (NYSE:MILL), Goodrich Petroleum (GDPM) - all bankrupt. Ouch! Atlas Resource Partners (NYSE:ARP), Gastar (NYSEMKT:GST), Kinder Morgan (NYSE:KMI), Legacy Reserve (NASDAQ:LGCY), and Vanguard (NYSE:VNR), and Callon Petroleum (NYSE:CPE) are still hanging in and hopefully all will weather the storm, some are doing better than others.
This taught me another valuable lesson: Not only is it unwise to concentrate in a single company, it is equally unwise to concentrate in a single sector, or worse, in a sector within a sector - as are the drybulk and container carrier sectors of shipping.
Exposure and concentration to oil and shipping are more than sufficient to illustrate why it's necessary to fully assess one's resources prior to populating your portfolios. When least expected, your fortunes might severely impacted, and you stand a chance of being margin-called out of the market. Because I was careful with my leverage and always had adequate reserves to cover even the most serious downturn, I weathered my losses and suffered no margin call or need to liquidate any portion of my portfolio. As a result, over the past quarter I turned what could have been a monumental loss into one of recovery. Obviously, it's too soon to tell how it will all work out. However, I'm reasonably confident that it will, considering the amount of fixed income I continue to receive. Yet, there are no guarantees, and the market might once again turn against me because of some unforeseen circumstances. Fortunately, unless the world as we know it comes to an end, my lifestyle should in no way be impacted. As I mentioned at the outset, I am less brave and foolhardy than you might imagine. Although, I do have hope that shipping will recover and I'll eventually profit with Safe Bulkers (NYSE:SB), Box Ships (NYSE:TEU), Global Ship Lease (NYSE:GSL), Tsakos Energy Transport (NYSE:TNP), and International Shipping (ISHC).
Another way to protect your portfolio is to make certain that you never over-leverage by utilizing excessive margin. The amount of margin you employ should be ultimately decided by the relative safety of your portfolio composition. As a rule, I recommend you margin no more than 30% of the value of your portfolio; 25% if it is composed of a preponderance of higher risk assets, which you must determine as accurately as you are able to. See what is, not what you want it to be. And quoting Shakespeare, "To thine own self be true."
Disclosure: I am/we are long AHT-D, AHT-E, GSL-B, CMRE-E, GST-A, TNP-D, SSW-C, LGCYO, ISHCO, VNRCP, SB-D.
I wrote this article myself, and it expresses my own opinions. I am not receiving compensation for it (other than from Seeking Alpha). I have no business relationship with any company whose stock is mentioned in this article.
Editor's Note: This article covers one or more stocks trading at less than $1 per share and/or with less than a $100 million market cap. Please be aware of the risks associated with these stocks.