Despite the skepticism surrounding the year-to-date commodity price movements, one cannot deny the fact that equity markets are starting to fall behind. Nearly flat year-to-date, S&P 500 (NYSEARCA:SPY) has been moving on sentiment and Fed-related news headlines for more than a year. As it cannot trade sideways forever, a stronger movement either up or down should follow at one point, and current fundamentals are not in favor of the former.
With Treasury yields being too low and stock prices being predominantly too high, a reasonable question that might arise is rather straightforward: Where can one park the cash while still expecting both (1) a relatively attractive risk/reward (which does not hold for stocks at the moment) and (2) a reasonable return (which does not hold for Treasuries)?
Panicking, blaming the Fed for excessive valuations and maintaining a 100%-cash portfolio does not do too much good for anyone. It is true that one can still play the current market by remaining long the strongest sectors and shorting the weakest ones. Another way would be to bet on increased volatility through options. However, a more passive and, perhaps, less risky option could be to obtain a diversified exposure to commodities with improving fundamentals.
Unless the U.S. dollar continues rising throughout the remaining 6 months, 2016 might be the year when certain commodities will outperform the S&P 500.
Commodity ETFs
Listed below are the charts demonstrating the performance of 5 commodity ETFs versus the S&P 500 as represented by the SPDR S&P 500 ETF Trust . The analysis includes the following securities:
Commodity ETFs have demonstrated a great performance year-to-date. Whether the worst is already over remains the question.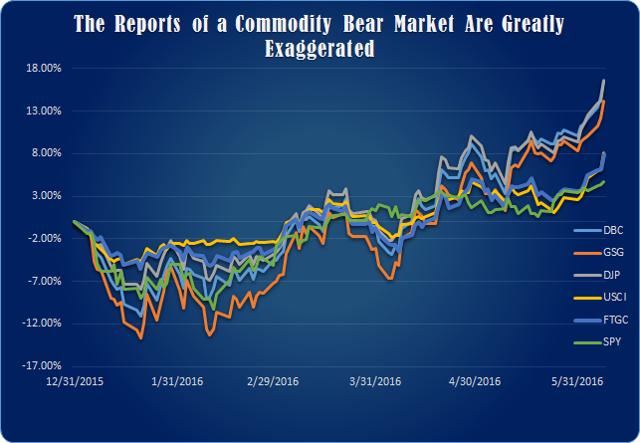 Made by the author using the data from Yahoo Finance.
The present situation might be reminiscent of the developments happening just before the Great Recession. Even though the commodity ETFs have followed stocks lower after the bear market of 2007 had started, they have all been demonstrating a decent performance while the S&P has been trading in a narrow range before topping out in mid-2007.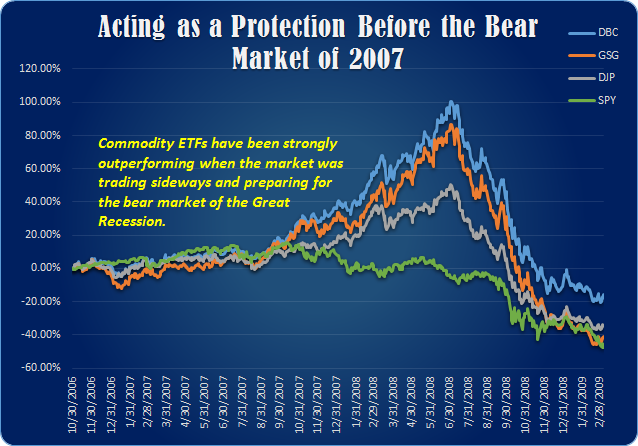 Made by the author using the data from Yahoo Finance.
After having bottomed out earlier this year, commodity ETFs might have a substantial upside potential should the rally continue.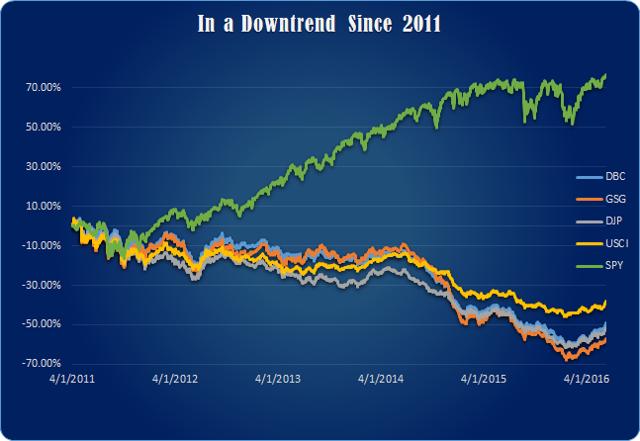 Made by the author using the data from Yahoo Finance.
Holdings
Despite the improving expectations, it might be wrong to generalize and expect all commodities to outperform this year. Since the ETFs provide a reasonably diversified exposure, I perform a broad holdings analysis with the aim of selecting the safest investment vehicles for the investors expecting a run-up in commodity prices this year.
Out of the 5 ETFs that have been selected for the analysis, 3 - GSG, DJP and DBC - are tracking commodity indices. USCI is rebalancing on a monthly basis and maintains a 14-position portfolio split equally between commodities with the strongest backwardation and 12-month price momentum effects. FTGC is different in the sense that it only has exposure to commodities through its subsidiary (25% of the fund's portfolio), which allows it to qualify as a regulated investment company. The remaining 75% are held in investment grade fixed income securities.
The table below summarizes the holding of the 5 ETFs described above. The funds are often in a disagreement when it comes to particular bets. Even though the holdings of USCI and FTGC are subject to frequent changes, I find it important to assess the positions the funds are currently focusing on.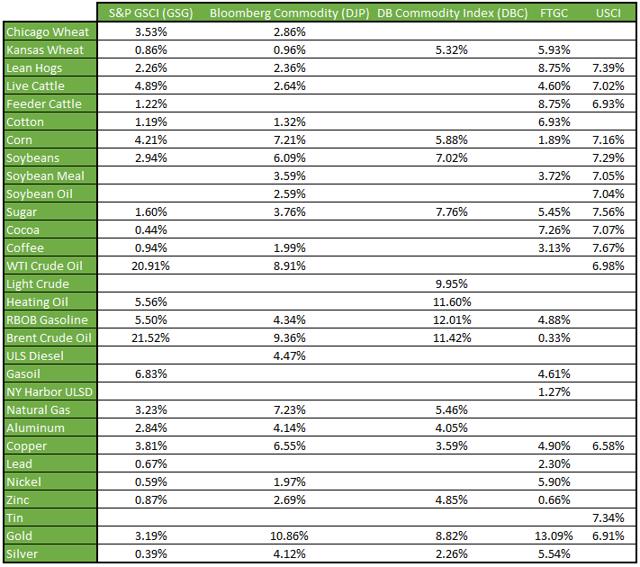 Made by the author using the ETF providers' data.
GSG and DBC can be immediately pointed out because of the large exposure to energy. Due to the availability of numerous options of obtaining exposure to this particular segment, I am concentrating my attention on DJP, FTGC and USCI.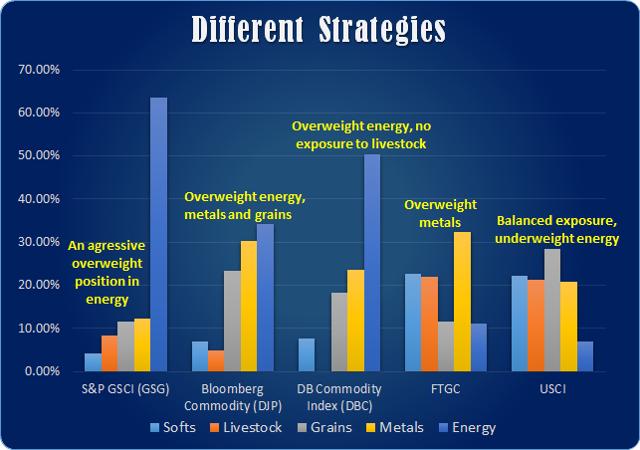 Made by the author using the ETF providers' data.
How attractive are the prospects of the selected ETFs' holdings? Even though some of the described commodities might experience worsening and/or bearish fundamentals, it is of paramount importance to consider the roles of (1) sentiment, (2) technicals and (3) large traders' positions.
Wheat - bearish fundamentals
Currently, wheat might be viewed as a rather risky investment target given the present oversupply conditions: "The glut may only get bigger. Global supply, including production and inventories, will exceed consumption by the most ever in the year that ends in June 2017, with the harvest expected to be the second-highest on record," the International Grains Council said on May 26. DJP and FTGC are 3.82 and 5.93 percent long the commodity. Another area of concern might come from Egypt's 'ergot-free' stance, which makes transactions with the largest wheat importer riskier for the producers.
Soybeans - increasing consumption, falling inventories
Soybeans have been strongly outperforming year-to-date. Being close to a 2-year high, soybeans prices have experienced strong tailwinds from improving consumption and deteriorating inventory outlooks this year. A significant spike in large traders' long bets has been taking place since the beginning of the year. Soybeans account for 6.09 and 7.29 percent of the current commodity portfolios of DJP and DSCI, respectively.
Up by more than 50 percent since early April, soybean meal futures account for 3.59, 3.72 and 7.05 percent of the current commodity portfolios of DJP, FTGC and DSCI, respectively.
An outsider to the party, soybean oil futures have demonstrated a pretty modest rally year-to-date. Large traders' net-long positions have topped in early April and have been falling ever since. DJP and USCI are 2.59 and 7.04 percent long the commodity.
Sugar - supply deficit, bullish outlook
As described in my recent article on this commodity, unfavorable weather conditions have led to substantial supply decreases in the key producing regions - Brazil, India and Thailand. Rising Brazilian Real and increasing ethanol prices (which lead to a larger portion of sugar cane being used in ethanol production) have contributed as well. Finally, of note is the recent build-up in long bets among the large traders. As a percentage of total portfolio, sugar positions account for 3.76, 5.45 and 7.56 percent among DJP, FTGC and USCI, respectively.
Related securities include iPath Bloomberg Sugar Subindex Total Return ETN (NYSEARCA:SGG).
Corn - all eyes on the weather
Creating production concerns in the U.S. and Brazil, dry weather conditions have eased the grain glut expectations and sparked a strong increase in large traders' net-long positions since mid-April. Don Roose, president of U.S. Commodities Inc., said on June 6: "We're worried about the size of the crop in South America, we're still debating that […] people are definitely afraid of the weather this year. That's the other driving force. The trade is willing to take a bet that we're going to get warmer and drier." The selected funds' positions in corn account for 7.21, 1.89 and 7.16 percent of their commodity portfolios, respectively.
Related securities include Teucrium Corn Fund (NYSEARCA:CORN).
Copper - oversupply, large traders are net short
This time of the year, it is Dr. Copper himself who needs treatment. Large oversupply and weak economic conditions fail to make a convincing risk/reward at present conditions. Despite spiking in late March and April, copper is nearly flat year-to-date. DJP, FTGC and USCI are currently holding 6.55, 4.9 and 6.58 percent of their commodity portfolios in copper.
Related securities include iPath Bloomberg Copper Subindex ETN (NYSEARCA: JJC).
Coffee - wait and see
Despite the ever-increasing demand, coffee prices have been following a disappointing trajectory for quite a long time. However, as a result of the recent volatile performance, coffee futures are now quite distant from the latest bottom reached in early March. Falling inventories and rising Brazilian Real are contributing factors. Selected funds' exposure accounts for 1.99, 3.13 and 7.67 percent, respectively.
Related securities include iPath Bloomberg Coffee Subindex ETN (NYSEARCA:JO).
Cocoa - supply issues
Despite the lack of consensus regarding this year's supply decrease, cocoa has been in an uptrend since late January. Large traders have been net-long cocoa since 2012. Portfolios of FTGC and USCI are currently having a 7.26 and 7.07 percent exposure to this commodity.
Cotton - falling inventories, increasing long positions
Cotton futures have been in a significant uptrend since March. Large traders have gone net-long cotton in mid-April and have been increasing positions since then. Despite the falling inventories, cotton fundamentals might be viewed as rather neutral than bullish. DJP and FTGC are 1.32 and 6.93 percent long the commodity.
Nickel - sluggish demand
Experiencing a relatively weak industrial demand, nickel has been trading sideways over the last 6 months. Despite the recent inventory drawdown, nickel inventories will have to decrease 4-fold in order to return to 2011 levels. DJP and FTGC are 1.97 and 5.9 percent long the metal. A strong catalyst would be needed for the metal to reverse the downtrend.
Lead - rising inventories
Before bottoming in mid-January, lead inventories had been gradually decreasing since 2011. Despite being nearly flat y-o-y, they have strongly increased over the last 6 months, creating a weak fundamental justification for a rally in lead prices, which are nearly flat year-to-date. FTGC is holding a modest 2.3 percent position in this industrial metal.
Aluminum - a justified rally
Aluminum inventories have been rapidly falling since 2014, with 1-year, 6-month and 30-day inventory dynamics demonstrating solid demand for this industrial metal. It is up by more than 8% year-to-date and accounts for 4.14% of DJP's portfolio.
Tin - weakening demand
LME's closing inventories of tin experienced their recent bottom in the beginning of March and have nearly doubled by the end of May. Nevertheless, prices are up by 18 percent year-to-date. USCI is 7.34 percent long this industrial metal.
Lean hogs - positive outlook
Strong China pork demand has spurred a significant build-up in net-long bets among the large traders. While DJP is 2.36 percent long the commodity, FTGC and USCI have placed bullish bets accounting for 8.75 and 7.39 of their commodity portfolios, respectively.
Live cattle - mixed outlook
Weak U.S. beef export dynamics make the outlook for live cattle futures quite unclear. Slightly lower year-to-date, live cattle futures have experienced a gradual decrease in large traders' net-long positions since the recent top had been reached in the middle of May. Higher corn prices and reports of lower cash prices paid for cattle have had an impact on the sentiment as well. DJP, FTGC and USCI are 2.64, 8.75 and 6.93 percent long the commodity.
Feeder cattle - mixed-to-negative outlook
As opposed to maintaining net-long positions in live cattle futures, large traders have already switched from being net-long to net-short on feeder cattle. FTGC and USCI are 8.75 and 6.93 percent long the commodity.
Gold and Silver
As described in my recent article on precious metals, I am expecting precious metals to outperform due to the strong safe haven demand and increasingly challenging stock market volatility. A large group of gold's followers has been waiting for the metal to reverse the downtrend for years, and one might be wise to follow the crowd this time, at least for as long as long bets stay at high levels. Even though the net-long gold and silver positions have been declining since the beginning of May, both metals have almost rebounded from the recent bottom reached in the beginning of June, which has developed just after the money managers had started increasing exposure again. The selected ETFs' exposure to gold accounts for 10.86, 13.09 and 6.1 percent (DJP, FTGC and USCI), while silver accounts for 4.12 and 5.54 percent of the commodity portfolios of DJP and FTGC.
Related securities include ETFS Physical Precious Metals Basket Shares ETF (NYSEARCA:GLTR) and PowerShares DB Precious Metals Fund (NYSEARCA:DBP).
Energy
Energy futures have been among the top performers this year. Even though the recent developments in Nigeria and strong oil demand from China and India might sound bullish for oil, extended periods of time are required for the fundamentals to improve and shed more light on the true future trajectory of oil prices (with the same holding for natural gas and most other energy commodities). Nonetheless, the sentiment-backed rally has been reasonably strong year-to-date and makes it of crucial importance to track the news and political developments related to energy. Even though oil has all chances of continuing the recent rally, it might be wise to remain skeptical and maintain a modest exposure. Among the selected ETFs, DBP is the one most exposed to energy commodities (34.31%), followed by FTGC (11.09%) and USCI (6.98%). Even though the current sentiment is strong and has no signs of reversing at the time being, I remain skeptical on the current rally and view energy commodity exposure as a red flag. It is more about politics and news headlines rather than fundamentals now, in my opinion. Currently, oil is assumed to retreat due to "uncertainty surrounding the coming Federal Reserve interest-rate decision and a referendum on whether the U.K. should exit the European Union", according to MarketWatch.
Index-tracking vs. actively managed funds
The difference between the index-tracker DJP and the two actively managed funds FTGC and USCI can be summed up in a 1 performance chart. Even though DJP has been outperforming during the recent run-up in commodity prices, the fact that its portfolio weights are not being adjusted according to the price trends and market developments makes it a potential future underperformer in the case of a strong pullback, as it has been consistently underperforming the other two since 2014.
However, of note is the fact that DJP has also been experiencing the lowest negative correlation with the Dollar Index (DXY) year-to-date.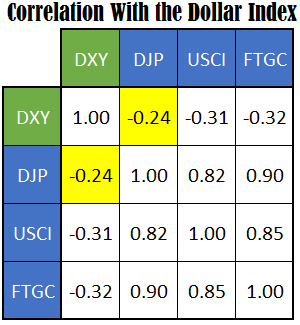 Correlation Matrix for DJP, USCI, FTGC and the Dollar Index (DXY), year-to-date. Made by the author using the data from Yahoo Finance.
Nonetheless, despite the low correlation, DJP's exposure has not been always in its favor during the down days, as the ETF has been underperforming its peers during the December-February period this year. With an annualized volatility of 17.99%, it has also been the most volatile among the 3, followed by FTGC (12.34%) and USCI (9.74%). Since the beginning of the year, DJP has experienced 53 down days, followed by USCI (49) and FTGC (46).
Of note is the fact that the commodity ETFs did not experience substantial tailwinds during the recent reversal of the Dollar index.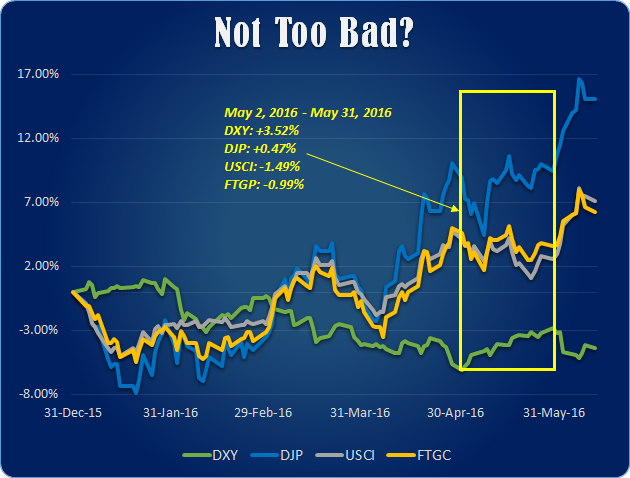 Made by the author using the data from Yahoo Finance.
Anticipating the upcoming rate hikes, should we be that bullish on the Dollar anyway? Back in 2004, the effective federal funds rate has been increased more than fivefold over the course of May 2004 - July 2006, with 2-year Treasury bond yields almost doubling over the period. This, however, did not prevent the Dollar from retreating. It can of course be argued that "everything is different this time", but one should not be overly optimistic on the Dollar. In addition, the current rate hike pace is a far cry from that of 2004-2006, suggesting an even larger possibility of a decline in the value of the Dollar.

Made by the author using the data from Yahoo Finance.
Conclusion
The near-term performance of the Dollar is of crucial importance for most of the commodities. Even though an appreciation would not necessarily mean a continuation of the commodity bear market, the broad commodities market will most probably not experience a substantial appreciation unless it is helped by a weakness in the Dollar.
As the one with the longest tracking record, DJP might be viewed as a solid commodity bet for investors expecting continued strength in energy commodities. With an expense ratio of 0.75%, this index tracker can be held for extended periods of time despite a certain time decay effect. On a negative note, it can underperform its ETF peers should the current commodity price run-up reverse itself.
Out of the described securities, I consider USCI to be a relatively low-risk way of obtaining a diversified exposure to the commodity market. Its holdings are predominantly associated with sound fundamentals and a strong momentum effect. Meanwhile, it has an expense ratio of 1%, while the time decay effect is to a certain extent decreased by the fact that the fund invests 50% of its portfolio in commodities with the strongest backwardation effect. However, most of the fund's advantages are undermined by extremely low volume, which does not make it an attractive long-term holding and should only be held in small amounts.
Even though the fundamentals are of paramount importance, it is often sentiment that drives the dynamics of large traders' exposure, which consequently drives the short-term commodity price performance. I encourage all investors to stay alert and focus on the news stream. With hedge funds cutting exposure and quants increasing it, the markets are bound to trade on sentiment, momentum and technicals in the near-term.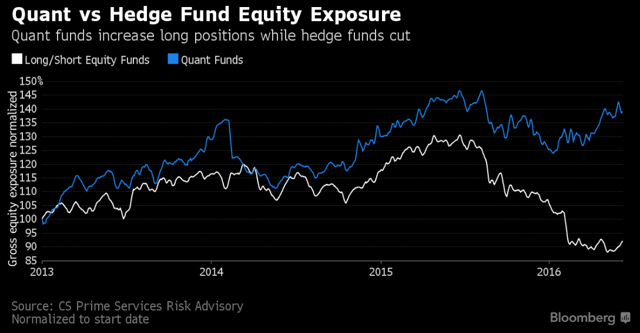 Source: Bloomberg.
Disclosure: I/we have no positions in any stocks mentioned, and no plans to initiate any positions within the next 72 hours.
I wrote this article myself, and it expresses my own opinions. I am not receiving compensation for it (other than from Seeking Alpha). I have no business relationship with any company whose stock is mentioned in this article.
Additional disclosure: I am planning to obtain exposure to either DJP or USCI as soon as I have an opportunity to close my current short positions. I remain long SGG. This is not an investment advice. I am not an investment advisor.