The oil market has lost some steam in the past week as its price came down from the $50 mark. Even though the recent report from the IEA shows the oil market is tightening. Let's examine the current market fundamentals for oil and see what's next for oil.
The dynamics of the global oil market
The IEA revised up again its estimate of the global oil consumption growth for Q1 2016 to 1.6 million bbl/day and the growth in demand for this year has also been revised up from 1.2 million bbl/day to 1.3 million bbl/day -- an 8% increase in is estimate of the oil consumption growth.
When it comes to storage, however, the recent report presented another gain in total OECD's commercial stockpiles. The chart below shows the changes in storage and global oil supply.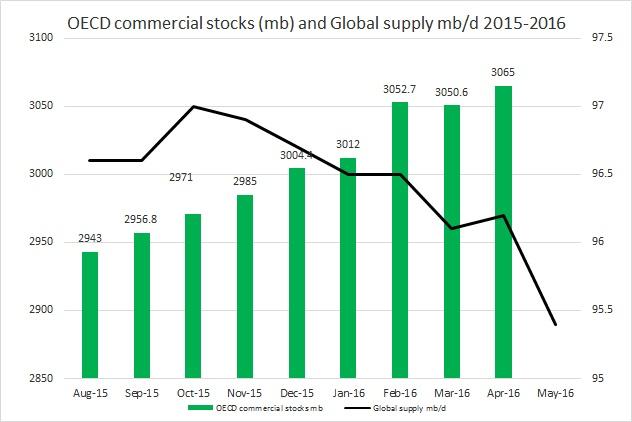 Source: IEA
As you can see, stockpiles picked up to reach a new high. But this report lags and is updated for April. Considering the global oil supply dropped to 95.4 million bbl/day - the lowest level since March 2015 - this could suggest the next oil report will show a sharp drop in stockpile. Even though it should be noted that at least in the U.S. oil stockpiles, which are updated on a weekly basis, are still at near record high levels. This brings us to the changes in supply. According to the latest OPEC report, the disruptions in Nigeria brought its total production by 250 thousand bbl/day, month over month, to 1.4 million bbl/day in May. OPEC's total production, however, only slipped by 100 thousand bbl/day back in May. The drop in Nigeria's output was offset by higher production in Saudi Arabia, Iran and Kuwait. And the IEA still expects Iran's output will increase its output by 700 thousand bbl/day. Most of the drop in output, however, came from non-OPEC countries, which is expected to contract by 0.9 million bbl/day this year. But the last EIA report showed a modest gain in U.S. production for the first time in months and even a slight pickup in oil rigs. This modest shift may have raised the possibility that the current oil prices are good enough for U.S. oil producers to ramp back up production.
The U.S. dollar and oil
Even though the direction of U.S. dollar also tends to play a role in moving oil prices - in which a weaker dollar tends to pressure up oil prices - the recent development in the oil market doesn't seem to be related to where the greenback has been heading. So far, the U.S. dollar has actually devalued against major currencies, as indicated in the following chart.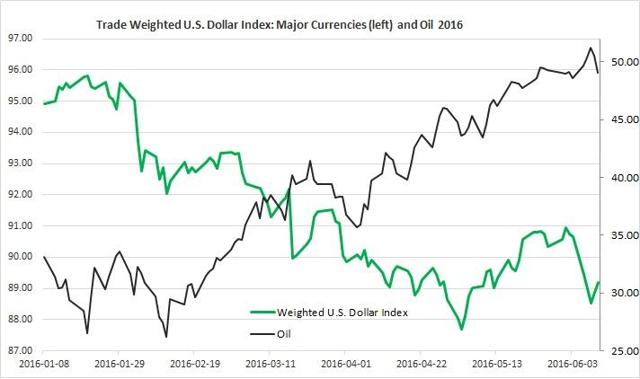 Source: FRED and EIA
And up to June, the recovery of oil prices throughout April and May wasn't related to the U.S. dollar, which actually rallied. But the linear correlation between percent changes in oil and U.S. dollar has strengthened and is currently at -0.39 (over the past month). If this trend persists and the U.S. dollar starts to gain strength as it did last month -- which seems likely since the Fed is still on course towards raising rates this year and capital flows continues to move towards the U.S. -- this could partly contribute to a possible downfall of oil prices.
Bottom line
When putting all the pieces together the oil market is tightening on a global scale, even though several OPEC countries - mostly Iran - are still likely to ramp up production and partly offset the drop in non-OPEC countries' output. The recent developments in the U.S. oil market are too preliminary to indicate a possible rise again in U.S. production. But if this shift turns into a trend, it could curb back down oil prices. Keep in mind that oil stockpiles are still high despite the drop in U.S. production during 2016. Finally, the U.S. dollar may not have played a significant role in moving oil during May, this could change if the correlation remains robust as it is now. And if the U.S. dollar starts appreciating, it may contribute to the fall of oil prices. But the direction of the U.S. dollar will still play a secondary role to changes in market fundamentals. And for now, the market fundamentals are in favor of seeing higher oil prices. (For more please see: A couple of notes on the oil market")
Disclosure: I/we have no positions in any stocks mentioned, and no plans to initiate any positions within the next 72 hours.
I wrote this article myself, and it expresses my own opinions. I am not receiving compensation for it (other than from Seeking Alpha). I have no business relationship with any company whose stock is mentioned in this article.