Author's Note: This article discusses a microcap stock. Please be advised of the risks associated with microcap stocks. Lazarus is a significant shareholder of Authentidate. Please see additional disclosures below.
Introduction. Authentidate (NASDAQ:ADAT) is undergoing a total transformation and few are paying attention. It may just be one of the fastest growing, cheapest stocks you can find. Before we elaborate further, we are due for a mea culpa. We've been investors in Authentidate for a few years and our bullish thesis simply has not played out. The old company failed to execute, despite its innovative technology and promising pipeline. Investors, including us, have lost big in the stock. That may seem reason enough not to read any further, but we think the new company is worth a fresh look following a complete revamp, touching everything from its core business to its name.
The Merger. In January of this year, Authentidate closed on a merger transaction whereby Aeon Clinical Laboratories (whose official name is Peachstate Health Management LLC) became a wholly owned subsidiary of Authentidate. The Authentidate of old is gone. The new Authentidate has a new business, a new Board, a new management team, and soon a new name - Aeon Global Health.
We surmise that Aeon saw in Authentidate underutilized healthcare technology assets, the opportunity to gain a public listing, and approximately $162 million in net operating losses that potentially can be used to offset the combined company's tax bill. This merger took Authentidate overnight from a low revenue, heavy losses company to one that's growing, high margin, and very profitable.
Financials. For 2015, Aeon reported $34.9 million in sales, up 45% from 2014. Adjusted EBITDA for last year was over $16 million, a margin of 47%, and net income was close to $14 million, a margin of almost 40%. This seems to be lost on the market as Authentidate is trading at a market cap of under $16 million - a discount to just the value of its tax shield, in our opinion. Hard to believe, but Authentidate is trading at only 1.1x the earnings of its wholly-owned, growing, profitable, and high margin subsidiary.
The Business. Aeon's founder is Sonny Roshan, a talented entrepreneur whose rise from humble beginnings is a story worthy of its own article. A key asset of the company is its state of the art 28,000 square foot lab facility. We have visited the facility and it is quite impressive, teeming with busy technicians and a heavy flow of test orders. At the same time, management stated that its lab could support triple or more the current volumes with minimal capex (eg. by adding shifts), so there is plenty of room for growth. We would anticipate such growth to benefit margins as the fixed cost of its infrastructure is spread over a larger volume of tests. Aeon's toxicology business conducts over 15,000 monthly tests to check for medication and other substances in a person's body.
The company's lab also conducts pharmacogenomics tests which use an individual's genetic profile to guide medication management and disease prevention. The drug, Plavix, for example, is supposed to prevent heart attacks and strokes. But people with certain genes won't respond to the drug and Aeon's test can help determine if an individual is best put on Plavix or another drug.
Genomic testing is more complex and resource demanding than conventional testing so it allows for higher prices, better margins, and less competition. Management is working aggressively to expand their pipeline of specialty tests and has guided that they expect to bring additional genetic tests to market over the next eighteen months. Aside from new tests, Aeon's growth plans call for expanding in-network payor relationships, adding strategic customers, and fine-tuning its systems and processes to better support the additional scale the company is anticipating.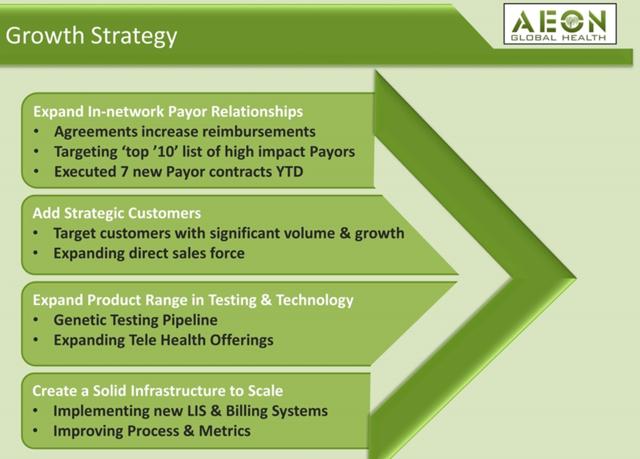 Highlights of the company's growth strategy, as presented at a conference earlier this year (8-K 3/15/16).
Risks and Upside. If business is so strong, the natural question to ask is why is the stock so cheap? Certainly a big part of it is that the old Authentidate had a history of disappointment and few are aware of the changes undergone at the company. As the merger integration nears completion, we expect the company to be more active in investor relations and get the story out, thus poising the stock for a recovery.
It's also important to understand the full terms of the Authentidate-Aeon merger. First, even though the merger closed it is still subject to a shareholder vote approving the issuance of related shares. The company filed a preliminary proxy in this regard so we think this matter is coming to a close, but the vote is yet to take place and its passing is not guaranteed.
Second, if the merger is consummated, additional shares will be issued to the owners of Aeon as the company reaches certain milestones. For example, this September Aeon members are to receive 24% of the issued and outstanding shares if Aeon achieves a minimum of $16 million in EBITDA in 2015, which was stated they have. Additional shares will be issued at other milestones, including earning $65.9 million in aggregate EBITDA for 2016 - 2018 and $100 million in aggregate EBITDA from 2016 - 2019.
All in, Aeon members stand to potentially own as much as 90% of the company if all milestones are hit - but hitting those milestones means that tremendous value creation has occurred at the company. Even low-growth lab giants Quest (NYSE:DGX) and LabCorp (NYSE:LH) trade at the 10-11x EBITDA range, with growth companies in the space trading significantly higher. A double digit multiple on growing EBITDA means that investors in Authentidate can potentially make multiples on their money even after the effects of dilution.
Aeon has referenced Myriad (NASDAQ:MYGN), Exact Sciences (NASDAQ:EXAS), Genomic Health (NASDAQ:GHDX), and Alere (NYSE:ALR) as publicly traded comps. These companies trade at 2.8x, 13.8x, 2.8x, and 1.5x sales respectively, implying an average price/sales multiple of 5.2x and a median multiple of 2.8x - all dramatically higher than Authentidate's 0.4x multiple to Aeon's sales.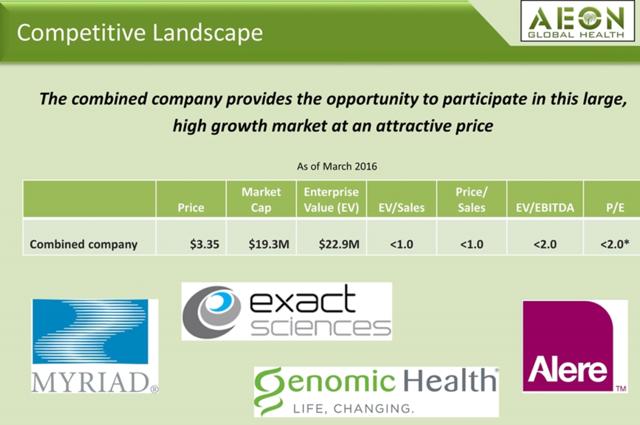 From the company's March investor presentation (8-K 3/15/16). The stock price is lower now than it was then.
Other risks include a change in the reimbursement landscape for the tests Aeon performs. The company is trying to be ahead of this risk by constantly aiming to add test to their platform, but the risk remains. One more: Aeon reported $6.9 million in cash and equivalents for the September 2015 quarter but we are yet to see a consolidate balance sheet or income statement for Authentidate post its merger with Aeon.
Conclusion. Despite these risks, we think Authentidate's valuation, especially in the context of its growth, margins, and tax assets makes for a promising investment. Post-merger Authentidate, who we expect to soon be calling Aeon Global Health, is a new company worthy of a new look and should not be confused with the Authentidate of old.
At an industry level, the clinical laboratory market is expected to grow at a nearly 6% rate and reach $241 billion by 2019 according to Transparency Market Research. Our country has an aging population that we expect to drive demand for increased laboratory testing. The new Authentidate is focused on the higher margin and growthier areas of the clinical lab market on top of being an undervalued and overlooked company with considerable upside potential.
Additional Disclosures: Lazarus is long Authentidate and a significant shareholder of the company. This article is also subject to our disclaimer available here. This article covers one or more stocks trading with less than $100 million in market cap. Please be aware of the risks associated with these stocks.
Disclosure: I am/we are long ADAT.
I wrote this article myself, and it expresses my own opinions. I am not receiving compensation for it. I have no business relationship with any company whose stock is mentioned in this article.
Editor's Note: This article covers one or more stocks trading at less than $1 per share and/or with less than a $100 million market cap. Please be aware of the risks associated with these stocks.