Urban Outfitters, Inc (NASDAQ: URBN) mentioned about the deteriorating comp growth in the recent quarter, beginning May 1. According to recent SEC filing the comp sales have fallen by mid-single digit so far which should put pressure on overall comp sales for this quarter. The market pounced on this news leading to a fall of 8% in the stock.
Falling comp sales
This is not a first occurrence and the company is seeing subdued comp sales numbers for the past three quarters.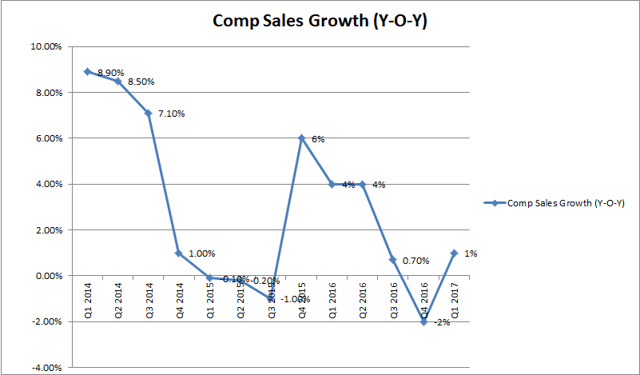 Fig: Year over year comp sales growth of URBN
This decrease in comp sales growth has also affected the stock price negatively. The stock has fallen by 27.5% in the past one year. The management has adopted aggressive approach to opening new stores which has seen its store numbers rise quickly. Its store numbers have risen by 5% in the past one year and by a cumulative 20% in the past three years. This growth means that the number of company stores has risen from 482 in Q1 2014 to 580 in the latest Q1 2017 quarter.
In addition to higher store number, the company is also increasing the square footage per store. In the recent earnings call, the management declared that it has opened two expanded footprint stores, one in Portland and another in Newport Beach which have approximately 2.5 times the square footage of the typical store. These stores have basically a shop within a shop. They have a petite shop, intimates boutique, beauty shop, a full service shoe salon and more.
An expanded store offering is not translating into higher comp sales growth. In Q1 2017 it showed a comp growth of only 0.9%- a major portion of which came from its online sales channel which the company includes while calculating its comp growth numbers.
Prioritize investment in current stores and online channel
Instead of investing in opening more stores the company would need to put a greater emphasis on the current stores and its online channel. The debate over clicks-vs.-bricks has already been settled and more and more companies are focusing on expanding their online platform. Companies like Home Depot (NYSE:HD) have reduced opening new stores lately and have instead tried to create a better seamless shopping experience for customers by investing in current stores and online channel simultaneously.
Future comp growth
If the current deterioration continues the company would be posting one of the worst comp growth numbers in the past five years. It seems the company might end up posting comp sales decline in 4-6% range in this quarter. This should pull the stock to a further low and it could possibly fall below the $20 mark shown last December. Although the stock is relatively cheap at 14.6 P/E, a lack of dividend and poor comp growth estimates for future eliminates any incentive for an entry at this price point. It is better to wait and watch the growth potential of the online channel in this fiscal before investing in the stock.
Conclusion
Urban Outfitters has mentioned about the decline of sales in its recent SEC filing. The company estimates that the comp sales decline in this quarter can be in mid-single digits. There is an increase in the store count by URBN at a time when other retail brick-and-mortar companies are right-sizing their portfolio. Instead of investing in new store openings it would need to put more resources into its online channel and making the current store operations more attractive to changing needs of the customers. The company can end up showing a comp sales decline for the next few quarters and investors should wait for better results before making an entry into this stock.
Disclosure: I/we have no positions in any stocks mentioned, and no plans to initiate any positions within the next 72 hours.
I wrote this article myself, and it expresses my own opinions. I am not receiving compensation for it (other than from Seeking Alpha). I have no business relationship with any company whose stock is mentioned in this article.