On May 16, Penn West Petroleum (PWE) shares had crashed massively after the company stated that it sees going concern risks and might even breach its debt covenants. Just a month later, Penn West shares have gained an impressive 60%, with over 40% of the jump coming this week after it emerged that Penn West has finally found a big buyer for some of its assets that will help it slash the debt in a big way.
In my opinion, this makes Penn West an enticing proposition now as the company will be able to take advantage of the recovery in oil prices in a more efficient manner. Let's take a look at how Penn West's latest asset sale will impact the company's financials and how this will allow it to improve its performance in the long run.
The deal
Penn West is selling all of its assets in the Saskatchewan area, including Dodsland Viking, for a price of $975 million, to Teine Energy, apart from some Alberta assets for $140 million. This is an attractive price for these assets as Penn West is getting 15 times its debt-adjusted cash flow, which is more than double the multiple of its recent deals. As a result of such an extensive asset sale, Penn West's net debt will now come down from a massive $1.4 billion at the end of last year to just $600 million, including the sale of other assets that the company has recorded in 2016.
Including the Saskatchewan sale, Penn West has sold total assets worth $1.3 billion in order to remove the debt overhang from its books. As a result of such aggressive sales, Penn West now no longer runs the risk of breaching its debt covenants. In fact, as shown in the chart given below, the company's senior debt to EBITDA ratio will go down in the coming quarters due to the reduced debt load: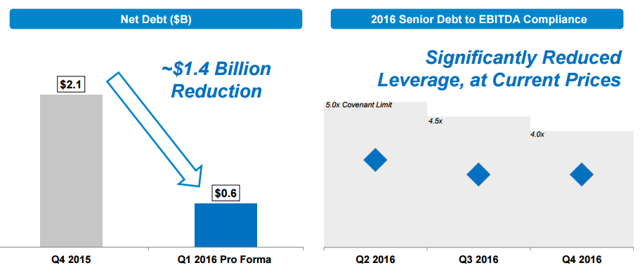 Source: Penn West Petroleum
More importantly, as a result of these asset sales that are leading to a reduction in the debt, Penn West will be able to retire its high-interest debt. As shown in the chart below, Penn West was paying pretty high interest rates on its debt, most of which was to expire in the coming two to three years: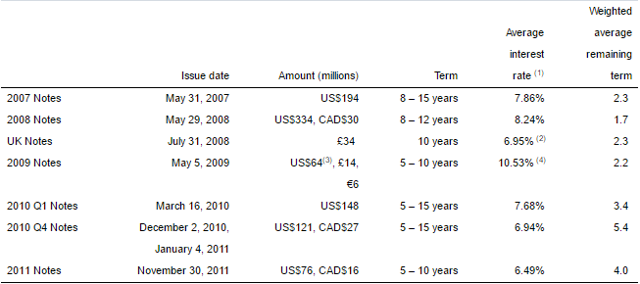 Source: Penn West Petroleum
Last year, Penn West had paid a total of $117 million in interest expenses, which was over 15% of its revenue. Thus, after the latest asset sale, Penn West will be able to bring down its interest expenses by a big margin once the high-interest bearing debt is retired.
More importantly, the asset sale has provided a big lifeline to Penn West as the company was not generating enough cash to meet future obligations. Last quarter, Penn West's cash position stood at $41 million only, while the operating cash flow generated in the past year stood at only $62.8 million. In comparison, Penn West had to meet a lot of liabilities in the coming years, as shown in the table below:

Source: 40-F filing
As seen above, Penn West had to repay debt worth $222 million this year and $613 million in the next two years. Thus, by selling off its Saskatchewan and Alberta assets for a combined $1.1 billion, Penn West has effectively met most of its debt maturities for the long run.
How will it impact Penn West's operations?
In my opinion, Penn West has made a smart move by selling the said assets because they had higher costs as compared to the assets that it is keeping. For example, the operating costs of the Saskatchewan assets stood at $14.75 per barrel of oil equivalent. This asset produced 13,650 barrels of oil equivalent per day with 91% liquids and had a netback of $12.75 per barrel of oil equivalent.
More importantly, this asset had a higher cost base than Penn West's overall operations. For instance, in the first quarter of 2016, Penn West's operating costs came in at $13.02/BOE, which means that the company is selling assets with a higher cost base.
As far as the production is concerned, Penn West Petroleum produced an average of 77,000 BOE/day in the first quarter of the year, and aimed to produce 60,000 - 64,000 BOE/day for the full year. Thus, with the latest asset sale, around 22% of the company's oil production will be impacted.
However, the good part is that the remaining assets of Penn West will allow it to produce oil at lower costs. For instance, in the Cardium play, where Penn West will generate production of 19,500 BOE/day, its operating costs will be much lower than that of Saskatchewan at $10/BOE, with an anticipated netback of $17/BOE.
Moreover, with the current assets, Penn West believes that it can generate higher funds flow from its operations than the amount spent on capital expenses, and also grow its organic production at an annual rate of 10% in the present oil pricing scenario. The following charts show Penn West's projected production growth, capital expenditure levels, and forecasted funds flow from operations: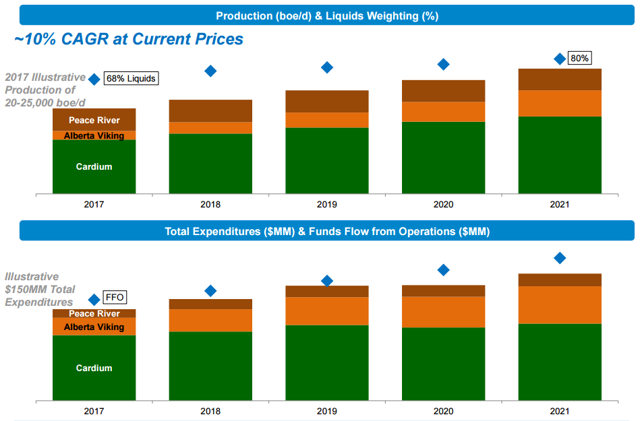 Source: Penn West Petroleum
Conclusion
Thus, Penn West Petroleum has done the right thing by becoming leaner as it can now lower its debt and related expenses, while it can also focus on assets with a lower cost base. So, it makes sense to remain invested in the company as the recent recovery in oil prices and the reduction in the debt will allow it to improve its margin and cash flow in the future.
Disclosure: I/we have no positions in any stocks mentioned, and no plans to initiate any positions within the next 72 hours.
I wrote this article myself, and it expresses my own opinions. I am not receiving compensation for it (other than from Seeking Alpha). I have no business relationship with any company whose stock is mentioned in this article.